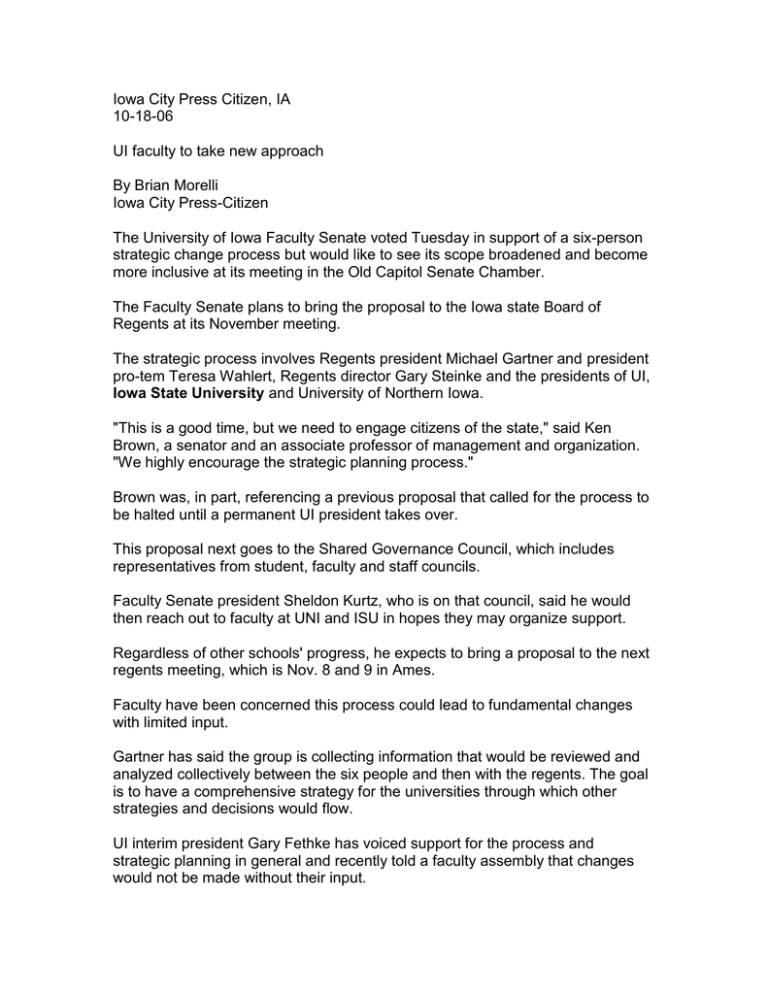 Iowa City Press Citizen, IA
10-18-06
UI faculty to take new approach
By Brian Morelli
Iowa City Press-Citizen
The University of Iowa Faculty Senate voted Tuesday in support of a six-person
strategic change process but would like to see its scope broadened and become
more inclusive at its meeting in the Old Capitol Senate Chamber.
The Faculty Senate plans to bring the proposal to the Iowa state Board of
Regents at its November meeting.
The strategic process involves Regents president Michael Gartner and president
pro-tem Teresa Wahlert, Regents director Gary Steinke and the presidents of UI,
Iowa State University and University of Northern Iowa.
"This is a good time, but we need to engage citizens of the state," said Ken
Brown, a senator and an associate professor of management and organization.
"We highly encourage the strategic planning process."
Brown was, in part, referencing a previous proposal that called for the process to
be halted until a permanent UI president takes over.
This proposal next goes to the Shared Governance Council, which includes
representatives from student, faculty and staff councils.
Faculty Senate president Sheldon Kurtz, who is on that council, said he would
then reach out to faculty at UNI and ISU in hopes they may organize support.
Regardless of other schools' progress, he expects to bring a proposal to the next
regents meeting, which is Nov. 8 and 9 in Ames.
Faculty have been concerned this process could lead to fundamental changes
with limited input.
Gartner has said the group is collecting information that would be reviewed and
analyzed collectively between the six people and then with the regents. The goal
is to have a comprehensive strategy for the universities through which other
strategies and decisions would flow.
UI interim president Gary Fethke has voiced support for the process and
strategic planning in general and recently told a faculty assembly that changes
would not be made without their input.
In other news:
• In a memo sent to Kurtz, Fethke rejected a proposal to change the default
settings of a campus directory so that UI employees would have to "opt in" rather
than "opt out" when including their home contact information.
Fethke noted that openness is important at a public institution and that the
current system allows employees to withhold their information.
• In an address to faculty, UI athletic director Gary Barta vowed to seek integrity
in recruiting athletes and coaches. In addition, he said the athletic department will
be self-sustaining and shine a positive light on UI.
"While (athletics) is not the most important part of the university, it is the most
visible," Barta said. "We want to make sure the visibility we are receiving is
positive. Make it more like (the) Ohio State (game) visibility, not like Pierre Pierce
visibility."
To athletics detractors, he asked that they recognize his department is running
the program the right way.
Barta also said he is working on a three- to five-year strategic planning process
that he hopes to make public next summer.