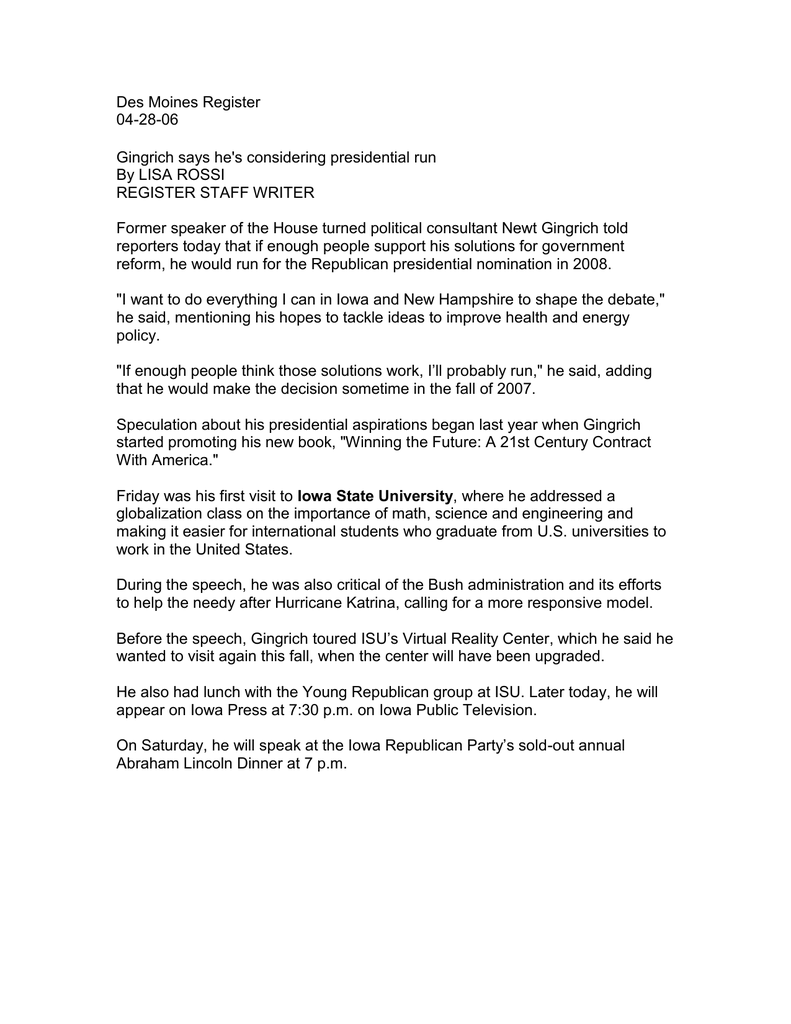 Des Moines Register
04-28-06
Gingrich says he's considering presidential run
By LISA ROSSI
REGISTER STAFF WRITER
Former speaker of the House turned political consultant Newt Gingrich told
reporters today that if enough people support his solutions for government
reform, he would run for the Republican presidential nomination in 2008.
"I want to do everything I can in Iowa and New Hampshire to shape the debate,"
he said, mentioning his hopes to tackle ideas to improve health and energy
policy.
"If enough people think those solutions work, I'll probably run," he said, adding
that he would make the decision sometime in the fall of 2007.
Speculation about his presidential aspirations began last year when Gingrich
started promoting his new book, "Winning the Future: A 21st Century Contract
With America."
Friday was his first visit to Iowa State University, where he addressed a
globalization class on the importance of math, science and engineering and
making it easier for international students who graduate from U.S. universities to
work in the United States.
During the speech, he was also critical of the Bush administration and its efforts
to help the needy after Hurricane Katrina, calling for a more responsive model.
Before the speech, Gingrich toured ISU's Virtual Reality Center, which he said he
wanted to visit again this fall, when the center will have been upgraded.
He also had lunch with the Young Republican group at ISU. Later today, he will
appear on Iowa Press at 7:30 p.m. on Iowa Public Television.
On Saturday, he will speak at the Iowa Republican Party's sold-out annual
Abraham Lincoln Dinner at 7 p.m.