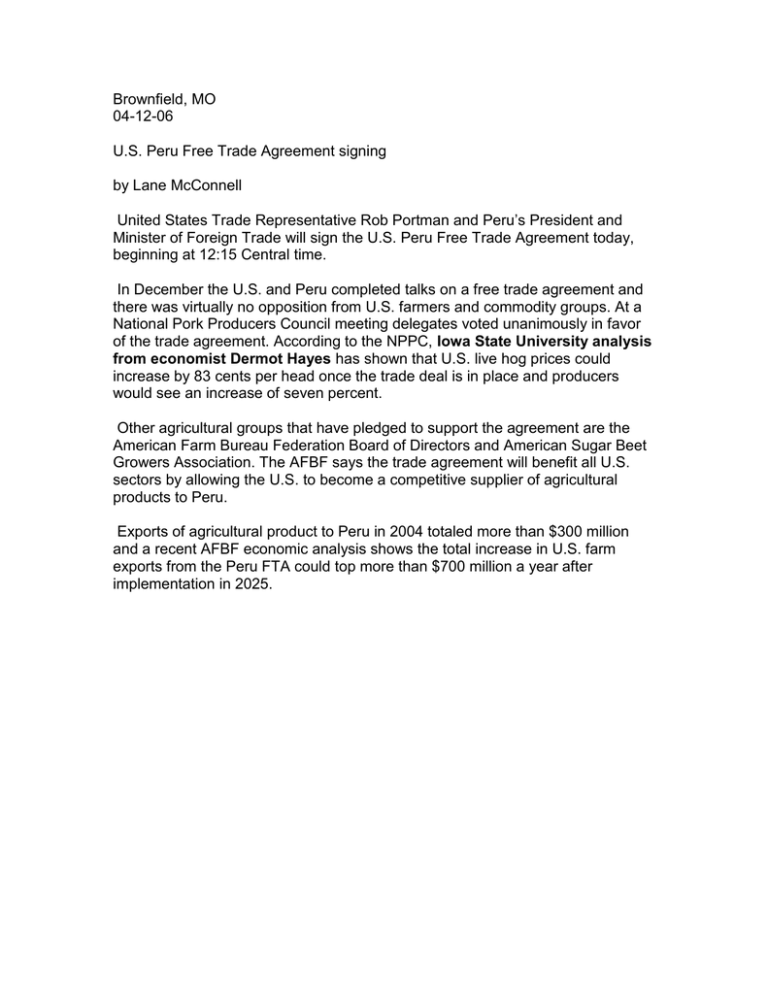 Brownfield, MO
04-12-06
U.S. Peru Free Trade Agreement signing
by Lane McConnell
United States Trade Representative Rob Portman and Peru's President and
Minister of Foreign Trade will sign the U.S. Peru Free Trade Agreement today,
beginning at 12:15 Central time.
In December the U.S. and Peru completed talks on a free trade agreement and
there was virtually no opposition from U.S. farmers and commodity groups. At a
National Pork Producers Council meeting delegates voted unanimously in favor
of the trade agreement. According to the NPPC, Iowa State University analysis
from economist Dermot Hayes has shown that U.S. live hog prices could
increase by 83 cents per head once the trade deal is in place and producers
would see an increase of seven percent.
Other agricultural groups that have pledged to support the agreement are the
American Farm Bureau Federation Board of Directors and American Sugar Beet
Growers Association. The AFBF says the trade agreement will benefit all U.S.
sectors by allowing the U.S. to become a competitive supplier of agricultural
products to Peru.
Exports of agricultural product to Peru in 2004 totaled more than $300 million
and a recent AFBF economic analysis shows the total increase in U.S. farm
exports from the Peru FTA could top more than $700 million a year after
implementation in 2025.