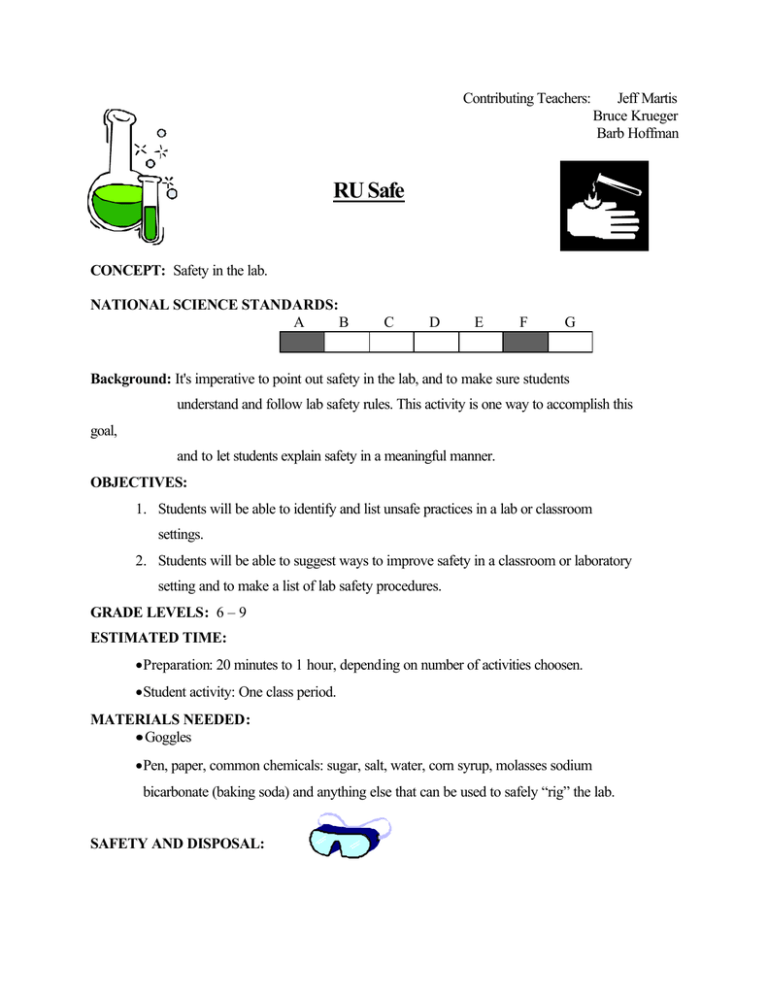 Contributing Teachers:
Jeff Martis
Bruce Krueger
Barb Hoffman
RU Safe
CONCEPT: Safety in the lab.
NATIONAL SCIENCE STANDARDS:
A
B
C
D
E
F
G
Background: It's imperative to point out safety in the lab, and to make sure students
understand and follow lab safety rules. This activity is one way to accomplish this
goal,
and to let students explain safety in a meaningful manner.
OBJECTIVES:
1. Students will be able to identify and list unsafe practices in a lab or classroom
settings.
2. Students will be able to suggest ways to improve safety in a classroom or laboratory
setting and to make a list of lab safety procedures.
GRADE LEVELS: 6 – 9
ESTIMATED TIME:
•Preparation: 20 minutes to 1 hour, depending on number of activities choosen.
•Student activity: One class period.
MATERIALS NEEDED:
• Goggles
•Pen, paper, common chemicals: sugar, salt, water, corn syrup, molasses sodium
bicarbonate (baking soda) and anything else that can be used to safely "rig" the lab.
SAFETY AND DISPOSAL:
Materials listed above may be flushed down the sink or thrown in the garbage as
appropriate for your school.
PROCEDURE:
«NOTE: All classroom activities must be performed in a manner that follows your school
district's safety guidelines. It is each teacher's responsibility to determine if this
activity is appropriate for your classroom. Students must wear goggles when doing this
activity.
1. "Rig" the lab (classroom or another room) with unsafe practices prior to the arrival of
students.
Examples of unsafe practices are food in the lab, unlabeled chemical bottles, blocked
eye wash station or shower, broken or cracked glassware (be sure to fire polish
edges!), and various spills on bench tops. There are many sources for lab safety
information, some are listed in the references below and you should also check with
your
school district
2. The students will have 8-10 minutes to go around the lab room and list all signs of
"unsafe" lab practices. Students should use caution not to touch anything and should
wear
goggles at all times.
3. Following the "lab inspection", a class discussion will be used to identify the unsafe
practices and discuss why they are not safe.
WRAP-UP:
1. Why is it important not to bring foods into the lab?
2. Why should bottles be labeled?
3. How do you operate the fire extinguisher?
4. What should you do if you - get something in your eye, spill something on your
clothes, cut yourself, break glassware, or start a fire?
EXTENSION ACTIVITIES:
1. In groups of 3, come up with a definition of safety. Compare and discuss these with
the rest of the class.
2. Hand out a "safety contract".
2. Invite a local expert to speaker on safety.
REFERENCES AND BIBLIOGRAPHY:
1. Flinn Scientific has excellent safety information in their catalogue.
2. Hugh B. Careful – safety handbook available from Genium Publishing (518) 3778854
3. MSDS sheets – see next two activities.
4. Most science lab books will have a section on safety.