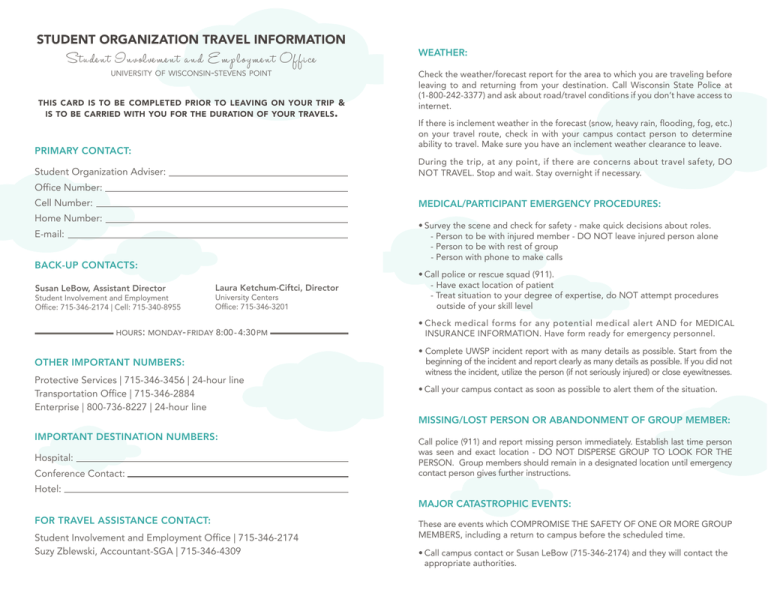 STUDENT ORGANIZATION TRAVEL INFORMATION
Student Involvement and Emp loyment Office
UNIVERSITY OF WISCONSIN-STEVENS POINT
THIS CARD IS TO BE COMPLETED PRIOR TO LEAVING ON YOUR TRIP &
IS TO BE CARRIED WITH YOU FOR THE DURATION OF YOUR TRAVELS.
PRIMARY CONTACT:
WEATHER:
Check the weather/forecast report for the area to which you are traveling before
leaving to and returning from your destination. Call Wisconsin State Police at
(1-800-242-3377) and ask about road/travel conditions if you don't have access to
internet.
If there is inclement weather in the forecast (snow, heavy rain, flooding, fog, etc.)
on your travel route, check in with your campus contact person to determine
ability to travel. Make sure you have an inclement weather clearance to leave.
During the trip, at any point, if there are concerns about travel safety, DO
NOT TRAVEL. Stop and wait. Stay overnight if necessary.
Student Organization Adviser:
Office Number:
MEDICAL/PARTICIPANT EMERGENCY PROCEDURES:
Cell Number:
Home Number:
• Survey the scene and check for safety - make quick decisions about roles.
- Person to be with injured member - DO NOT leave injured person alone
- Person to be with rest of group
- Person with phone to make calls
E-mail:
BACK-UP CONTACTS:
Susan LeBow, Assistant Director
Student Involvement and Employment
Office: 715-346-2174 | Cell: 715-340-8955
Laura Ketchum-Ciftci, Director
University Centers
Office: 715-346-3201
HOURS: MONDAY- FRIDAY 8:00 - 4:30 PM
OTHER IMPORTANT NUMBERS:
Protective Services | 715-346-3456 | 24-hour line
Transportation Office | 715-346-2884
Enterprise | 800-736-8227 | 24-hour line
IMPORTANT DESTINATION NUMBERS:
Hospital:
Conference Contact:
Hotel:
FOR TRAVEL ASSISTANCE CONTACT:
Student Involvement and Employment Office | 715-346-2174
Suzy Zblewski, Accountant-SGA | 715-346-4309
• Call police or rescue squad (911).
- Have exact location of patient
- Treat situation to your degree of expertise, do NOT attempt procedures
outside of your skill level
• Check medical forms for any potential medical alert AND for MEDICAL
INSURANCE INFORMATION. Have form ready for emergency personnel.
• Complete UWSP incident report with as many details as possible. Start from the
beginning of the incident and report clearly as many details as possible. If you did not
witness the incident, utilize the person (if not seriously injured) or close eyewitnesses.
• Call your campus contact as soon as possible to alert them of the situation.
MISSING/LOST PERSON OR ABANDONMENT OF GROUP MEMBER:
Call police (911) and report missing person immediately. Establish last time person
was seen and exact location - DO NOT DISPERSE GROUP TO LOOK FOR THE
PERSON. Group members should remain in a designated location until emergency
contact person gives further instructions.
MAJOR CATASTROPHIC EVENTS:
These are events which COMPROMISE THE SAFETY OF ONE OR MORE GROUP
MEMBERS, including a return to campus before the scheduled time.
• Call campus contact or Susan LeBow (715-346-2174) and they will contact the
appropriate authorities.