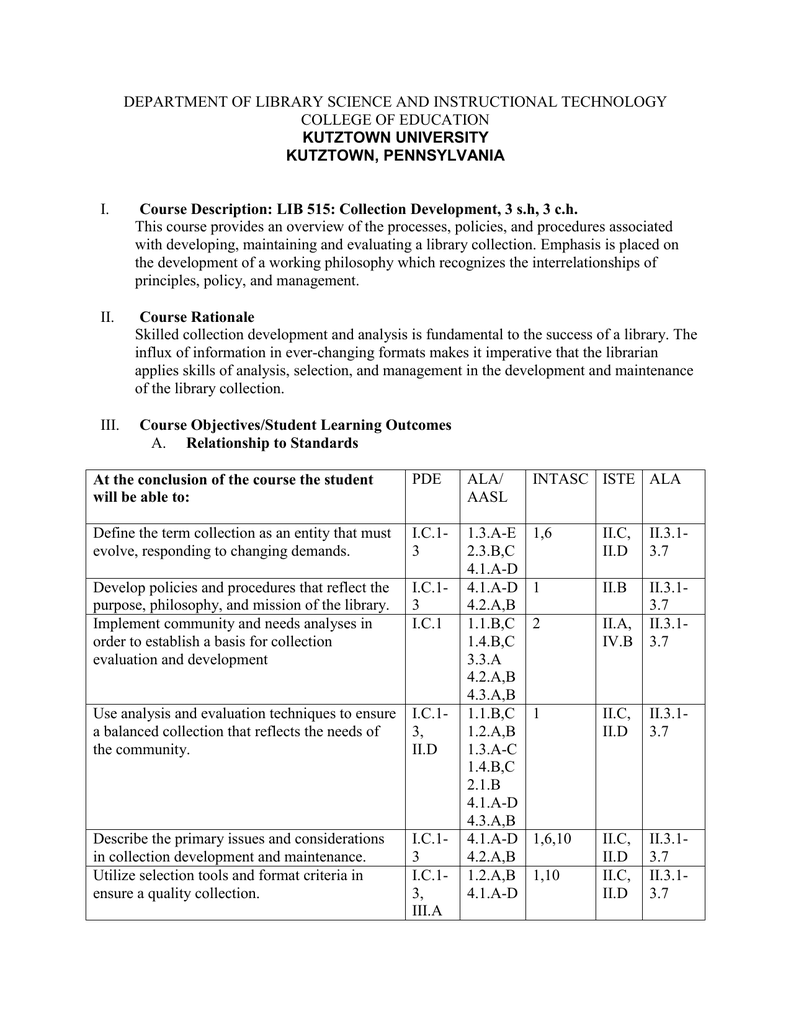 DEPARTMENT OF LIBRARY SCIENCE AND INSTRUCTIONAL TECHNOLOGY
COLLEGE OF EDUCATION
KUTZTOWN UNIVERSITY
KUTZTOWN, PENNSYLVANIA
I.
Course Description: LIB 515: Collection Development, 3 s.h, 3 c.h.
This course provides an overview of the processes, policies, and procedures associated
with developing, maintaining and evaluating a library collection. Emphasis is placed on
the development of a working philosophy which recognizes the interrelationships of
principles, policy, and management.
II.
Course Rationale
Skilled collection development and analysis is fundamental to the success of a library. The
influx of information in ever-changing formats makes it imperative that the librarian
applies skills of analysis, selection, and management in the development and maintenance
of the library collection.
III.
Course Objectives/Student Learning Outcomes
A. Relationship to Standards
At the conclusion of the course the student
will be able to:
PDE
ALA/
AASL
INTASC ISTE ALA
Define the term collection as an entity that must
evolve, responding to changing demands.
I.C.13
1,6
II.C,
II.D
II.3.13.7
Develop policies and procedures that reflect the
purpose, philosophy, and mission of the library.
Implement community and needs analyses in
order to establish a basis for collection
evaluation and development
I.C.13
I.C.1
1
II.B
2
II.A,
IV.B
II.3.13.7
II.3.13.7
Use analysis and evaluation techniques to ensure
a balanced collection that reflects the needs of
the community.
I.C.13,
II.D
1
II.C,
II.D
II.3.13.7
Describe the primary issues and considerations
in collection development and maintenance.
Utilize selection tools and format criteria in
ensure a quality collection.
I.C.13
I.C.13,
III.A
1.3.A-E
2.3.B,C
4.1.A-D
4.1.A-D
4.2.A,B
1.1.B,C
1.4.B,C
3.3.A
4.2.A,B
4.3.A,B
1.1.B,C
1.2.A,B
1.3.A-C
1.4.B,C
2.1.B
4.1.A-D
4.3.A,B
4.1.A-D
4.2.A,B
1.2.A,B
4.1.A-D
1,6,10
II.C,
II.D
II.C,
II.D
II.3.13.7
II.3.13.7
1,10
Establish policy and methodology for the
valuation of the collection
I.C.13, II.E
Establish policies and procedures to support
intellectual freedom and the privacy of users of
all ages.
Evaluate the collection in terms of the promotion
of life long reading.
Articulate the omnipresent role of technology in
library collections.
I.C.13,
III.B
I.E.1
I.B,
I.C.2,
II.C
1.1.B,C 1, 10
1.2.A,B
1.3.A-C
1.4.B,C
2.1.B
4.1.A-D
4.3.A,B
4.1.C
1
1.2.A,B
1,2,10
1.2.A, B,
C
I.4.A
3, 6
II.C
II.3.13.7
II.3.13.7
V
II.3.13.7
I.2.9,
II.3.5
B. Relationship to Conceptual Framework
Communication
The library collection is used to its fullest extent only if
the librarian is an effective communicator.
Critical Thinking
In choosing materials, librarians plan and carry out
activities that culminate in important selection decisions.
Scholarly Inquiry
Students will be aware of selection criteria for library
materials and must learn to select accordingly.
Reflective Wisdom
Based on an understanding of selection criteria, students
must reflect on value commensurate with cost and/or need
of materials.
Integration of Discipline
Students must be aware of the need to support,
supplement, and enrich the entire curriculum
Cultural Awareness and Acceptance Students will gain an awareness of our pluralistic society
through a thorough understanding of the criteria for a
balanced library collection.
IV. Assessment
A. Core Assignment (See attachment)
B. Other assessments based on a subset of the following:
1.
Documentation of required field work (4 hrs)
2.
Reflection journals and papers
3.
Discussion forums
4.
Quizzes and exams
V.
Course Outline
A.
Course Outline Documentation
I.
II.
III.
IV.
V.
VI.
VII.
VIII.
IX.
The Collection
A.
Physical Entity and Accessibility
B.
Library Program and the Collection
C.
Roles of the Librarian and the Collection
D.
Relationships that Influence the Collection
Collection Development
A.
Learning about the Existing Collection
B.
Knowing the Community
C.
Assessing Needs
D.
Describing the Program
E.
Selecting Materials
F.
Acquiring and Processing Materials
G.
Resource Sharing
H.
Maintaining and Preserving Materials
I.
Accessing and Circulating Materials
J.
Evaluating the Collection
K.
Interaction of Collection Development Activities
L.
Other Factors that Affect Collection Development
1.
District Library Program
2.
Financial Support and Control
3.
School Facilities
Community Analysis and Needs Assessment
A.
Learning about the Community
B.
Learning about the School
C.
Other Libraries
D.
Assessing User Needs
Policies and Procedures
A.
Policy vs. Procedure Statements
B.
Formulating and Adopting Policies
C.
Writing a Policies and Procedures Manual
D.
Contents of a Manual
Selection
A.
Elements of a Selection Policy
B.
Selection Procedures
C.
Sources of Assistance
General Selection Criteria
A.
Intellectual Content and its Presentation
B.
Physical Form
C.
Cost
D.
Equipment
Criteria by Format
Maintenance and preservation
A.
Maintenance Policies
B.
Maintenance Procedures
Evaluation of the Collection
X.
XI.
XII.
B.
Ethical Issues and the Collection
Special Groups of Students
A.
Students with Disabilities
B.
Gifted and Talented Students
C.
Diversity and Students
D.
Poor and Reluctant Readers
E.
Gay/Lesbian Students
F.
Other Special Groups of Students
Opening, Moving, or Closing the Collection
Other Policies
1.
Accommodations
Any student who has a need for accommodation based on the impact of a
disability should privately contact the Director, Office of Service to
Americans with Disabilities to discuss the specific situation as soon as
possible. Contact the Director at 610-683-4108 in the Stratton
Administration Building to coordinate reasonable accommodations
2.
Academic Honesty
Any acts of academic dishonesty by students, such as plagiarism on written
papers or cheating on exams, threaten to undermine the educational and ethical
goals of the University for its students. Such violations are of the utmost
seriousness. The goal of the following policy and procedures is to promote a
climate of academic honesty for all individuals at the University (The Key, p. 47).
VI.
Instructional Resources
American Library Association. Information Power. Chicago: American Library Association,
1998.
"Access to Resources and Services in the School Library Media Program", American
Association of School Librarian, World Wide Web site, 2003.
Agosto, Denise E. "Bridging the Cultural Gap: Ten Steps Toward A More Multicultural Youth
Library." Journal of Youth Services in Libraries V.14, No.3 (Spring 2001): 38-41.
"Banned Books". American Library Association. World Wide Web site, Links to various topics
including Banned Books Week, 2003.
"Censorship in the Schools." American Library Association. World Wide Web Site, 2003.
Crew, Hilary S. "Transforming the Hidden Curriculum: Gender and the Library Media Center."
Knowledge Quest V.26, No.4 (May-June 1998): 30-33.
Doll, Carol A. Managing and Analyzing Your Collection: A Practical Guide for Small Libraries
and School Media Centers, Chicago: America Library Association, 2002.
Gorman, Michele. "What Teens Want: Thirty Graphic Novels You Can't Live
Without." School Library Journal V.48, No.8 (Aug 2002): 42-47.
Intellectual Freedom Manual. 6th Ed., Chicago: American Library Association, 2002.
Jacobs, Heidi Hayes. "Upgrading the K-12 Journey Through Curriculum Mapping A Technology
Tool for Classroom Teachers, Media Specialists, and Administrators." Knowledge Quest
V.29, No. 2 (Nov-Dec 2000): 25-29.
Kachel, Debra E. Collection Assessment and Management for School Libraries: Preparing for
Cooperative Collection Development. Chicago: American Library Association, 1997
Kerby, Ramona. "How Old Is Your School Library Media Center Collection?"School Library
Media Activities Monthly V.18, No.4 (Dec. 2001): 22-24.
Lowe, Karen. R. "Resource Alignment: Providing Curriculum Support in the School Library
Media Center." Knowledge Quest V.30, No.2 (Nov-Dec 2001): 27-32.
Miller, Marilyn L., and Marilyn L. Shontz. "New Money, Old Books." School Library Journal,
October 2001: 50-60.
Reichman, Henry F. Censorship and Selection:Issues and Answers. Chicago: American Library
Association, 2001.
"SUNLINK Weed of the Month Club." www.sunlink.ucf.edu/weed, World Wide Web site, 2003.
Willcoxon, Wanda Odom. "Collection Evaluation in a Georgia Elementary School: A Look at
the Process and Resulting Change in Teacher's Perceptions of Its Quality and
Usefulness." Knowledge Quest V. 29, No. 5 (May-June 2001): 23-29.