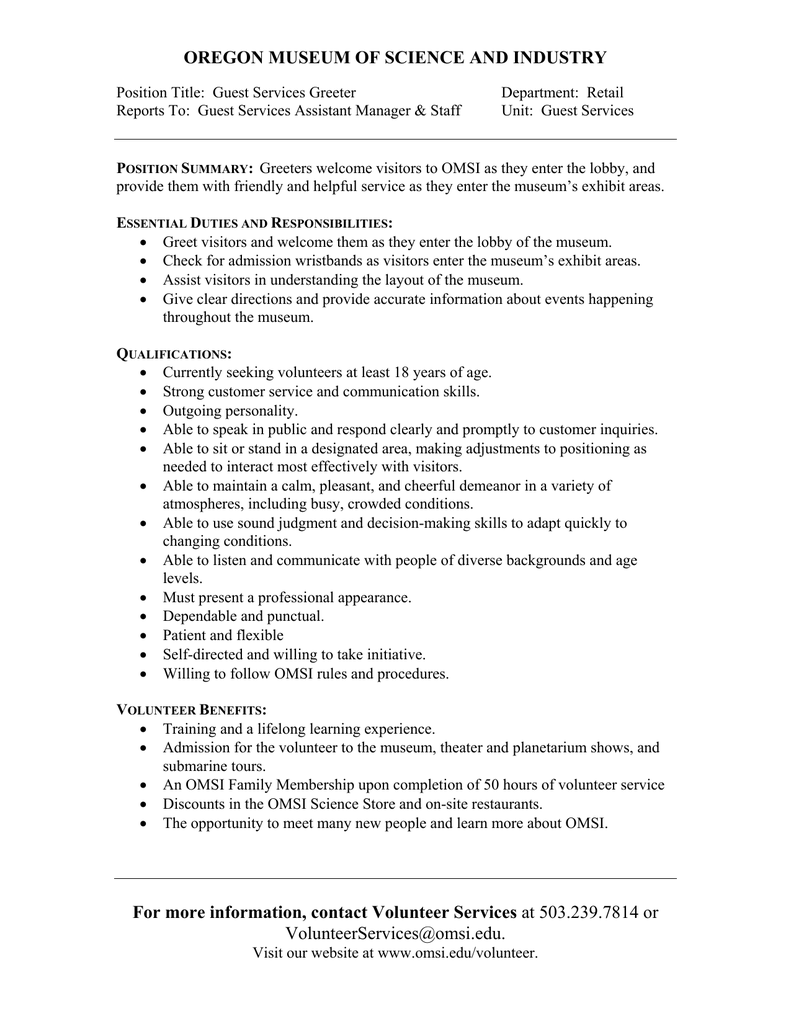 OREGON MUSEUM OF SCIENCE AND INDUSTRY
Position Title: Guest Services Greeter
Reports To: Guest Services Assistant Manager & Staff
Department: Retail
Unit: Guest Services
POSITION SUMMARY: Greeters welcome visitors to OMSI as they enter the lobby, and
provide them with friendly and helpful service as they enter the museum's exhibit areas.
ESSENTIAL DUTIES AND RESPONSIBILITIES:
 Greet visitors and welcome them as they enter the lobby of the museum.
 Check for admission wristbands as visitors enter the museum's exhibit areas.
 Assist visitors in understanding the layout of the museum.
 Give clear directions and provide accurate information about events happening
throughout the museum.
QUALIFICATIONS:
 Currently seeking volunteers at least 18 years of age.
 Strong customer service and communication skills.
 Outgoing personality.
 Able to speak in public and respond clearly and promptly to customer inquiries.
 Able to sit or stand in a designated area, making adjustments to positioning as
needed to interact most effectively with visitors.
 Able to maintain a calm, pleasant, and cheerful demeanor in a variety of
atmospheres, including busy, crowded conditions.
 Able to use sound judgment and decision-making skills to adapt quickly to
changing conditions.
 Able to listen and communicate with people of diverse backgrounds and age
levels.
 Must present a professional appearance.
 Dependable and punctual.
 Patient and flexible
 Self-directed and willing to take initiative.
 Willing to follow OMSI rules and procedures.
VOLUNTEER BENEFITS:
 Training and a lifelong learning experience.
 Admission for the volunteer to the museum, theater and planetarium shows, and
submarine tours.
 An OMSI Family Membership upon completion of 50 hours of volunteer service
 Discounts in the OMSI Science Store and on-site restaurants.
 The opportunity to meet many new people and learn more about OMSI.
For more information, contact Volunteer Services at 503.239.7814 or
[email protected]
Visit our website at www.omsi.edu/volunteer.