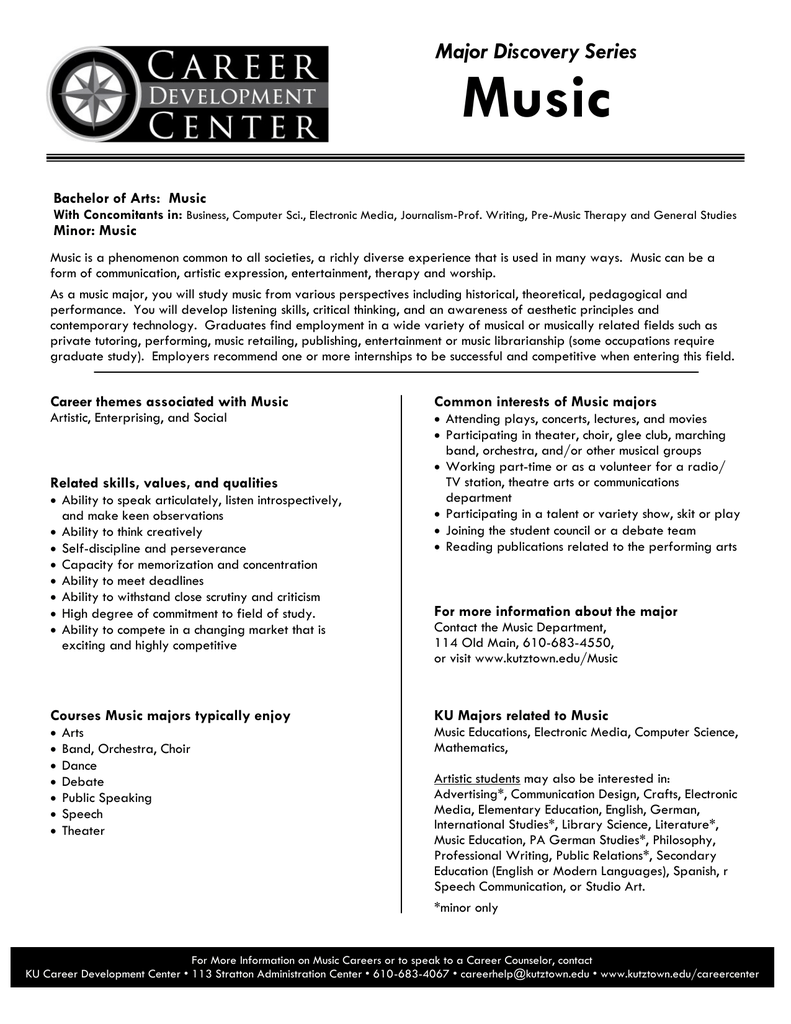 Major Discovery Series
Music
Bachelor of Arts: Music
With Concomitants in: Business, Computer Sci., Electronic Media, Journalism-Prof. Writing, Pre-Music Therapy and General Studies
Minor: Music
Music is a phenomenon common to all societies, a richly diverse experience that is used in many ways. Music can be a
form of communication, artistic expression, entertainment, therapy and worship.
As a music major, you will study music from various perspectives including historical, theoretical, pedagogical and
performance. You will develop listening skills, critical thinking, and an awareness of aesthetic principles and
contemporary technology. Graduates find employment in a wide variety of musical or musically related fields such as
private tutoring, performing, music retailing, publishing, entertainment or music librarianship (some occupations require
graduate study). Employers recommend one or more internships to be successful and competitive when entering this field.
Career themes associated with Music
Common interests of Music majors
Artistic, Enterprising, and Social
 Attending plays, concerts, lectures, and movies
 Participating in theater, choir, glee club, marching
band, orchestra, and/or other musical groups
 Working part-time or as a volunteer for a radio/
Related skills, values, and qualities
 Ability to speak articulately, listen introspectively,







and make keen observations
Ability to think creatively
Self-discipline and perseverance
Capacity for memorization and concentration
Ability to meet deadlines
Ability to withstand close scrutiny and criticism
High degree of commitment to field of study.
Ability to compete in a changing market that is
exciting and highly competitive
TV station, theatre arts or communications
department
 Participating in a talent or variety show, skit or play
 Joining the student council or a debate team
 Reading publications related to the performing arts
For more information about the major
Contact the Music Department,
114 Old Main, 610-683-4550,
or visit www.kutztown.edu/Music
Courses Music majors typically enjoy
KU Majors related to Music







Music Educations, Electronic Media, Computer Science,
Mathematics,
Arts
Band, Orchestra, Choir
Dance
Debate
Public Speaking
Speech
Theater
Artistic students may also be interested in:
Advertising*, Communication Design, Crafts, Electronic
Media, Elementary Education, English, German,
International Studies*, Library Science, Literature*,
Music Education, PA German Studies*, Philosophy,
Professional Writing, Public Relations*, Secondary
Education (English or Modern Languages), Spanish, r
Speech Communication, or Studio Art.
*minor only
For More Information on Music Careers or to speak to a Career Counselor, contact
KU Career Development Center • 113 Stratton Administration Center • 610-683-4067 • [email protected] • www.kutztown.edu/careercenter








 Attend your senior kick-off and
other info sessions to prepare
for job search/grad school.
 Enroll in the Career Success

Update your resume and
Certificate.
LinkedIn profile.
 Complete an internship and/or
 Meet with CDC career

Create cover letter drafts.
undergraduate
research.
coach.
Enroll in the Career

Gain experience through

Attend
info
sessions
about
 Attend info sessions to learn
Exploration Certificate.
internships and/or
internships,
interviewing,
job
about resume writing, and
Attend info sessions to learn
undergraduate research.
search strategies, and grad
externships.
about career development

Secure references for job/grad
school.
 Confirm your choice of major
and personal branding.
school applications.

Build
a
LinkedIn
profile
and
and consider options for
Take a career assessment to
continue to monitor your online  Create your "30 second"
double
major
or
minor.
identify and confirm interests.
commercial.
presence.
 Research careers of interest.
Get involved in campus clubs

Meet with CDC to develop

Complete
a
mock
interview.
 Complete a job shadowing
and organizations.
job search strategies.
 Build skills through research
(externship) experience.
Develop basic workplace skills

Research employers.
projects,
part-time
employment,
through jobs or volunteer work.  Seek meaningful employand
volunteer
work.

Network with professionals
ment or volunteer work in a
Talk with professors, family,
through events and social
 Participate in Coffee and
field
related
to
your
major.
and friends about career
media.
Convos & networking programs.

Explore
options
for
underideas.

Join a professional organization

Attend
internship
&
job
fairs.
graduate research and
Conduct informational
in your discipline.
 Take on a leadership role in a
study abroad.
interviews with professionals

Attend the senior etiquette
student
organization
or
work.
 Write a resume and have it
working in fields of interest.
dinner.

Consider
graduate
school
reviewed
by
the
CDC.
Develop a relationship with
 Participate in job fairs and
options
and
prepare
for

Manage
your
online
your professors and faculty
on-campus interviewing.
admissions tests.
presence.
advisor.
Sample Career Titles
Music majors can be found working in a wide variety of career fields. Here are just some career titles that may be of
interest. Please note that some jobs may require further education and training.



















Architectural Acoustic Monitor
Armed Forces Band Member
Artist & Repertoire (A&R) Person
Arts Administrator/Manager
Community Development Specialist
Community/Public Svc Administrator
Composer/Arranger
Conductor
Copyright Specialist
Copywriter
Cruise Social Director
Disc Jockey
Editor
Educator
Engineer/Mixer
Film Music Editor
Instrument Service Specialist
Journalist
Manufacturers' Representative



















Music Attorney
Music Copyist
Music Critic
Music Director
Music Librarian
Music Promoter
Music Publishing Specialist
Music Reporter
Music Software Programmer
Music Store Manager
Music Stringer
Music Teacher
Music Therapist
Musician
Narrator
Orchestra Librarian
Piano Tuner
Professional Entertainer
Public Relations Specialist
















Publicist
Recording Engineer
Recording Technician
Recreation Director
Religion Music Director
Royalties Broadcast Monitor
Sales Representative
Singer
Sound Technician
Studio Musician
Synthesizer Specialist
Technical Writer
Theatre Performer
Tour Manager
Union Contractor
Voice Teacher
To learn more about these careers, visit http://online.onetcenter.org or www.bls.gov/oco.
Common Internship Sites and Employers
Music majors often find internships and employment in the following industries.
 Public, Private, and International Schools
 State and Federal Government Youth Services
 Theater/Performing Groups
 Children's Music Programs
 Council for the Arts
 Radio/TV
 Colleges and Universities
 Community Centers/Non-Profit Organizations
 Business and Industry
 Magazines/Newspapers
 Music Publishing Companies
KU Career Network is the primary online resource
for preparing and connecting students and alumni with employers.
www.kutztown.edu/KUCN
Useful Websites for Music Majors
Whether you are researching related career fields, applying for internships or jobs, or planning to join
a professional association, these websites are for you!
Industry/Employment Information
Job/Internship Search Boards
Professional Associations
Arts Wire
www.artswire.org
Entertainment Careers
www.entertainmentcareers.net
National Art Education Association
www.naea-reston.org
National Endowment for the Arts
www.nea.gov
The National Assoc. of Music Edu.
www.menc.org/careers
Association of Arts Admin. Educators
http://artsadministration.org
Solo Performer
www.soloperformer.com
Music Careers
www.music-careers.com
American Music Conference
www.amc-music.com
Navigating Music Careers
http://navmusic.rice.edu
Internships.com
www.internships.com
American Federation of Musicians
www.afm.org
Musician Wages
www.musicianwages.com
My Music Job
www.mymusicjob.com
American Music Therapy Assoc.
www.musictherapy.org
Artists House Musicians
www.artistshousemusic.org
The Film Music Society
www.filmmusicsociety.org
Building Your Resume for a Career in Music
Building a strong resume for your career field starts long before you ever start your job search. Employers want to hire graduates
who not only have the necessary educational background but also have experience applying that knowledge to real life situations.
Consider choosing a
minor that will
complement your major
and tailor your
knowledge towards
specific career goals.
Learn more about your
field and develop the
necessary skills for
employment by
gaining hands-on
experience through
externships, internships,
part-time jobs and/or
related volunteer
positions.
Develop professionally
through campus
involvement and
professional
memberships.
This illustrates
responsibility,
leadership abilities
and time management
skills.