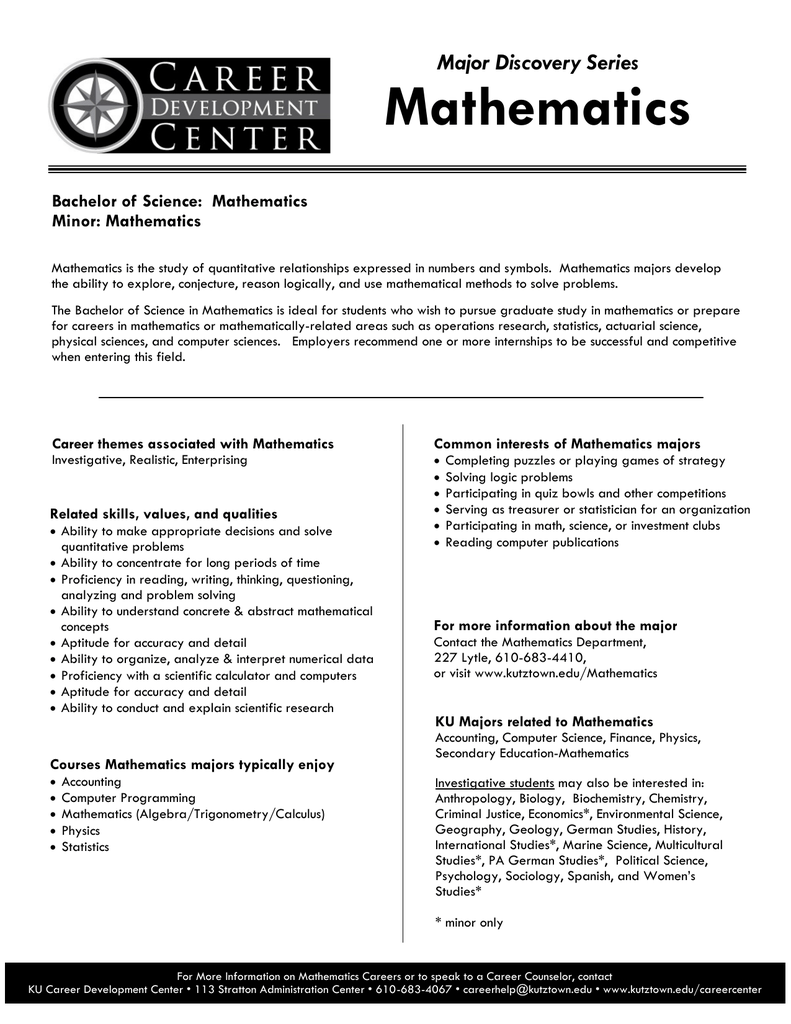 Major Discovery Series
Mathematics
Bachelor of Science: Mathematics
Minor: Mathematics
Mathematics is the study of quantitative relationships expressed in numbers and symbols. Mathematics majors develop
the ability to explore, conjecture, reason logically, and use mathematical methods to solve problems.
The Bachelor of Science in Mathematics is ideal for students who wish to pursue graduate study in mathematics or prepare
for careers in mathematics or mathematically-related areas such as operations research, statistics, actuarial science,
physical sciences, and computer sciences. Employers recommend one or more internships to be successful and competitive
when entering this field.
Career themes associated with Mathematics
Common interests of Mathematics majors
Investigative, Realistic, Enterprising






Related skills, values, and qualities
 Ability to make appropriate decisions and solve
quantitative problems
Completing puzzles or playing games of strategy
Solving logic problems
Participating in quiz bowls and other competitions
Serving as treasurer or statistician for an organization
Participating in math, science, or investment clubs
Reading computer publications
 Ability to concentrate for long periods of time
 Proficiency in reading, writing, thinking, questioning,






analyzing and problem solving
Ability to understand concrete & abstract mathematical
concepts
Aptitude for accuracy and detail
Ability to organize, analyze & interpret numerical data
Proficiency with a scientific calculator and computers
Aptitude for accuracy and detail
Ability to conduct and explain scientific research
Courses Mathematics majors typically enjoy





Accounting
Computer Programming
Mathematics (Algebra/Trigonometry/Calculus)
Physics
Statistics
For more information about the major
Contact the Mathematics Department,
227 Lytle, 610-683-4410,
or visit www.kutztown.edu/Mathematics
KU Majors related to Mathematics
Accounting, Computer Science, Finance, Physics,
Secondary Education-Mathematics
Investigative students may also be interested in:
Anthropology, Biology, Biochemistry, Chemistry,
Criminal Justice, Economics*, Environmental Science,
Geography, Geology, German Studies, History,
International Studies*, Marine Science, Multicultural
Studies*, PA German Studies*, Political Science,
Psychology, Sociology, Spanish, and Women's
Studies*
* minor only
For More Information on Mathematics Careers or to speak to a Career Counselor, contact
KU Career Development Center • 113 Stratton Administration Center • 610-683-4067 • [email protected] • www.kutztown.edu/careercenter








 Attend your senior kick-off and
other info sessions to prepare
for job search/grad school.
 Enroll in the Career Success

Update your resume and
Certificate.
LinkedIn profile.
 Complete an internship and/or
 Meet with CDC career

Create cover letter drafts.
undergraduate
research.
coach.
Enroll in the Career

Gain experience through

Attend
info
sessions
about
 Attend info sessions to learn
Exploration Certificate.
internships and/or
internships,
interviewing,
job
about resume writing, and
Attend info sessions to learn
undergraduate research.
search strategies, and grad
externships.
about career development

Secure references for job/grad
school.
 Confirm your choice of major
and personal branding.
school applications.

Build
a
LinkedIn
profile
and
and consider options for
Take a career assessment to
continue to monitor your online  Create your "30 second"
double
major
or
minor.
identify and confirm interests.
commercial.
presence.
 Research careers of interest.
Get involved in campus clubs

Meet with CDC to develop

Complete
a
mock
interview.
 Complete a job shadowing
and organizations.
job search strategies.
 Build skills through research
(externship) experience.
Develop basic workplace skills

Research employers.
projects,
part-time
employment,
through jobs or volunteer work.  Seek meaningful employand
volunteer
work.

Network with professionals
ment or volunteer work in a
Talk with professors, family,
through events and social
 Participate in Coffee and
field
related
to
your
major.
and friends about career
media.
Convos & networking programs.

Explore
options
for
underideas.

Join a professional organization

Attend
internship
&
job
fairs.
graduate research and
Conduct informational
in your discipline.
 Take on a leadership role in a
study abroad.
interviews with professionals

Attend the senior etiquette
student
organization
or
work.
 Write a resume and have it
working in fields of interest.
dinner.

Consider
graduate
school
reviewed
by
the
CDC.
Develop a relationship with
 Participate in job fairs and
options
and
prepare
for

Manage
your
online
your professors and faculty
on-campus interviewing.
admissions tests.
presence.
advisor.
Sample Career Titles
Mathematics majors can be found working in a wide variety of career fields. Here are just some career titles that may
be of interest. Please note that some jobs may require further education and training.
























Accountant
Actuary
Aerospace Engineer
Air Traffic Controller
Analyst
Applications Programmer
Applied Science Technologist
Appraiser
Architect
Artificial Intelligence Programmer
Astronomer
Banking/Credit/Investment Manager
Biometrician/Biostatistician
Cartographer
Commodity Manager
Compensation/Benefits Administrator
Computer Engineer
Computer Facilities Manager
Computer Marketing/Sales
Computer Programmer
Consumer Loan/Credit Officer
Credit Manager
Cryptographer/Cryptologist
Data Control Administrator
























Data Processing Manager
Database Manager
Demographer
Econometrician
Economist
Educator
Employee Relations Specialist
Engineer
Engineering Lab Technician
Environmental Technologist
Estate Planner
External Auditor
Financial Auditor
Financial Consultant/Manager
Geologist
Hydrologist
Information Scientist
Inventory Control Specialist
Investment Banker
Market Research Analyst
Mathematician
Metallurgist
Meteorologist
Mortgage Researcher























Nuclear Scientist
Numerical Analyst
Operations Research Analyst
Pharmacologist
Physicist
Production Manager
Psychometrician
Public Health Statistician
Purchasing/Contract Agent
Quality Assurance Analyst
Rate Analyst
Research Analyst
Risk & Insurance Specialist
Risk Analyst
Satellite Communications Specialist
Software Development Specialist
Statistician
Surveyor
Systems Analyst
Systems Engineer
Teacher: Math/Science/Computers
Underwriter
Urban Planner
To learn more about these careers, visit http://online.onetcenter.org or www.bls.gov/ooh.
Common Internship Sites and Employers
Mathematics majors often find internships and employment in the following industries:






Aerospace Development
Banks & Investment Firms
Business & Industry
Colleges/Universities
Engineering Firms
Insurance Agencies






Medical Field
Public & Private Schools
Research & Development Firms
State/Federal Government
Technical Publication Companies
Utility Companies
KU Career Network is the primary online resource
for preparing and connecting students and alumni with employers.
www.kutztown.edu/KUCN
Useful Websites for Mathematics Majors
Whether you are researching related career fields, applying for internships or jobs, or planning to join
a professional association, these websites are for you!
Industry Information and Job/Internship
Search Sites
Be an Actuary
www.beanactuary.org
Careers in Federal Government
www.makingthedifference.org
Careers in Math
www.coolmath.com/careers.htm
Careers in Applied Mathematics
www.siam.org/careers/thinking.php
DICE
www.dice.com
Math Jobs
www.math-jobs.com
Sloan Career Cornerstone Center
www.careercornerstone.org
TechnoCentral
www.technocentral.com
We Use Math in Careers
www.weusemath.org
Professional Associations
American Mathematical Society
www.ams.org
American Statistical Association
www.amstat.org
Association for Women in Mathematics
www.awm-math.org
Mathematical Association of America
www.maa.org
Society of Actuaries
www.soa.org
Society for Industrial & Applied Mathematics
www.siam.org
Society of Mathematical Biology
www.smb.org
Building Your Resume for a Career in Mathematics
Building a strong resume for your career field starts long before you ever start your job search. Employers want to hire
graduates who not only have the necessary educational background but also have experience applying that knowledge
to real life situations.
Take note of the skills
and knowledge
obtained through
your educational
background and
hands-on
experiences.
Highlight transferable
skills such as
communication and
technological
proficiencies.
Learn more about
your field and
develop the
necessary skills for
employment by
gaining hands-on
experience through
externships,
internships, part-time
jobs and related
volunteer positions.
Develop
professionally
through campus
involvement and
professional
memberships.
This illustrates
responsibility,
leadership abilities
and time
management skills.