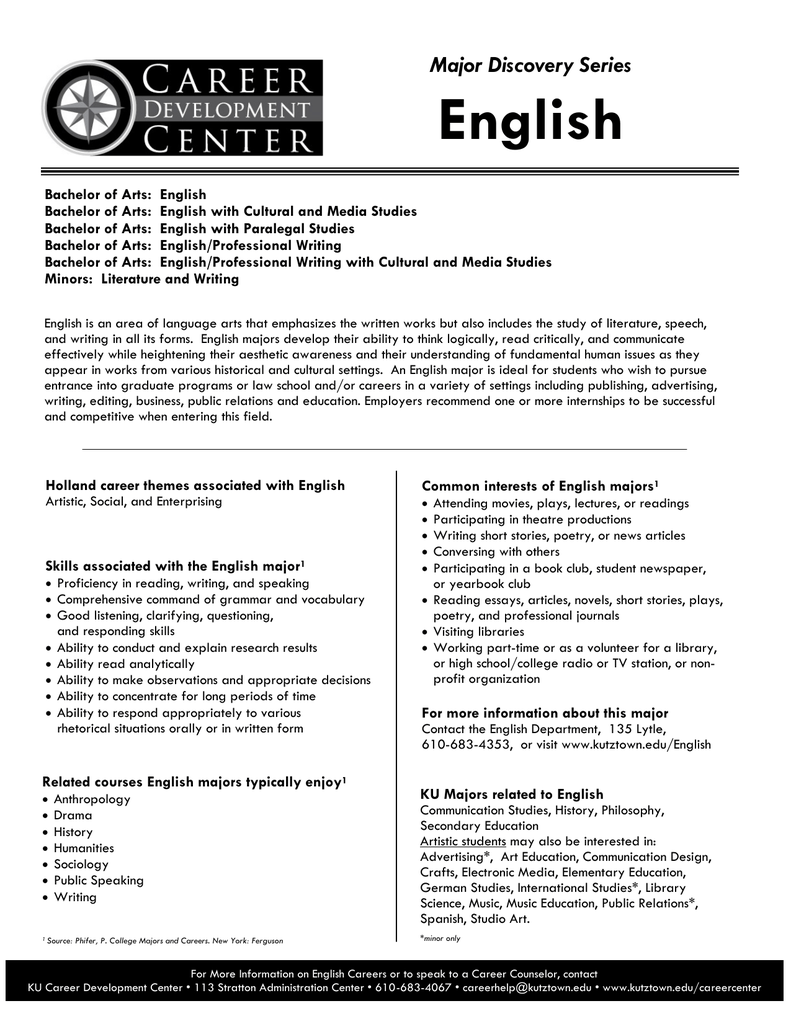 Major Discovery Series
English
Bachelor of Arts: English
Bachelor of Arts: English with Cultural and Media Studies
Bachelor of Arts: English with Paralegal Studies
Bachelor of Arts: English/Professional Writing
Bachelor of Arts: English/Professional Writing with Cultural and Media Studies
Minors: Literature and Writing
English is an area of language arts that emphasizes the written works but also includes the study of literature, speech,
and writing in all its forms. English majors develop their ability to think logically, read critically, and communicate
effectively while heightening their aesthetic awareness and their understanding of fundamental human issues as they
appear in works from various historical and cultural settings. An English major is ideal for students who wish to pursue
entrance into graduate programs or law school and/or careers in a variety of settings including publishing, advertising,
writing, editing, business, public relations and education. Employers recommend one or more internships to be successful
and competitive when entering this field.
Holland career themes associated with English
Artistic, Social, and Enterprising
Skills associated with the English major1
 Proficiency in reading, writing, and speaking
 Comprehensive command of grammar and vocabulary
 Good listening, clarifying, questioning,





and responding skills
Ability to conduct and explain research results
Ability read analytically
Ability to make observations and appropriate decisions
Ability to concentrate for long periods of time
Ability to respond appropriately to various
rhetorical situations orally or in written form
Related courses English majors typically enjoy1







Anthropology
Drama
History
Humanities
Sociology
Public Speaking
Writing
1 Source:
Phifer, P. College Majors and Careers. New York: Ferguson
Common interests of English majors1





Attending movies, plays, lectures, or readings
Participating in theatre productions
Writing short stories, poetry, or news articles
Conversing with others
Participating in a book club, student newspaper,
or yearbook club
 Reading essays, articles, novels, short stories, plays,
poetry, and professional journals
 Visiting libraries
 Working part-time or as a volunteer for a library,
or high school/college radio or TV station, or nonprofit organization
For more information about this major
Contact the English Department, 135 Lytle,
610-683-4353, or visit www.kutztown.edu/English
KU Majors related to English
Communication Studies, History, Philosophy,
Secondary Education
Artistic students may also be interested in:
Advertising*, Art Education, Communication Design,
Crafts, Electronic Media, Elementary Education,
German Studies, International Studies*, Library
Science, Music, Music Education, Public Relations*,
Spanish, Studio Art.
*minor only
For More Information on English Careers or to speak to a Career Counselor, contact
KU Career Development Center • 113 Stratton Administration Center • 610-683-4067 • [email protected] • www.kutztown.edu/careercenter








 Attend your senior kick-off and
other info sessions to prepare
for job search/grad school.
 Enroll in the Career Success

Update your resume and
Certificate.
LinkedIn profile.
 Complete an internship and/or
 Meet with CDC career

Create cover letter drafts.
undergraduate research.
coach.
Enroll in the Career

Gain experience through
 Attend info sessions to learn  Attend info sessions about
Exploration Certificate.
internships and/or
internships,
interviewing,
job
about resume writing, and
Attend info sessions to learn
undergraduate research.
search
strategies,
and
grad
externships.
about career development

Secure references for job/grad
school.
 Confirm your choice of major
and personal branding.
school applications.
 Build a LinkedIn profile and
and consider options for
Take a career assessment to

Create your "30 second"
continue
to
monitor
your
online
double major or minor.
identify and confirm interests.
commercial.
presence.
 Research careers of interest.
Get involved in campus clubs

Meet with CDC to develop

Complete
a
mock
interview.
 Complete a job shadowing
and organizations.
job search strategies.

Build
skills
through
research
(externship) experience.
Develop basic workplace skills

Research employers.
projects, part-time employment,
through jobs or volunteer work.  Seek meaningful employand
volunteer
work.

Network with professionals
ment or volunteer work in a
Talk with professors, family,
through events and social

Participate
in
Coffee
and
field related to your major.
and friends about career
media.
Convos
&
networking
programs.
 Explore options for underideas.
 Join a professional organization
 Attend internship & job fairs.
graduate
research
and
Conduct informational
in your discipline.
 Take on a leadership role in a
study abroad.
interviews with professionals

Attend the senior etiquette
student organization or work.
 Write a resume and have it
working in fields of interest.
dinner.
 Consider graduate school
reviewed by the CDC.
Develop a relationship with

Participate in job fairs and
options
and
prepare
for
 Manage your online
your professors and faculty
on-campus interviewing.
admissions
tests.
presence.
advisor.
Sample Career Titles
English majors can be found working in a wide variety of career fields. Here are just some career titles that may be of
interest. Please note that some jobs may require further education and training.
• Advertising Copywriter
• Advertising Executive
• Announcer (Radio/TV)
• Archivist
• Author
• Bibliographer
• Biographer
• Book Critic
• Bookstore Manager
• Columnist/Commentator
• Comedy Writer
• Communications Manager
• Congressional Aide
• Copywriter
• Critic, Art/Book
• Crossword Puzzle Developer
 Desktop Publisher
 Documentation Specialist
 Editor, Film/Video/Magazine
 Editor, News
• Educational Program Specialist
• Entertainment Agent
• ESL Teacher
• Freelance Writer/Consultant
• Information Abstractor
• Information Indexer
• Labor Relations Specialist
• Lawyer
• Librarian
• Linguist
• Literary Agent
• Lobbyist
• Magazine Writer
• Manuscript Reader
• Market Research Analyst
• Marketing Specialist
• Mass Media Script Reader
• Media Planner
• Narrator
• Paralegal
• Playwright/Poet
• Product Manager
• Proofreader
• Public Relations Specialist
• Public Speaker
• Publicity Assistant
• Publisher
• Reading Consultant
• Reading Specialist
• Reporter
• Research Assistant Analyst
• Researcher/Pollster
• Reviewer
• Sales Representative
• Teacher
• Technical Writer/Consultant
• Training Specialist
• Translator
• Underwriter
• Video Scriptwriter/Producer
• Website Writer/Designer
To learn more about these careers, visit http://online.onetcenter.org or www.bls.gov/oco.
Common Internship Sites and Employers
English majors often find internships and employment in the following industries:
• Magazines and Newspapers
• Book Publishers
• Colleges/Universities
• Consulting Firms
• Public Relations Firms
• Business and Industry
• Telecommunications Organizations
• Non-profit Organizations
• Radio Stations
• Libraries
KU Career Network is the primary online resource
for preparing and connecting students and alumni with employers.
www.kutztown.edu/KUCN
Useful Websites for English Majors
Whether you are researching related career fields, applying for internships or jobs, or planning to join
a professional association, these websites are for you!
Industry Information and Job/Internship
Search Site
Professional Organizations
Book Jobs
http://bookjobs.com
American Society of Journalists & Authors
www.asja.org
Communications Roundtable
www.roundtable.org
Association of Writers & Writing Programs
www.awpwriter.org
Internship Programs
Association for Education in Journalism
& Mass Communications
www.aejmc.org
www.internshipprograms.com
Journalism Jobs
www.journalismjobs.com
Magazine Publishers of America
www.magazine.org/careers
Pennsylvania Newspaper Association
www.pa-newspaper.org
Poets & Writers
http://www.pw.org
PRSA Job Center
www.prsa.org/jobcenter
Public Relations
www.nationjob.com/publicrelations
The Write Jobs
www.writerswrite.com/jobs
Work in Public Relations
www.marketingjobs.com
Writer's Resource Center
www.poewar.com
Modern Language Association
www.mla.org
National Council for Teachers of English
www.ncte.org
Public Relations Society of America
www.prsa.org
The Association of Magazine Media
http://asme.magazine.org
Building Your Resume for a Career in English
Building a strong resume for your career field starts long before you ever start your job search. Employers want to hire
graduates who not only have the necessary educational background but also have experience applying that
knowledge to real life situations.
Take note of the skills
and knowledge
obtained through your
educational
background and
hands-on experiences.
Highlight transferable
skills such as fluency
and written
communication.
Learn more about your
field and develop the
necessary skills for
employment by
gaining hands-on
experience through
externships, internships,
part-time jobs and
related volunteer
positions.
Develop professionally
through campus
involvement and
professional
memberships.
This illustrates
responsibility,
leadership abilities
and time management
skills.