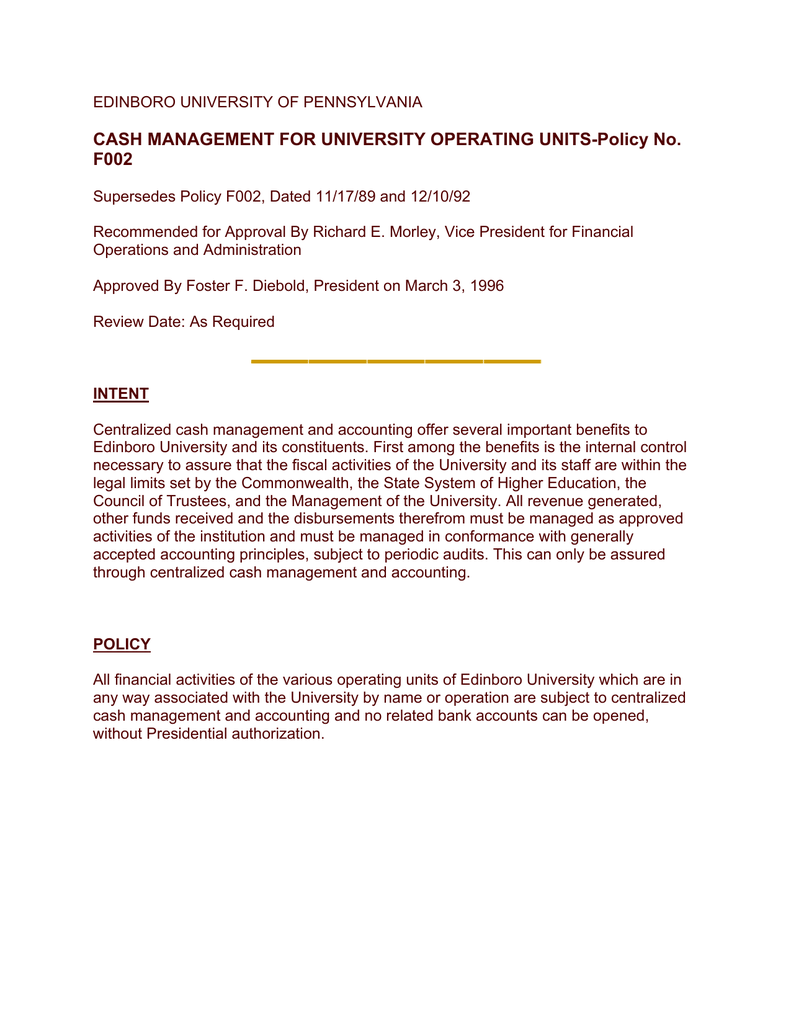 EDINBORO UNIVERSITY OF PENNSYLVANIA
CASH MANAGEMENT FOR UNIVERSITY OPERATING UNITS-Policy No.
F002
Supersedes Policy F002, Dated 11/17/89 and 12/10/92
Recommended for Approval By Richard E. Morley, Vice President for Financial
Operations and Administration
Approved By Foster F. Diebold, President on March 3, 1996
Review Date: As Required
INTENT
Centralized cash management and accounting offer several important benefits to
Edinboro University and its constituents. First among the benefits is the internal control
necessary to assure that the fiscal activities of the University and its staff are within the
legal limits set by the Commonwealth, the State System of Higher Education, the
Council of Trustees, and the Management of the University. All revenue generated,
other funds received and the disbursements therefrom must be managed as approved
activities of the institution and must be managed in conformance with generally
accepted accounting principles, subject to periodic audits. This can only be assured
through centralized cash management and accounting.
POLICY
All financial activities of the various operating units of Edinboro University which are in
any way associated with the University by name or operation are subject to centralized
cash management and accounting and no related bank accounts can be opened,
without Presidential authorization.