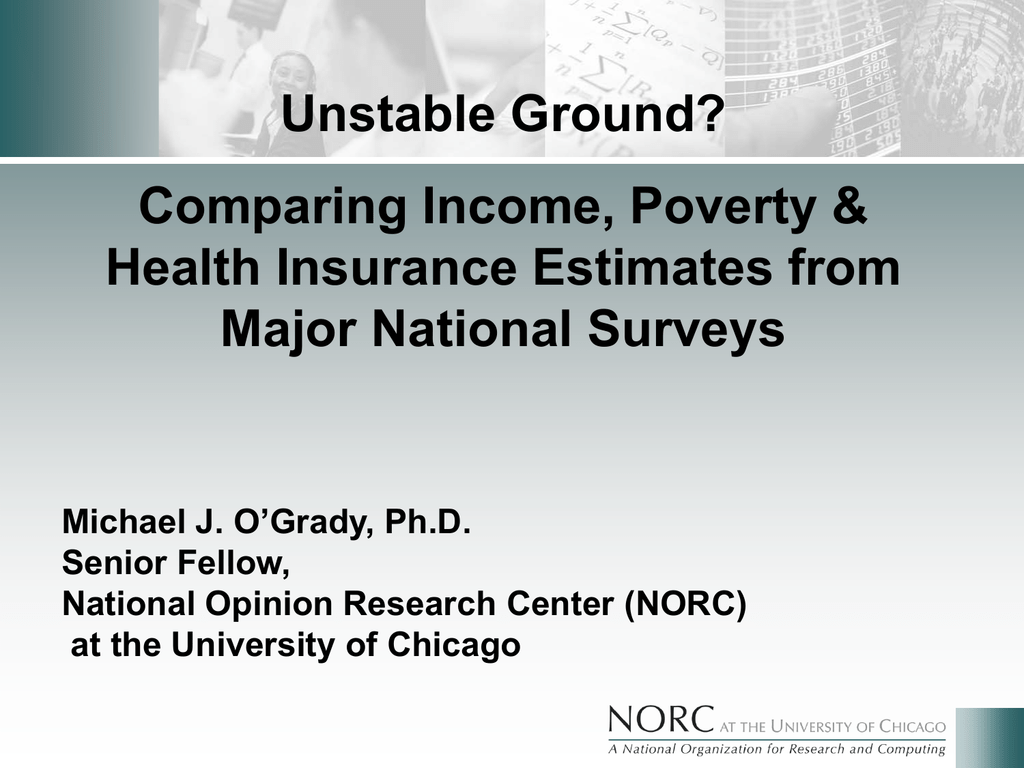 Unstable Ground?
Comparing Income, Poverty &
Health Insurance Estimates from
Major National Surveys
Michael J. O'Grady, Ph.D.
Senior Fellow,
National Opinion Research Center (NORC)
at the University of Chicago
Uninsured Estimates from
National Surveys
Method of Estimate
Survey
Most Recent
Year
Current Population
Survey (CPS), Census
Medical Expenditure
Panel Survey (MEPS),
HHS*
National Health Interview
Survey (NHIS), HHS
Survey of Income and
Program Participation
(SIPP), Census
Uninsured At Any
Time During The Year
Uninsured For Full
Year
At The Time Of The
Survey
2003
45.0 million
15.6%
N/A
N/A
2002
32.4 million
11.5%
47.3 million
16.6%**
62.6 million
22.3%
2003
28.8 million
10.0%
42.0 million
14.6%
51.4 million
17.9%
2001
18.9 million
6.8%
38.7 million***
14.0%
66.5 million
24.0%
Notes:
- "N/A" = Survey does not capture this dimension; and
- Point in time refers to the period from Jan. 1 through the interview date, which is 5 months on average.
*non-elderly
**Estimate for 2003.
***Estimate for March 2001.
The Current Work
• Both papers are just what is needed to move the
policy debate forward.

The timing could be better.
• Both papers do what they were asked to do, but
are too academically polite for policymakers.

CPS needs to invest time and money in
improving the HI questions.
 MEPS need to invest time and money in
improving income questions.
The Need for a New Methodology?
• The borders between surveys, linked data sets
and models?

For income - are we better off using a hybrid
approach, e.g., SIPP for the lowest quartile, SoI
for the other four?
 For health insurance – Survey/Medicare &
Medicaid admin data?
 Where is the line between imputing missing
answers and using probabilistic modeling?
The Need For Real Data Policy
• Data policy is a means to an end – Part D, the
uninsured, Medicare payment policy.
• Hard for policymakers to see the relevance and
that it's worth the return on investment.
• Do we approach these new challenges in a
piece meal fashion or a coordinated approach?

Will we still be presenting slide two to President a
decade from now?
How Do We Get To a
Viable Data Policy?
• The needs:

Better coordination across survey teams.
 Realistic funding of major surveys and other data
collection, links, models, etc.
 Aggressive investment in methodological work.
How Do We Get To a
Viable Data Policy?
(continued)
• Where does the leadership come from?

Has to come from within the government.
 Senior Civil Servants (OMB, HHS Data Council)?
− Pros - Great expertise, in it for the long haul.
− Cons - Most to lose in a turf battle, not enough
control over budget.

Political leadership (OMB,ASPE, Under Secretary
of Commerce for Economic Affairs)
− Pros – Make it a policy and budget priority.
− Cons – The wrong politico could politicize the
system.
Conclusions
• The new Administration is well positioned to
advance this policy.
• Not a partisan issue – A priority issue.