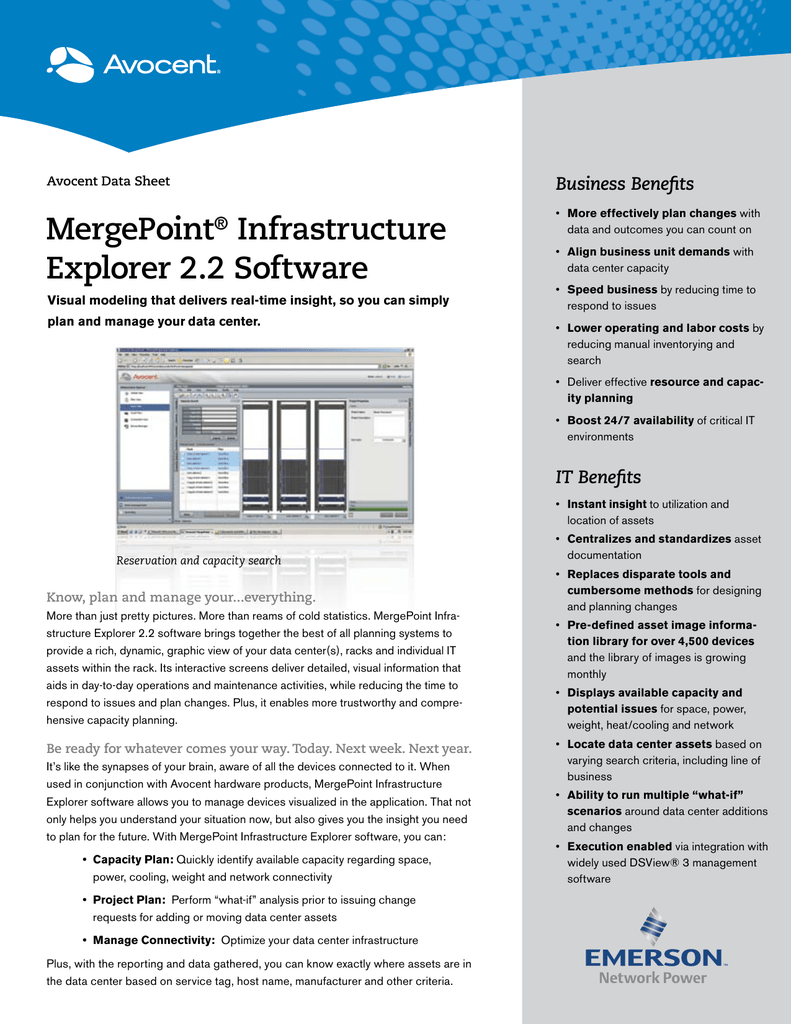 Business Benefits
Avocent Data Sheet
• More effectively plan changes with
data and outcomes you can count on
MergePoint Infrastructure
Explorer 2.2 Software
®
• Align business unit demands with
data center capacity
• Speed business by reducing time to
respond to issues
Visual modeling that delivers real-time insight, so you can simply
plan and manage your data center.
• Lower operating and labor costs by
reducing manual inventorying and
search
• Deliver effective resource and capacity planning
• Boost 24/7 availability of critical IT
environments
IT Benefits
• Instant insight to utilization and
location of assets
• Centralizes and standardizes asset
documentation
Reservation and capacity search
• Replaces disparate tools and
cumbersome methods for designing
and planning changes
Know, plan and manage your...everything.
More than just pretty pictures. More than reams of cold statistics. MergePoint Infrastructure Explorer 2.2 software brings together the best of all planning systems to
provide a rich, dynamic, graphic view of your data center(s), racks and individual IT
assets within the rack. Its interactive screens deliver detailed, visual information that
aids in day-to-day operations and maintenance activities, while reducing the time to
respond to issues and plan changes. Plus, it enables more trustworthy and comprehensive capacity planning. • Pre-defined asset image information library for over 4,500 devices
and the library of images is growing
monthly
• Displays available capacity and
potential issues for space, power,
weight, heat/cooling and network
Be ready for whatever comes your way. Today. Next week. Next year.
It's like the synapses of your brain, aware of all the devices connected to it. When
used in conjunction with Avocent hardware products, MergePoint Infrastructure
Explorer software allows you to manage devices visualized in the application. That not
only helps you understand your situation now, but also gives you the insight you need
to plan for the future. With MergePoint Infrastructure Explorer software, you can:
• Capacity Plan: Quickly identify available capacity regarding space, power, cooling, weight and network connectivity
• Project Plan: Perform "what-if" analysis prior to issuing change requests for adding or moving data center assets
• Manage Connectivity: Optimize your data center infrastructure
Plus, with the reporting and data gathered, you can know exactly where assets are in
the data center based on service tag, host name, manufacturer and other criteria.
• Locate data center assets based on
varying search criteria, including line of
business
• Ability to run multiple "what-if"
scenarios around data center additions
and changes
• Execution enabled via integration with
widely used DSView® 3 management
software
[Avocent Data Sheet] MergePoint Infrastructure Explorer Software
Features and Benefits
New for Version 2.2! Reservations, Intelligent Asset Placement and Rack Timeline
offer a unique view into capacity management. Visual Modeling: Provides a graphical view of the data center(s), racks and individual
IT elements within a rack. Detailed visual information aids in the day-to-day operations
of the physical data center.
Planning and Design: Allows for creating multiple "what-if" scenarios to understand
the impact of a change or addition to the data center.
Impact Assessment and Analysis: Allows for comprehensive analysis of all
Requests for Change by identifying the equipment, applications and business lines that
may be affected by that change.
Asset Identification and Location: Enables you to search for assets by type,
domain name, IP address, etc., providing the physical location in addition to other
general asset information. Also provides specific information for locating a device (i.e.,
recalled power supply type-x and visual indications of which racks and servers need to
be worked).
Capacity Visualization and Planning: At-a-glance view of available capacity and
potential issues for space, power, weight, heat/cooling and network ports. Provides
accurate information for planning and reduces time needed to implement additions and
changes to the data center.
Asset Library: High-fidelity images of assets provide data on size, weight, power
usage, heat output, etc. Feeds data center capacity metrics and shows details of
assets for hands-on operations and maintenance support.
Data Import: You can import data center information in a Microsoft Excel® format
for an ease of implementation. In addition, MergePoint Infrastructure Explorer software
offers standards-based integration via Web services.
DSView 3 Software Integration: You can launch KVM or serial sessions to assets
connected with Avocent hardware, transforming the tool from a visual-planning and
recording tool to a functional interaction with the environment.
Reporting: Provides visibility into assets, business line costs, capacity utilization and
impact analysis.
Avocent, the Avocent logo, DSView and MergePoint are registered trademarks of Avocent
Corporation or its affiliates in the US or other countries. All other marks are the property of their
respective owners. © 2010 Avocent Corporation. All rights reserved. 0610-AMIE-DS-EN
CHANGE COMING?
Now is the time for
MergePoint Infrastructure
Explorer 2.2 software
No matter where you are in the
planning stages of a major shift in
IT operations–from growth or
contraction to implementation of
virtual servers–Avocent
technology is ready to help. Our
visual modeling gives you a
real-world view of how those
changes will affect outcomes,
enabling you to fully design out
problems before you power up or
down a single device.