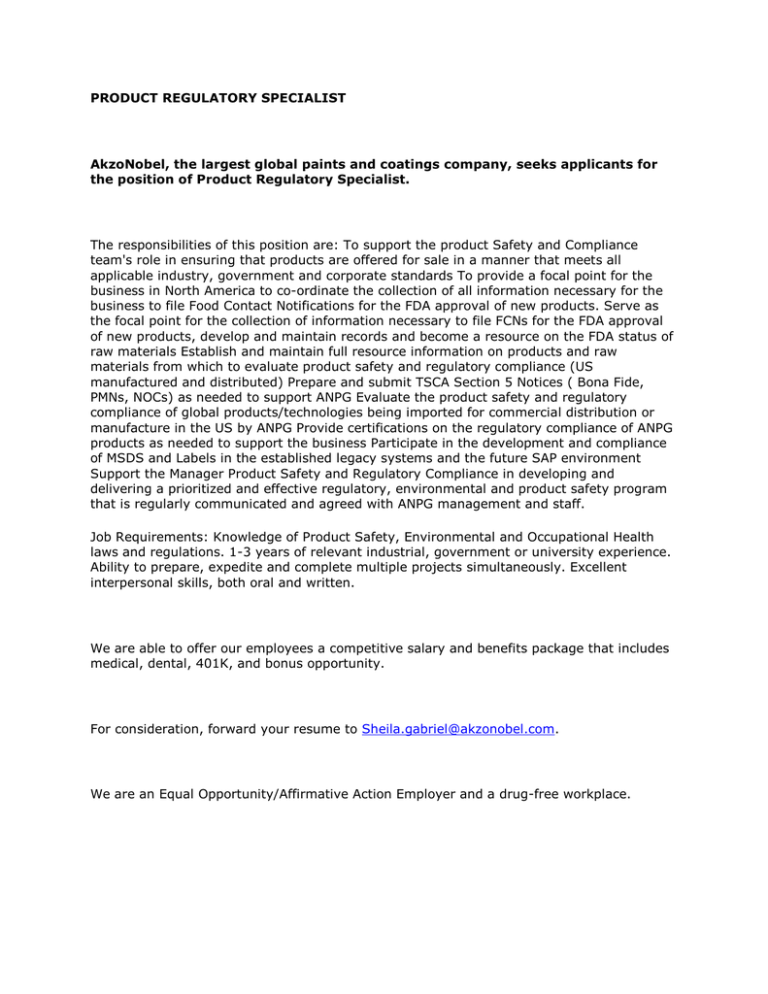 PRODUCT REGULATORY SPECIALIST
AkzoNobel, the largest global paints and coatings company, seeks applicants for
the position of Product Regulatory Specialist.
The responsibilities of this position are: To support the product Safety and Compliance
team's role in ensuring that products are offered for sale in a manner that meets all
applicable industry, government and corporate standards To provide a focal point for the
business in North America to co-ordinate the collection of all information necessary for the
business to file Food Contact Notifications for the FDA approval of new products. Serve as
the focal point for the collection of information necessary to file FCNs for the FDA approval
of new products, develop and maintain records and become a resource on the FDA status of
raw materials Establish and maintain full resource information on products and raw
materials from which to evaluate product safety and regulatory compliance (US
manufactured and distributed) Prepare and submit TSCA Section 5 Notices ( Bona Fide,
PMNs, NOCs) as needed to support ANPG Evaluate the product safety and regulatory
compliance of global products/technologies being imported for commercial distribution or
manufacture in the US by ANPG Provide certifications on the regulatory compliance of ANPG
products as needed to support the business Participate in the development and compliance
of MSDS and Labels in the established legacy systems and the future SAP environment
Support the Manager Product Safety and Regulatory Compliance in developing and
delivering a prioritized and effective regulatory, environmental and product safety program
that is regularly communicated and agreed with ANPG management and staff.
Job Requirements: Knowledge of Product Safety, Environmental and Occupational Health
laws and regulations. 1-3 years of relevant industrial, government or university experience.
Ability to prepare, expedite and complete multiple projects simultaneously. Excellent
interpersonal skills, both oral and written.
We are able to offer our employees a competitive salary and benefits package that includes
medical, dental, 401K, and bonus opportunity.
For consideration, forward your resume to Sheila.gabriel@akzonobel.com.
We are an Equal Opportunity/Affirmative Action Employer and a drug-free workplace.