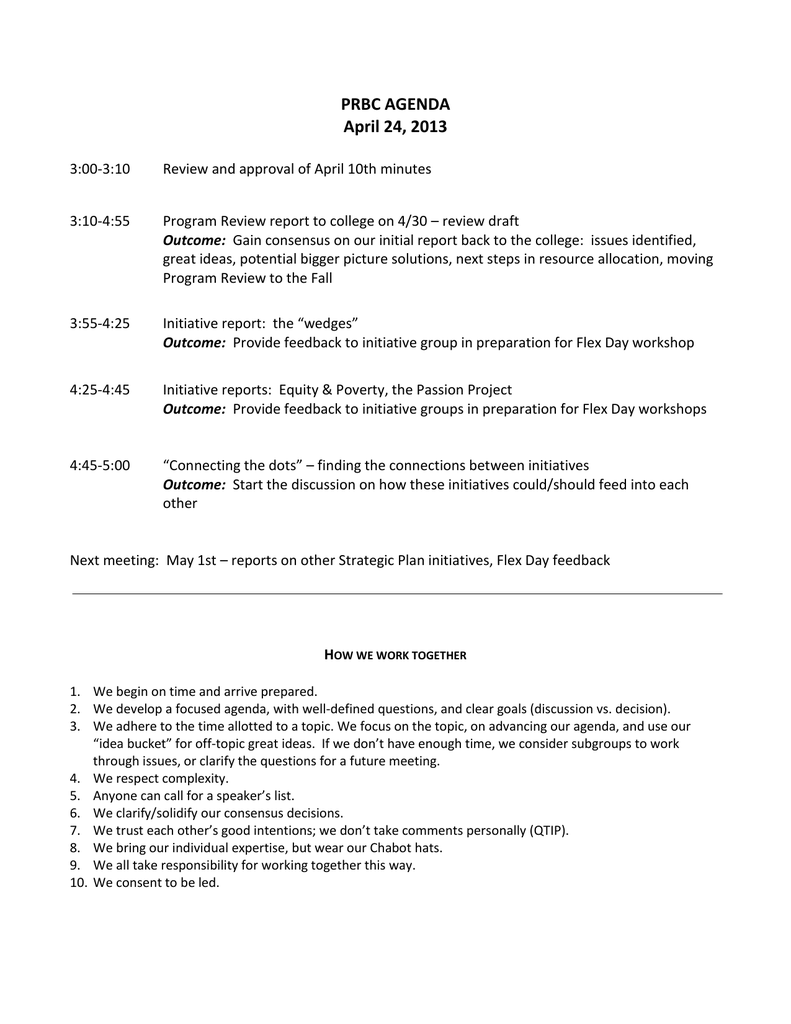 PRBC AGENDA
April 24, 2013
3:00-3:10
Review and approval of April 10th minutes
3:10-4:55
Program Review report to college on 4/30 – review draft
Outcome: Gain consensus on our initial report back to the college: issues identified,
great ideas, potential bigger picture solutions, next steps in resource allocation, moving
Program Review to the Fall
3:55-4:25
Initiative report: the "wedges"
Outcome: Provide feedback to initiative group in preparation for Flex Day workshop
4:25-4:45
Initiative reports: Equity & Poverty, the Passion Project
Outcome: Provide feedback to initiative groups in preparation for Flex Day workshops
4:45-5:00
"Connecting the dots" – finding the connections between initiatives
Outcome: Start the discussion on how these initiatives could/should feed into each
other
Next meeting: May 1st – reports on other Strategic Plan initiatives, Flex Day feedback
HOW WE WORK TOGETHER
1. We begin on time and arrive prepared.
2. We develop a focused agenda, with well-defined questions, and clear goals (discussion vs. decision).
3. We adhere to the time allotted to a topic. We focus on the topic, on advancing our agenda, and use our
"idea bucket" for off-topic great ideas. If we don't have enough time, we consider subgroups to work
through issues, or clarify the questions for a future meeting.
4. We respect complexity.
5. Anyone can call for a speaker's list.
6. We clarify/solidify our consensus decisions.
7. We trust each other's good intentions; we don't take comments personally (QTIP).
8. We bring our individual expertise, but wear our Chabot hats.
9. We all take responsibility for working together this way.
10. We consent to be led.