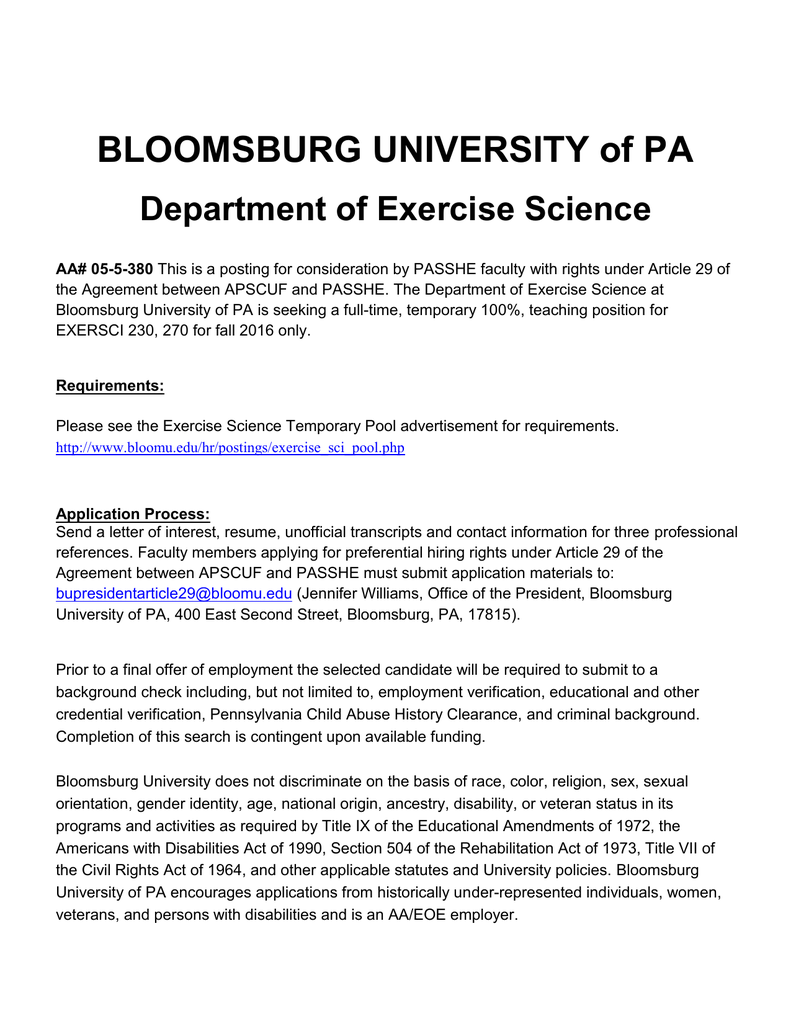 BLOOMSBURG UNIVERSITY of PA
Department of Exercise Science
AA# 05-5-380 This is a posting for consideration by PASSHE faculty with rights under Article 29 of
the Agreement between APSCUF and PASSHE. The Department of Exercise Science at
Bloomsburg University of PA is seeking a full-time, temporary 100%, teaching position for
EXERSCI 230, 270 for fall 2016 only.
Requirements:
Please see the Exercise Science Temporary Pool advertisement for requirements.
http://www.bloomu.edu/hr/postings/exercise_sci_pool.php
Application Process:
Send a letter of interest, resume, unofficial transcripts and contact information for three professional
references. Faculty members applying for preferential hiring rights under Article 29 of the
Agreement between APSCUF and PASSHE must submit application materials to:
[email protected] (Jennifer Williams, Office of the President, Bloomsburg
University of PA, 400 East Second Street, Bloomsburg, PA, 17815).
Prior to a final offer of employment the selected candidate will be required to submit to a
background check including, but not limited to, employment verification, educational and other
credential verification, Pennsylvania Child Abuse History Clearance, and criminal background.
Completion of this search is contingent upon available funding.
Bloomsburg University does not discriminate on the basis of race, color, religion, sex, sexual
orientation, gender identity, age, national origin, ancestry, disability, or veteran status in its
programs and activities as required by Title IX of the Educational Amendments of 1972, the
Americans with Disabilities Act of 1990, Section 504 of the Rehabilitation Act of 1973, Title VII of
the Civil Rights Act of 1964, and other applicable statutes and University policies. Bloomsburg
University of PA encourages applications from historically under-represented individuals, women,
veterans, and persons with disabilities and is an AA/EOE employer.