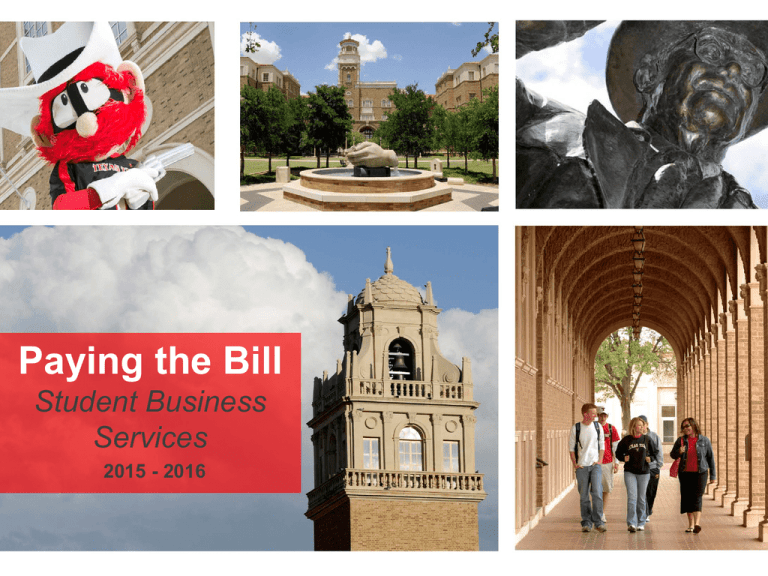 Paying the Bill
Student Business
Services
2015 - 2016
What is my financial
responsibility to TTU?
My financial responsibility to TTU
•If you meet with an advisor or register for classes while you
are here at orientation – This means YOU!
•Enrollment in classes at TTU constitutes a financial
responsibility to the institution as well as the state of Texas.
•Students who decide not to attend Texas Tech must withdraw
from their registered courses prior to the first day of class to
avoid paying tuition and fees for the term.
•The university may report student financial delinquencies to
a credit or collection agency.
• See the Financial Responsibility section of the Student
Handbook for more details.
My financial responsibility to TTU
•Students will be required to agree to the Financial
Responsibility Agreement when registering for classes
each semester.
•Students may also elect to receive 1098-T tax forms
electronically via the Global Electronic Consent.
• Declining the Global Electronic Consent does NOT
allow students to elect out of electronic billing. Paper
statements will NOT be issued.
What is the Fixed Tuition Option?
Fixed Tuition Option
Fixed Tuition is a new option available to students that will allow
them to "freeze" the cost of their designated tuition for up to
12 consecutive semesters, including summer terms.
– If a student chooses the Fixed Tuition option, they may pay a higher
rate for designated tuition during the first year and possibly throughout
their time at Texas Tech. However, if educational costs increase over
time and necessitate additional increases in the designated tuition rate,
the fixed rate price will not go up and it may be a more economical
option. Texas Tech University does not advocate one option over
another and there are no guarantees of cost savings.
– Incoming undergraduate students, either via transfer from another
institution or no prior college attendance, beginning with the fall of 2014
are eligible to choose the Fixed Tuition plan. (Dual High School credit
is not considered prior college attendance.)
Fixed Tuition Option
– You will be able to make your selection when you register for
classes (or up through the day prior to the first class day if you
defer the option at registration).
– Students who have elected to participate in the Fixed Tuition plan
have a one-time, opt-out option. Once a student has opted out,
they will no longer be on the Fixed Tuition plan and will not have
the option to participate for future terms. Adjustments to the
designated tuition portion of the bill will only be effective for
successive terms if the change is made after classes have begun
for the term.
– Feel free to contact Student Business Services to discuss any
additional questions you might have regarding Fixed Tuition.
Can SBS discuss the
bill with my parents?
FERPA
• Academic records, including billing records, belong to the
student
• Students must have a signed FERPA form on file to allow
TTU representatives to speak with another party if the
need arises
• FERPA forms are processed by the Office of the Registrar
– room 103 West Hall
What is eBill?
eBill allows you to:
•
•
•
•
•
View your statement
View current account activity
Make a payment
Enroll in payment plan
Add authorized users to the online student billing
account - (gives online billing access only – does
not give FERPA authorization)
What forms of payment
are accepted?
Payment Methods
Online:
•
•
•
Debit/Credit Cards (Discover, American Express, Master Card,
Visa)
Personal Checks (Web Check)
International wire payments through Peer Transfer
In the office:
•
•
•
•
•
Cash
Debit/Credit Cards (Discover, American Express, Master Card,
Visa)
Personal Checks
Money Orders/Cashier Checks/Traveler Checks
International Credit Cards
Mail *:
• Student Business Services
• BOX 41099
• Lubbock, TX 79409
*Please do not mail cash or credit card information
Payment Plans:
Budget Payment Plan
4 equal installments – 25% each (includes housing, meals, parking, etc.)
Emergency Payment Plan – Not available until 10 days prior to class
3 installments – 25%, 37.5%, 37.5% (does not include housing, meals,
parking – must owe at least $2000 of tuition and fees)
•
•
•
•
•
Payment Plans must be set up by the student or authorized user on eBill
$25 maximum enrollment fee per semester
Must be set up each semester
Due dates will be on Payment Plan Agreements
eBill will not allow enrollment in any plan if a past due balance or prior
unpaid plan amount exists
Military, Veterans & Dependents
Please visit Office of Military and Veteran Programs:
• Drane Hall Room 147
• (806) 742-6877
External Third Parties
Please visit Student Business Services:
• SUB Ballroom on RRO Day 2
• Room 301 of West Hall for assistance
Exemptions and Waivers
Please visit Student Business Services:
• SUB Ballroom on RRO Day 2
• Room 301 of West Hall for assistance
Senate Bill 1210
• Beginning with the Fall 2014 semester, students receiving
certain exemptions or waivers covered under Senate Bill 1210
passed during the 83rd Legislature, will be required to meet the
GPA requirements of the institution's Financial Aid Satisfactory
Academic Progress (SAP) policy.
• SAP requirements are established per the Financial Aid policy at
TTU but will apply to the continuation of your exemption or
waiver benefits regardless of aid eligibility.
• Incoming students will be subject to SAP review after the
completion of their first Spring semester.
Senate Bill 1210
• Senate Bill 1210 also contains an excessive hours provision
which will affect certain undergraduate students.
• If a student is receiving a qualifying exemption, but will be
attempting more than 30 hours in excess of their degree plan,
they may no longer be eligible to receive the exemption.
• For example, the typical degree plan is 120 hours, so if a student
enrolls in their 151st hour and does not qualify for any exception,
the exemption will not apply the subsequent term.
When is my tuition and
fee payment due?
Important Dates
The payment due date for Fall is:
August
th
17 ,
2015
Important Dates
• Students not paid in full or successfully enrolled in a
payment plan on the day prior to the first day of class will
have their class schedule CANCELLED FOR NONPAYMENT and must re-register for courses.
• Cancelled students are not guaranteed to have the same
courses and sections available when they re-register.
• Students and Authorized eBill Users are encouraged to
check their email regularly during "back-to-class times" for
important billing and cancellation info from SBS, including
cancellation notices.
What if Texas Tech ever
owes me money?
My Direct Deposit
TTU can deposit your refund directly to your bank
• Sign up at Raiderlink (MyTech tab)
• Click on the Student Business Services link under
Manage My Finances, then choose My Direct
Deposit
• Will take up to 4 days for account verification
• My Direct Deposit is the fastest way to receive
your refund from TTU
Contact Student Business Services
Office: Student Financial Center, 301 West Hall
Phone: (806) 742-3272
Website: www.sbs.ttu.edu
WELCOME TO
TEXAS TECH UNIVERSITY
GUNS UP!