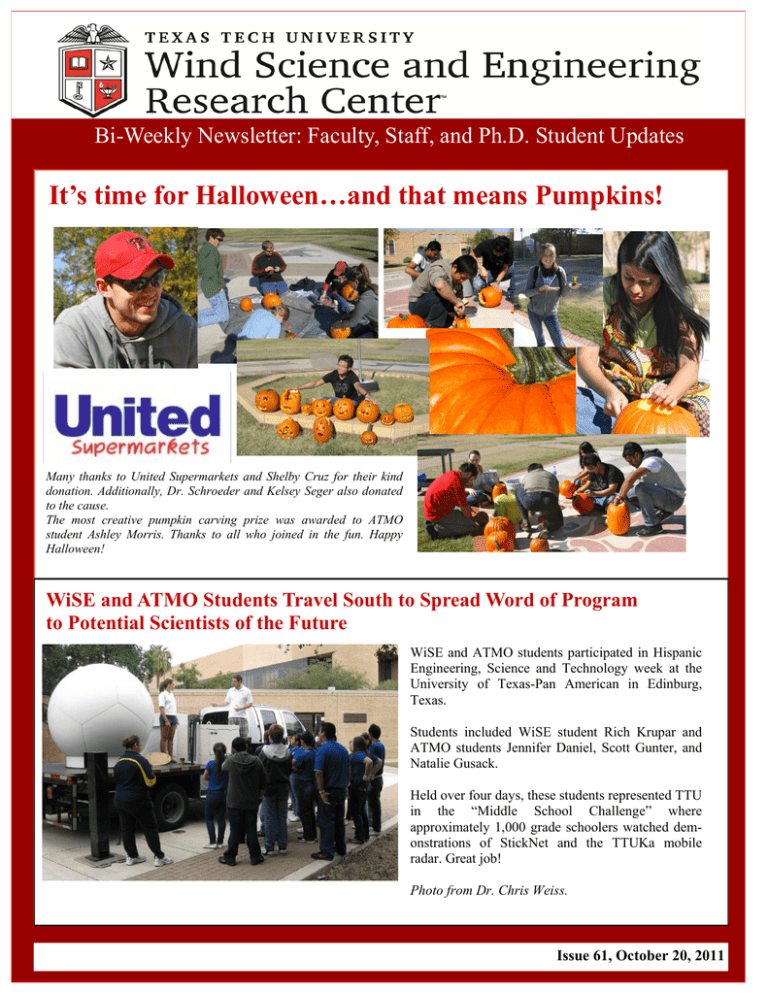 Bi-Weekly Newsletter: Faculty, Staff, and Ph.D. Student Updates
It's time for Halloween…and that means Pumpkins!
Many thanks to United Supermarkets and Shelby Cruz for their kind
donation. Additionally, Dr. Schroeder and Kelsey Seger also donated
to the cause.
The most creative pumpkin carving prize was awarded to ATMO
student Ashley Morris. Thanks to all who joined in the fun. Happy
Halloween!
WiSE and ATMO Students Travel South to Spread Word of Program
to Potential Scientists of the Future
WiSE and ATMO students participated in Hispanic
Engineering, Science and Technology week at the
University of Texas-Pan American in Edinburg,
Texas.
Students included WiSE student Rich Krupar and
ATMO students Jennifer Daniel, Scott Gunter, and
Natalie Gusack.
Held over four days, these students represented TTU
in the "Middle School Challenge" where
approximately 1,000 grade schoolers watched demonstrations of StickNet and the TTUKa mobile
radar. Great job!
Photo from Dr. Chris Weiss.
Issue 61, October 20, 2011
New Weiss-lette in town!
WiSE Ph.D. Student Pat Skinner Wins
AMS Conference Recognition
Congratulations are due to WiSE faculty affiliate Dr.
Chris Weiss and Stephanie Weiss who welcome Aaron
Scott Weiss on October 08. Aaron weighed 7lbs 7 oz and
was 19 1/4" long with lots of brown hair. All are doing
fine.
WiSE Ph.D. student Patrick
Skinner was awarded an
Honorable Mention for his oral
presentation at the 35th
American Meteorological
Society Conference on Radar
Meteorology in Pittsburgh, PA.
The paper was titled "Ka and
X-band Radar Observations of
Multiple Rear-Flank Downdraft Surges and an Intense
Near-Surface Vortex on 18
May 2010."
Great job, Pat!
StickNets Featured on National News Website
The StickNet system, a versatile rapid-deployment 2.5 m meteorological observing platform that was developed by TTU faculty and students, has been recognized by Innovation News Daily, a website that is part of
TechMediaNetwork which publishes high quality content that reaches 71 million readers monthly. The website's content is also syndicated to major media partners such as Yahoo, CBS News, MSNBC.com et al.
The StickNet system was heralded as one of the Top Seven Hurriane Research Devices.
Congrats to all involved!
How about that Haboob?
Monday's historical weather event created news across the
country for Lubbock. Featured on multiple national media
outlets, blogs and social media, the haboob was spectacular
for its size.
For curious cats, the term "haboob" ("strong wind" or
"violent storm") is an Arabic term for a giant cloud of dust,
and comes from the Arabic verb habb which means
"to blow". According to Encyclopedia Britannica, it's first
known use was in 1897.
Dissertation Defense on Friday:
Amber Emory
WiSE Ph.D. candidate Amber
Emory (formerly Reynolds) will
be defending her dissertation on
Friday, October 21, at 3 p.m. in
TTU BA rm 259. The title of the
dissertation is "The Collapse of
Transitioning Mesoscale Convective Systems off the Coast of
West Africa and Links to Downstream Tropical Cyclogenesis".
Amber is currently a co-op student at NASA Goddard Space
Flight Center where she has worked since January 2009. Her
research interests involve ground-based, airborne, and satellite
radar meteorology, tropical cyclogenesis and rapid intensification, and ground validation measures for the Global
Precipitation Measurement Mission. She received her B.S. in Meteorology in 2004 from Penn State, and her M.S. in Atmospheric
Sciences in 2007 from Texas A&M. She began the WiSE Ph.D.
program as an NSF IGERT in 2007. She currently lives in
Greenbelt, MD, with her husband, Ben, and their two dogs, Fuji
and Cal.
Photo Credit: John Holsenbeck, NWS LBB.
All interested parties are invited to attend and show support.