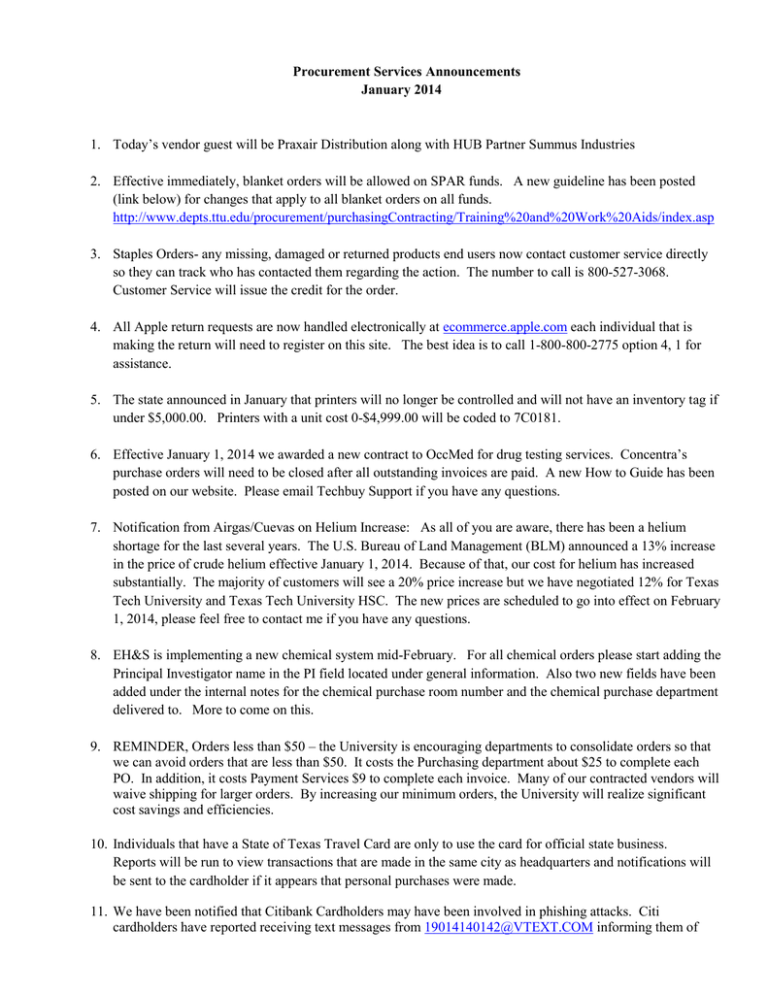 Procurement Services Announcements
January 2014
1. Today's vendor guest will be Praxair Distribution along with HUB Partner Summus Industries
2. Effective immediately, blanket orders will be allowed on SPAR funds. A new guideline has been posted
(link below) for changes that apply to all blanket orders on all funds.
http://www.depts.ttu.edu/procurement/purchasingContracting/Training%20and%20Work%20Aids/index.asp
3. Staples Orders- any missing, damaged or returned products end users now contact customer service directly
so they can track who has contacted them regarding the action. The number to call is 800-527-3068.
Customer Service will issue the credit for the order.
4. All Apple return requests are now handled electronically at ecommerce.apple.com each individual that is
making the return will need to register on this site. The best idea is to call 1-800-800-2775 option 4, 1 for
assistance.
5. The state announced in January that printers will no longer be controlled and will not have an inventory tag if
under $5,000.00. Printers with a unit cost 0-$4,999.00 will be coded to 7C0181.
6. Effective January 1, 2014 we awarded a new contract to OccMed for drug testing services. Concentra's
purchase orders will need to be closed after all outstanding invoices are paid. A new How to Guide has been
posted on our website. Please email Techbuy Support if you have any questions.
7. Notification from Airgas/Cuevas on Helium Increase: As all of you are aware, there has been a helium
shortage for the last several years. The U.S. Bureau of Land Management (BLM) announced a 13% increase
in the price of crude helium effective January 1, 2014. Because of that, our cost for helium has increased
substantially. The majority of customers will see a 20% price increase but we have negotiated 12% for Texas
Tech University and Texas Tech University HSC. The new prices are scheduled to go into effect on February
1, 2014, please feel free to contact me if you have any questions.
8. EH&S is implementing a new chemical system mid-February. For all chemical orders please start adding the
Principal Investigator name in the PI field located under general information. Also two new fields have been
added under the internal notes for the chemical purchase room number and the chemical purchase department
delivered to. More to come on this.
9. REMINDER, Orders less than $50 – the University is encouraging departments to consolidate orders so that
we can avoid orders that are less than $50. It costs the Purchasing department about $25 to complete each
PO. In addition, it costs Payment Services $9 to complete each invoice. Many of our contracted vendors will
waive shipping for larger orders. By increasing our minimum orders, the University will realize significant
cost savings and efficiencies.
10. Individuals that have a State of Texas Travel Card are only to use the card for official state business.
Reports will be run to view transactions that are made in the same city as headquarters and notifications will
be sent to the cardholder if it appears that personal purchases were made.
11. We have been notified that Citibank Cardholders may have been involved in phishing attacks. Citi
cardholders have reported receiving text messages from 19014140142@VTEXT.COM informing them of
suspension of their card unless certain information is verified, such as full account number, CVV, last 4 of
SSN, and 4 digit PIN.
This phone number has now been taken over by the Federal Trade Commission and when dialed will now
play a pre-recorded message indicating that callers may have been involved in a phishing attack. Additional
information is then provided to advise callers of what these attacks are and how to protect themselves from
potential fraud. As a reminder, under no circumstances would Citi require a cardholder to submit this
information. Please contact the pcard office if you receive this type of text message or any other suspicious
communication.
12. International travel on federal funds (Banner funds that begin with 21XXXX) must comply with the Fly
America Act. This also applies for airfare purchased or reimbursed through TechBuy. Guidelines are
posted at http://www.depts.ttu.edu/procurement/travelservice/fly.asp Updated forms can be downloaded at
http://www.depts.ttu.edu/procurement/travelservice/travelforms.asp
13. Class registration (TechBuy, Procure to Pay, Pcard, Travel, Account Code training, etc.) has moved from
the AFISM Training site to the Sum Total Registration site. You can link to SumTotal from the AFISM
Channel on the A&F Work Tools Tab of Raiderlink. Procurement Classes are under AFISM in the Sum
Total Catalog.
A SumTotal User's guide is available at:
http://www.depts.ttu.edu/afism/training/documents/Sumtotal%20Users%20Guide.pdf
14. The annual online pcard test for cardholders will be moved to SumTotal in the near future. We will be
extending the deadline for cardholders to complete their initial training to December 31, 2014. More
information will be sent to reconcilers once we have the program in place.
15. The next Procurement Services Forum is scheduled for February 20th at 3:30 in the Lubbock Room at the
Student Union Building.