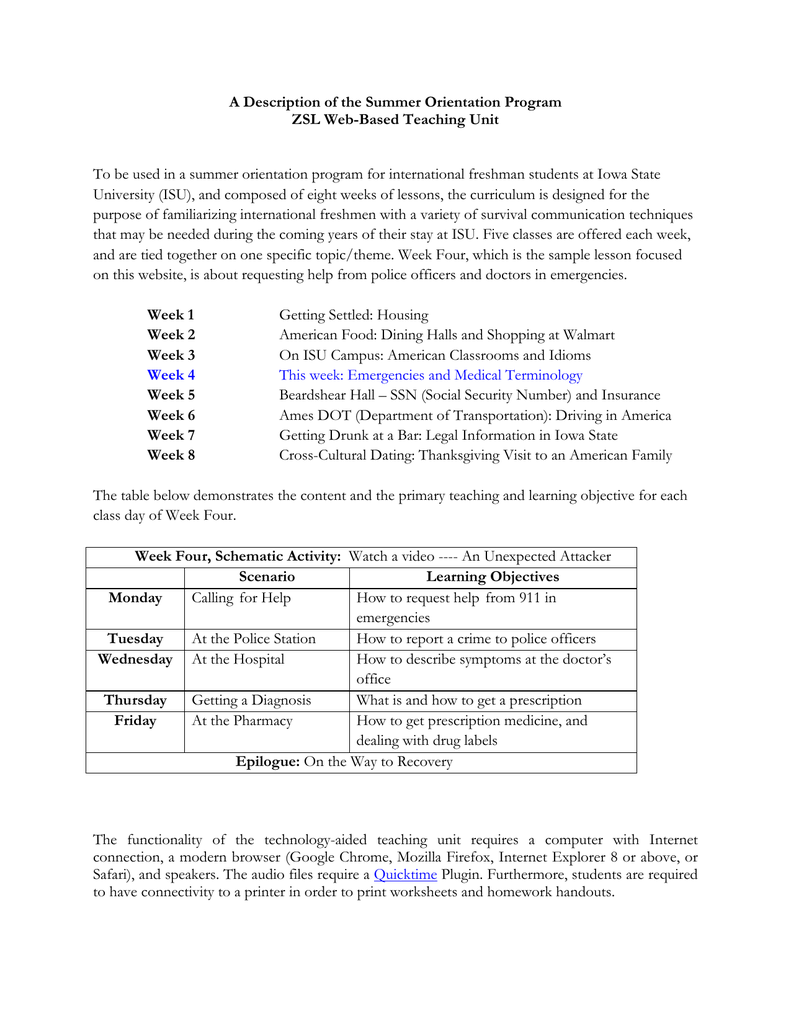 A Description of the Summer Orientation Program
ZSL Web-Based Teaching Unit
To be used in a summer orientation program for international freshman students at Iowa State
University (ISU), and composed of eight weeks of lessons, the curriculum is designed for the
purpose of familiarizing international freshmen with a variety of survival communication techniques
that may be needed during the coming years of their stay at ISU. Five classes are offered each week,
and are tied together on one specific topic/theme. Week Four, which is the sample lesson focused
on this website, is about requesting help from police officers and doctors in emergencies.
Week 1
Week 2
Week 3
Week 4
Week 5
Week 6
Week 7
Week 8
Getting Settled: Housing
American Food: Dining Halls and Shopping at Walmart
On ISU Campus: American Classrooms and Idioms
This week: Emergencies and Medical Terminology
Beardshear Hall – SSN (Social Security Number) and Insurance
Ames DOT (Department of Transportation): Driving in America
Getting Drunk at a Bar: Legal Information in Iowa State
Cross-Cultural Dating: Thanksgiving Visit to an American Family
The table below demonstrates the content and the primary teaching and learning objective for each
class day of Week Four.
Week Four, Schematic Activity: Watch a video ---- An Unexpected Attacker
Scenario
Learning Objectives
Monday
Calling for Help
How to request help from 911 in
emergencies
Tuesday
At the Police Station
How to report a crime to police officers
Wednesday At the Hospital
How to describe symptoms at the doctor's
office
Thursday
Getting a Diagnosis
What is and how to get a prescription
Friday
At the Pharmacy
How to get prescription medicine, and
dealing with drug labels
Epilogue: On the Way to Recovery
The functionality of the technology-aided teaching unit requires a computer with Internet
connection, a modern browser (Google Chrome, Mozilla Firefox, Internet Explorer 8 or above, or
Safari), and speakers. The audio files require a Quicktime Plugin. Furthermore, students are required
to have connectivity to a printer in order to print worksheets and homework handouts.