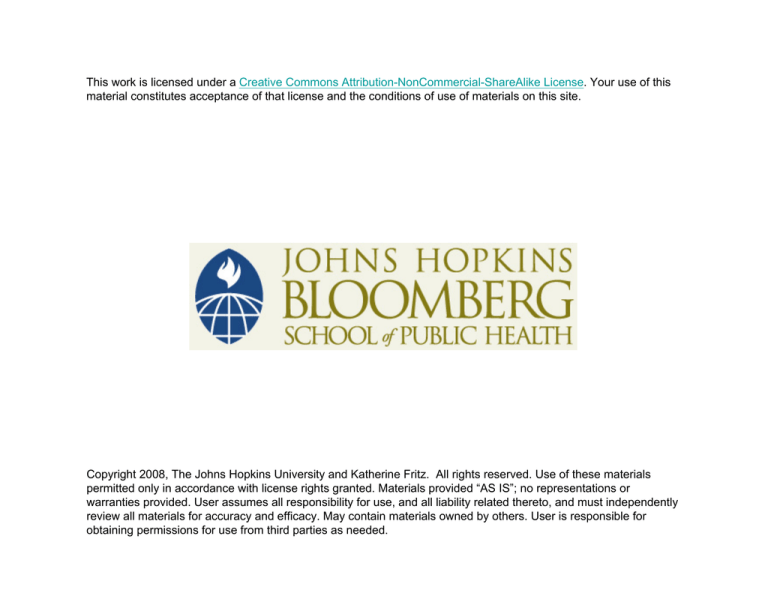 This work is licensed under a Creative Commons Attribution-NonCommercial-ShareAlike License. Your use of this
material constitutes acceptance of that license and the conditions of use of materials on this site.
Copyright 2008, The Johns Hopkins University and Katherine Fritz. All rights reserved. Use of these materials
permitted only in accordance with license rights granted. Materials provided "AS IS"; no representations or
warranties provided. User assumes all responsibility for use, and all liability related thereto, and must independently
review all materials for accuracy and efficacy. May contain materials owned by others. User is responsible for
obtaining permissions for use from third parties as needed.
Creating Coding Schemes for
computer-assisted QDA
Class Session 7
Qualitative Data Analysis
Approaches to creating coding
schemes
• Inductive
– Build code book from ground up
– Begins with open coding moves to focused coding (Charmaz)
– Often uses in-vivo coding (use participants' own words)
• "Feeling courageous", "Two rooms & a garage"
– Emic codes tend to predominate in the code book
• Deductive
– Use of a priori categories, perhaps based on topics covered in
interview guide or theoretical constructs you intend to look for
• "contemplation phase", "structural barrier to testing"
– Etic codes may predominate
• Hybrid Approach
– What might this look like?
– How could it be helpful?
Choosing a Coding Scheme
appropriate for a specific project
• What characteristics of a project should be
taken into consideration when choosing a coding
scheme?
Example: Project Accept
• We want to know whether communities that
receive the community-based VCT intervention
have less risk behavior, more people getting
tested for HIV, more positive attitudes about HIV
testing, more frequent discussions about HIV,
and less HIV-related stigma compared to the
communities that don't receive the intervention.
Example: Project Accept
• Interview guide covered 5 domains, used these
to structure code book
–
–
–
–
–
–
General background information on participant
Discussions about HIV
HIV testing
HIV-related stigma
Risk
ARVs
• Look at example code manual and brief list
Team Coding
• What "best practices" does McQueen
recommend for team coding?
Uses of Computer Software
• How can computers facilitate your analysis
process?
• What are some common criticisms of QDA
software?
• How do you feel about the idea of using a
software package in your analysis?