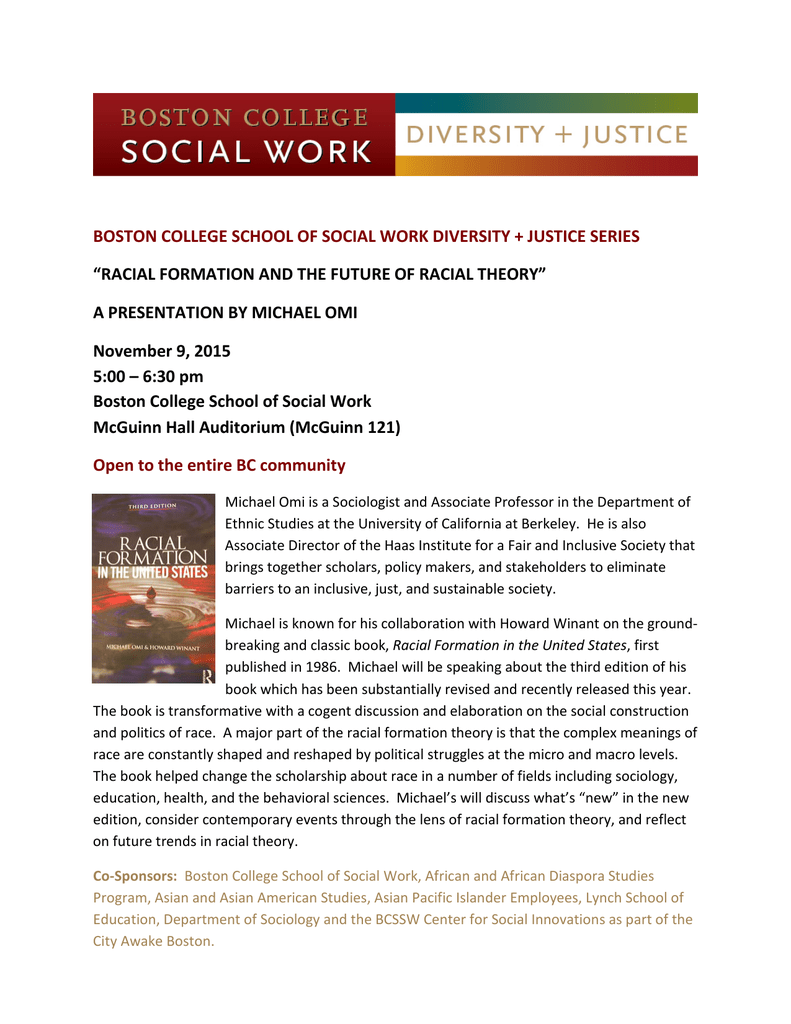 BOSTON COLLEGE SCHOOL OF SOCIAL WORK DIVERSITY + JUSTICE SERIES
"RACIAL FORMATION AND THE FUTURE OF RACIAL THEORY"
A PRESENTATION BY MICHAEL OMI
November 9, 2015
5:00 – 6:30 pm
Boston College School of Social Work
McGuinn Hall Auditorium (McGuinn 121)
Open to the entire BC community
Michael Omi is a Sociologist and Associate Professor in the Department of
Ethnic Studies at the University of California at Berkeley. He is also
Associate Director of the Haas Institute for a Fair and Inclusive Society that
brings together scholars, policy makers, and stakeholders to eliminate
barriers to an inclusive, just, and sustainable society.
Michael is known for his collaboration with Howard Winant on the groundbreaking and classic book, Racial Formation in the United States, first
published in 1986. Michael will be speaking about the third edition of his
book which has been substantially revised and recently released this year.
The book is transformative with a cogent discussion and elaboration on the social construction
and politics of race. A major part of the racial formation theory is that the complex meanings of
race are constantly shaped and reshaped by political struggles at the micro and macro levels.
The book helped change the scholarship about race in a number of fields including sociology,
education, health, and the behavioral sciences. Michael's will discuss what's "new" in the new
edition, consider contemporary events through the lens of racial formation theory, and reflect
on future trends in racial theory.
Co-Sponsors: Boston College School of Social Work, African and African Diaspora Studies
Program, Asian and Asian American Studies, Asian Pacific Islander Employees, Lynch School of
Education, Department of Sociology and the BCSSW Center for Social Innovations as part of the
City Awake Boston.