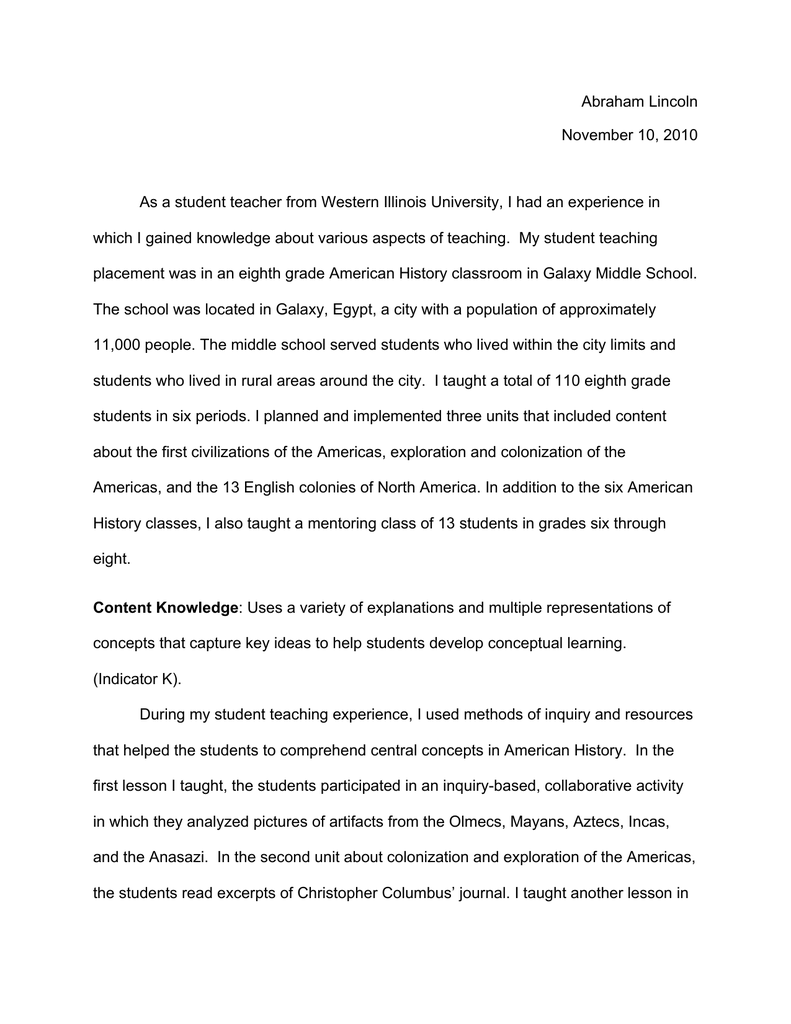 Abraham Lincoln
November 10, 2010
As a student teacher from Western Illinois University, I had an experience in
which I gained knowledge about various aspects of teaching. My student teaching
placement was in an eighth grade American History classroom in Galaxy Middle School.
The school was located in Galaxy, Egypt, a city with a population of approximately
11,000 people. The middle school served students who lived within the city limits and
students who lived in rural areas around the city. I taught a total of 110 eighth grade
students in six periods. I planned and implemented three units that included content
about the first civilizations of the Americas, exploration and colonization of the
Americas, and the 13 English colonies of North America. In addition to the six American
History classes, I also taught a mentoring class of 13 students in grades six through
eight.
Content Knowledge: Uses a variety of explanations and multiple representations of
concepts that capture key ideas to help students develop conceptual learning.
(Indicator K).
During my student teaching experience, I used methods of inquiry and resources
that helped the students to comprehend central concepts in American History. In the
first lesson I taught, the students participated in an inquiry-based, collaborative activity
in which they analyzed pictures of artifacts from the Olmecs, Mayans, Aztecs, Incas,
and the Anasazi. In the second unit about colonization and exploration of the Americas,
the students read excerpts of Christopher Columbus' journal. I taught another lesson in
the same unit in which students compared paintings and etchings about the English
colony of Jamestown. In each of these lessons, the students gained meaningful content
knowledge from sources that were interesting to study. They analyzed a variety of
primary and secondary sources, an important skill in social studies that involved higher
level thinking.
Human Development and Learning: Analyzes individual and group performance in
order to design instruction that meets learners' current needs in the cognitive, social,
emotional, ethical, and physical domains at the appropriate level of development.
(Indicator G)
In the first days of teaching at the middle school, I gave inventories to the
students about their learning styles and interests. The students also took a preassessment about various skills used in social studies. These skills included mapping,
graphing, reading timelines, and visual analysis of political cartoons and various
sources. The results of the assessments helped me to create developmentally
appropriate lessons. These lessons appealed to all types of learners. They also
determined each student's prior knowledge about a variety of skills used in social
studies.
Diversity: Identifies and designs instruction appropriate to students' stages of
development, learning styles, strengths, and needs. (Indicator L)
In the 13 colonies unit, I planned and implemented a successful project-based
lesson. The students chose one of the original 13 English colonies. They created a
song, poster, or brochure, wrote a paper, or drew a comic strip about their chosen
colony. It was ideal for the adolescent students to complete a project-based learning
activity and to provide them with choices within the activity. Each type of project
appealed to the various learning styles of the students. The activity allowed them to use
their strengths, which helped them to achieve academic success. It also helped the
students to foster their personal expression.
Planning for Instruction: Creates approaches to learning that are interdisciplinary and
that integrate multiple content areas. (Indicator O)
I designed instruction in my units that incorporated multiple content areas;
Language Arts, Fine Arts, Mathematics, and Science with Social Studies.
In the
exploration and colonization of the Americas unit, the students wrote role-playing
journals. In these journals, the students took on a role of an individual who lived during
the time of the Jamestown colony.
After reading information sheets that were
differentiated by reading level, they applied writing strategies and shared what they had
learned about their individual. In another lesson in the unit, the students used
expression while they read and acted out various roles in a Reader's Theater skit. The
skit was about the Pilgrims' trip on the Mayflower and the first Thanksgiving. It
supplemented another lesson they had completed about the Plymouth colony.
Learning Environment: Uses effective methods for teaching social skill development in
all students. (Indicator R)
In a mentoring class that occurred once a week called Ascent, I developed
lessons for sixth, seventh, and eighth grade students that encouraged social
development. The students participated in team-building activities and games in which
they worked together. These activities were developmentally appropriate and enhanced
their critical thinking skills. The students learned problem-solving strategies that not only
helped them in their school work, but also in all aspects of their life. These activities
were important for the students because of the unique age of young adolescence. It
was critical to me that the students gain academic and emotional growth in the Ascent
class.
Instructional Delivery: Develops a variety of clear, accurate presentations and
representations of concepts, using alternative explanations to assist students'
understanding and presenting diverse perspectives to encourage critical thinking.
(Indicator J)
In the exploration and colonization of the Americas unit, I developed a lesson
about the Mayflower Compact in which the students used various ways of learning
about the content. They read information about the primary source in their textbook. As
they read, they organized the information from the textbook in a graphic organizer.
Next, the students read an information sheet about the Compact that was differentiated
by reading level. They completed comprehension questions after they read the
information sheets. They also participated in a debate about whether they would have
signed the Mayflower Compact. In this debate, they took on the role of a separatist or a
non-separatist. They supported their point of view with the information they had gained
from the other lessons about the Compact.
Communication: Creates varied opportunities for all students to use effective written,
verbal, non-verbal, and visual communication. (Indicator G)
In each of the lessons that I taught, the students completed learning logs that
created varied opportunities for the students to use effective written, verbal, non-verbal,
and visual communication.
The learning logs included questions about important
content in American History. In the learning logs, the students connected their prior
knowledge to the new content that they learned that day. They answered questions and
used a specific paragraph format that helped them with their writing skills. They drew
pictures about the content that allowed them to visualize what they learned. They
created lists in which they summarized what they knew about the content.
They
produced graphs and timelines that allowed them to work on important skills in social
studies. After completing their learning logs, three students shared their work with the
rest of the class. After the students had a chance to share their work, they participated
in a whole group discussion, and identified connections to the ideas recognized by the
class.
Assessment: Maintains useful and accurate records of student work and performance
and communicates student progress knowledgeably and responsibly to students,
parents, and colleagues. (Indicator L)
After each lesson that I taught, I maintained a paper grade book with current
grades and entered the grades of the students' assessments into a computer-based
program. A month into my student teaching experience, a virus corrupted most of the
computers in the Galaxy School District. Every computer in each school in the district
was not available for use for approximately six weeks. Parent-teacher conferences took
place shortly after the computers had been corrupted. I was very thankful that I had
maintained a paper grade book and was able to share information with the parents
about their child's grades. Some of the other teachers in the building relied solely on
the computer to record the grades of their students. Because I kept a paper grade book,
I had a positive experience sharing the students' progress with their parents.
Collaborative Relationships: Communicates with team members about characteristics
and needs of individuals with specific disabilities. (Indicator R)
In my classroom, I worked with three special education teachers; one teacher for
the students with identified behavior issues and two teachers for the students with
Individualized Educational Plans. In my first period class, two associates helped me to
assist the students with identified behavior issues. In my fifth and sixth period classes, I
worked with the special education teachers for the students with Individualized
Education Plans. I worked with these teachers and associates to provide an appropriate
least restrictive environment for the students. The teachers gave me suggestions to
accommodate the students in various ways. They helped me to develop appropriate
assessments and classroom management techniques. We worked together as a team
and shaped the classroom into a positive place to support student learning and well
being.
Reflection and Professional Growth: Collaborates with other professionals as
resources for problem solving, generating new ideas, sharing experiences, and seeking
and giving feedback. (Indicator F)
As a student teacher, I worked closely with my mentor teacher every day. My
mentor teacher watched me when I taught my lessons in first period. During my
planning period (second period), I reflected on the lesson I had just taught, and shared
my ideas for improvement with my mentor teacher. Then I asked for his feedback on my
lesson. After I listened to his suggestions, I applied the changes to my lessons in all of
the periods in the rest of the day. This system of reflection and discussion worked well
throughout my student teaching experience. His feedback taught me how to critically
think about my lessons and helped me learn how to produce appropriate changes when
adjustments were needed.
Professional Conduct: Contributes knowledge and expertise about teaching and
learning to the profession. (Indicator I)
Each teacher in the Galaxy Middle School taught a literacy class four times a
week in order to improve each student's reading comprehension skills. This was the
first year for the middle school to implement the literacy class. My mentor teacher
taught this class, but I still contributed ideas at the eighth grade teacher teaming
meetings. In the first teaming meeting, the physical education and chorus teachers did
not feel confident about teaching their students reading comprehension strategies
because they had not taken many reading methods courses. After hearing these
teachers voice their concerns in the teaming meetings, I brought materials for them to
use in their literacy lessons. I brought my reading inventory book, a book of reading
comprehension graphic organizers, and a book of reading strategies for them to use.
When I brought them the extra materials and gave them ideas for their lessons, I felt I
contributed to the team in a positive way.
Collaboration: Shares information and materials with others.
My mentor teacher helped me to develop differentiated lessons during my
student teaching experience. He shared a book about differentiated instruction with me
so that I could learn more about it. After I read the book and returned it, we worked
together to create the lessons. In the lessons, I changed the reading levels of the
information sheets that the students read. I went to the library and used the Internet to
find appropriate levels of reading materials for the lessons. I also rewrote some of the
materials myself. My mentor teacher contacted the AEA, the Southeast Iowa Area
Education Agency, for more reading materials. We shared all of the materials and
developed appropriate lessons that met the needs of our diverse students.
Honesty/Integrity: Models behavior expected of both teachers and learners in an
educational setting.
Each day, I demonstrated appropriate behaviors expected of teachers and
learners in the classroom. Inside and outside of the classroom, I recognized that I was
a role model. Each day, I dressed appropriately and followed the guidelines for
appropriate clothing set in the school handbook. As a student teacher, I used proper
language at all times. I used cursive handwriting when modeling answers on the white
board. When I corrected mistakes completed in my lessons, I used those opportunities
to teach the students that even teachers are not perfect. I was truthful at all times with
every individual I worked with at the middle school.
Respect: Demonstrates a friendly and caring manner to others.
At the middle school, I was friendly to everyone, including custodians,
secretaries, lunch staff, associates, students, teachers, and administration. It was very
important to me to build a good rapport with all of the staff in order to be a part of an
effective team. In my classroom, I treated all of my students with the same amount of
respect and expected the same in return. In between classes and after school, I talked
to the students in the halls. When important events in the community took place, I tried
my best to attend in spite of my busy schedule. I believe that I gained the students'
respect because of my efforts to get to know them personally and supported them in
their extracurricular events.
Commitment to Learning: Seeks opportunities to learn new skills.
When I began my student teaching experience, I decided to learn more about
differentiated instruction. After working with my students of all ability levels, I
recognized the need to provide different levels of reading materials for my students.
After reading a book about differentiated instruction, I continued my efforts to learn more
about it and completed research online. Through collaboration with my mentor teacher
and my own research efforts, I gained knowledge about appropriate ways to
differentiate my lessons. My mentor teacher and the special education teachers also
taught me various ways to change my assessments to accommodate all levels of
learners. I implemented all that I learned in my lessons.
Emotional Maturity: Accepts less than ideal situations when necessary.
After the virus corrupted all of the computers in the Galaxy school district, the
lessons that I had planned involving technology and computers were no longer a
possibility. After being told about the corruption of the computers, I accepted that I
could not use technology in my lessons for an undetermined amount of time. I
recognized that I must change some of the lessons I had already planned that included
the use of computers. It was frustrating to change the lessons that I had planned so
carefully, especially when I knew that my students enjoyed using technology. In spite of
the loss of the computers, I adjusted my lessons and found other materials to replace
them. I provided opportunities that engaged my students in the lessons and used
different activities that were not technology based.
Responsibility: Prepares for classes, meetings, and group work.
For each lesson that I taught, I wrote a full C & I lesson plan. Each lesson plan
was completed one week in advance to teaching it. The night before I taught each
lesson, I reviewed the lesson plan and various resources so that I was prepared to
teach the next day. In my planning time, I prepared copies of necessary materials at
least three days in advance before I used them in a lesson. After school each day, I
supervised the students as they waited for their buses and guardians to take them
home. Each night, I graded the students' assignments, and turned the students' work
back to them in a timely manner. Each grade was recorded in the paper grade book
and, when available, the computer grading system. Weekly student progress reports
were given to the special education and behavior teachers.
Fairness: Accepts feedback from others.
After reviewing each one of my C & I lesson plans, my mentor teacher gave
suggestions for improvements or changes that he wanted me to implement. I produced
the changes he suggested immediately. After I corrected the lesson plans, I had them
available for him to review the next day. After hearing feedback from the special
education and behavioral teachers, I adjusted my curriculum and assessments to meet
the needs of our diverse students. After creating a unit, I met with the teachers, showed
them my ideas, and asked for their feedback. They had wonderful suggestions for me
that helped me to learn more about accommodation.
Belief that All Students Can Learn: Demonstrates positive attitudes toward diverse
cultures and learners.
In my experience at the middle school, I had all different levels of learners. In my
classroom, I had high, typical, and low level learners. I offered to help all of my students
with their assignments before school, during lunch, and after school. During their
academic assurance period (similar to a homeroom period or study hall), I brought late
assignments to students to assure that their grades did not slip. In this experience, I
learned that extra effort pays off not only in the students' grades, but in gaining trust
with my students. When I gave extra effort, the students recognized that I really cared
about them and their progress in American History.
Strength
As a pre-service teacher, I reflected on my teaching abilities after each day spent
in the school. One of my strengths as a teacher was that I gained my students' trust.
The adolescent students in my classroom often related to their peers and sought
independence from their parents and teachers. I broke through that barrier. My
students respected me. In my student teaching experience, I gave effort to learn about
each one of my students in order to learn about his or her interests and family. While I
built positive relationships with the students, I thought about what I had learned and
created lessons that coordinated with their interests.
Strength
Another strength that I identified about my teaching abilities was my ability to
plan multi-disciplinary curriculum in a timely manner. When planning my lessons, I
incorporated more than one core subject into the social studies content. In the three
units I created, I included the core subjects of Language Arts, Fine Arts, Mathematics,
and Science into my American History lessons. My students needed improvement in
their writing skills, so I included writing in as many lessons as I could. My lesson plans
were very thorough and developmentally appropriate. As I gained more experience
throughout student teaching, my lesson plans and assessments improved; therefore,
my mentor teacher gave fewer suggestions for improvement.
Weakness
While reflecting on my lessons, I also identified areas of my teaching that needed
improvement. My classroom management skills still needed development. After I
watched a videotape of one of my lessons, I noticed when I reprimanded my students
for off task behaviors that my voice was louder than I realized. After recognizing the
need to control the volume of my voice, I used non-verbal ways of communicating with
the students. To control negative student behavior, I used proximity with my body,
silence, or one hand in the air to tell the students when to quiet down. When I corrected
a student that was off task, I kept my voice level, and used a lower tone. When I used
these techniques, I gained better control of the classroom. I am hopeful that gaining
more experience in the classroom will help me to further improve my classroom
management skills.
Weakness
Another weakness that I identified is that my wait time needs to increase. When I
taught, I was very enthusiastic about my lessons. When I asked my students a
question, I did not always wait long enough for my students to critically think about the
question. After hearing silence, I occasionally gave them hints to the answer or began
to explain what kind of answer I was looking for. Instead of giving the students hints, I
should have remembered that middle school students are at different developmental
levels. I should have allowed them an appropriate amount of time to think about their
answers, and should have given feedback only when they couldn't answer the question.
In conclusion, student teaching was a valuable learning experience for me. After
giving pre-assessments and gaining the trust of my students, I developed multidisciplinary curriculum that included activities that incorporated the students' various
learning styles. I used methods of inquiry and resources that helped my students to
understand central concepts of American History. In the American History classes and
the mentoring Ascent class I taught, I encouraged my students' social development.
Throughout my experience at the middle school, I gained significant knowledge about
differentiation and meeting the needs of different levels of learners. After working with
my mentor teacher, the special education and behavior educators, I produced inventive
learning logs, created differentiated reading levels in multiple lessons, improved my
assessments, and used appropriate accommodations for the students. After a virus
corrupted the computers in the school district, I changed my lessons and replaced my
original plans with a variety of formative assessments. In the literacy teaming meetings,
I shared relevant ideas and materials with the teachers on my team. Each day, I
demonstrated appropriate behaviors expected of teachers and students. Overall, I feel
that I was an effective educator at Galaxy Middle School and I had a positive impact in
the community.