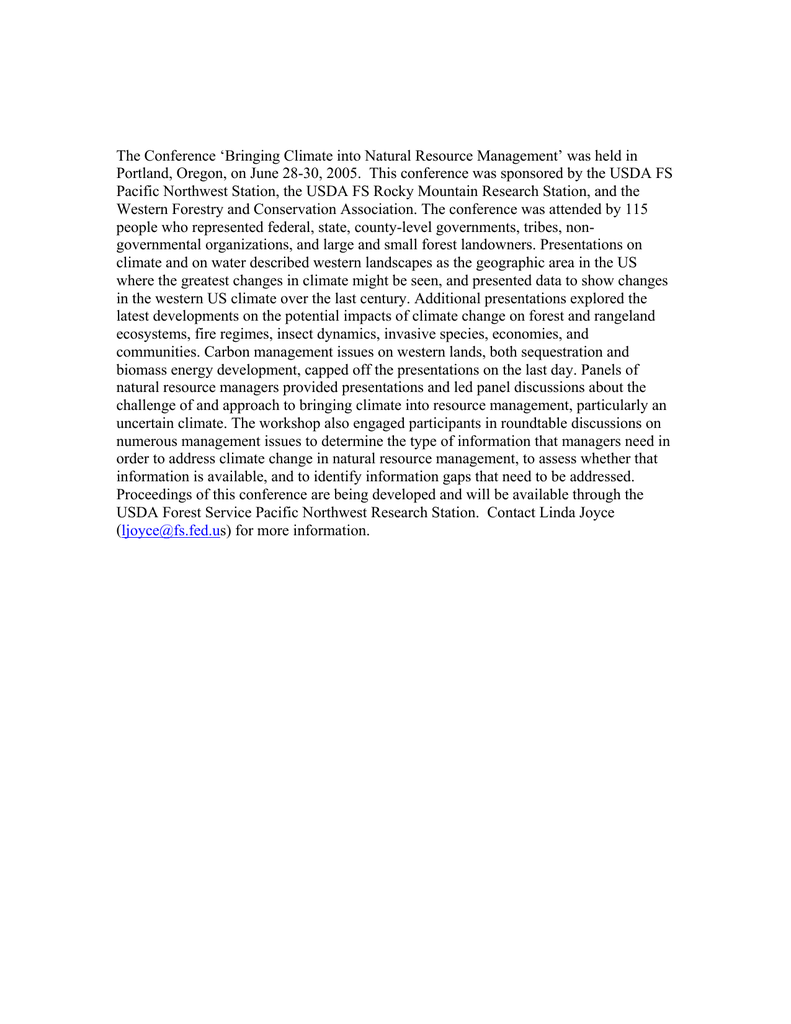 The Conference 'Bringing Climate into Natural Resource Management' was held in
Portland, Oregon, on June 28-30, 2005. This conference was sponsored by the USDA FS
Pacific Northwest Station, the USDA FS Rocky Mountain Research Station, and the
Western Forestry and Conservation Association. The conference was attended by 115
people who represented federal, state, county-level governments, tribes, nongovernmental organizations, and large and small forest landowners. Presentations on
climate and on water described western landscapes as the geographic area in the US
where the greatest changes in climate might be seen, and presented data to show changes
in the western US climate over the last century. Additional presentations explored the
latest developments on the potential impacts of climate change on forest and rangeland
ecosystems, fire regimes, insect dynamics, invasive species, economies, and
communities. Carbon management issues on western lands, both sequestration and
biomass energy development, capped off the presentations on the last day. Panels of
natural resource managers provided presentations and led panel discussions about the
challenge of and approach to bringing climate into resource management, particularly an
uncertain climate. The workshop also engaged participants in roundtable discussions on
numerous management issues to determine the type of information that managers need in
order to address climate change in natural resource management, to assess whether that
information is available, and to identify information gaps that need to be addressed.
Proceedings of this conference are being developed and will be available through the
USDA Forest Service Pacific Northwest Research Station. Contact Linda Joyce
([email protected]) for more information.