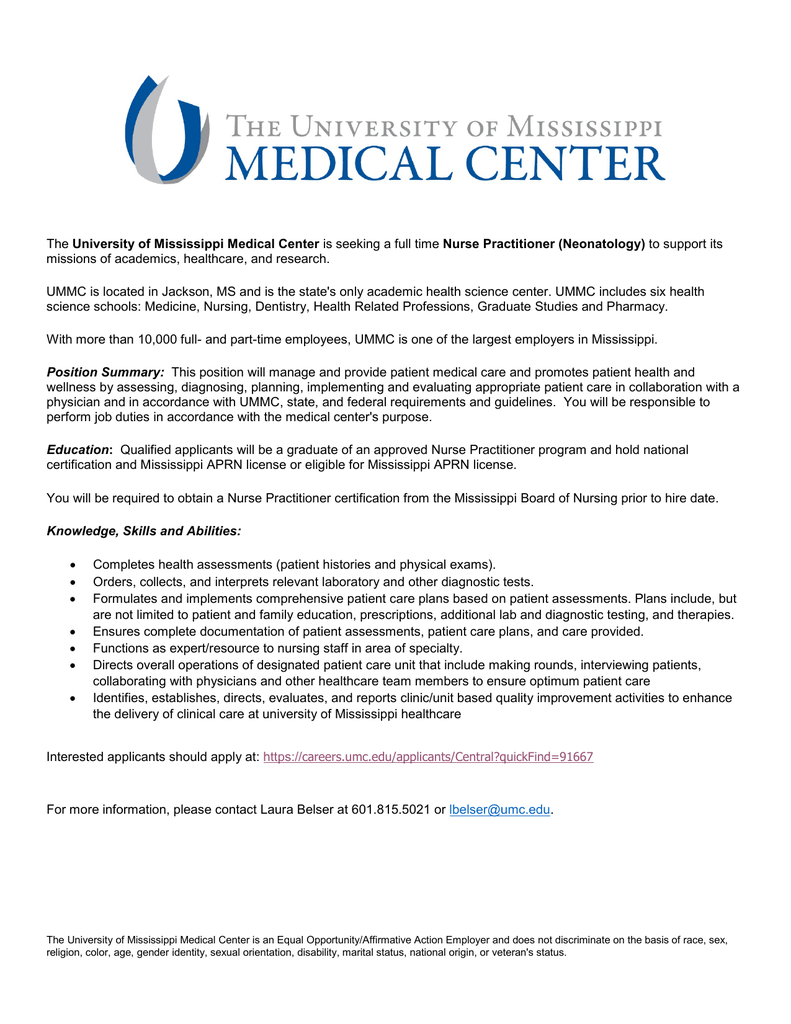 The University of Mississippi Medical Center is seeking a full time Nurse Practitioner (Neonatology) to support its
missions of academics, healthcare, and research.
UMMC is located in Jackson, MS and is the state's only academic health science center. UMMC includes six health
science schools: Medicine, Nursing, Dentistry, Health Related Professions, Graduate Studies and Pharmacy.
With more than 10,000 full- and part-time employees, UMMC is one of the largest employers in Mississippi.
Position Summary: This position will manage and provide patient medical care and promotes patient health and
wellness by assessing, diagnosing, planning, implementing and evaluating appropriate patient care in collaboration with a
physician and in accordance with UMMC, state, and federal requirements and guidelines. You will be responsible to
perform job duties in accordance with the medical center's purpose.
Education: Qualified applicants will be a graduate of an approved Nurse Practitioner program and hold national
certification and Mississippi APRN license or eligible for Mississippi APRN license.
You will be required to obtain a Nurse Practitioner certification from the Mississippi Board of Nursing prior to hire date.
Knowledge, Skills and Abilities:
•
•
•
•
•
•
•
Completes health assessments (patient histories and physical exams).
Orders, collects, and interprets relevant laboratory and other diagnostic tests.
Formulates and implements comprehensive patient care plans based on patient assessments. Plans include, but
are not limited to patient and family education, prescriptions, additional lab and diagnostic testing, and therapies.
Ensures complete documentation of patient assessments, patient care plans, and care provided.
Functions as expert/resource to nursing staff in area of specialty.
Directs overall operations of designated patient care unit that include making rounds, interviewing patients,
collaborating with physicians and other healthcare team members to ensure optimum patient care
Identifies, establishes, directs, evaluates, and reports clinic/unit based quality improvement activities to enhance
the delivery of clinical care at university of Mississippi healthcare
Interested applicants should apply at: https://careers.umc.edu/applicants/Central?quickFind=91667
For more information, please contact Laura Belser at 601.815.5021 or [email protected]
The University of Mississippi Medical Center is an Equal Opportunity/Affirmative Action Employer and does not discriminate on the basis of race, sex,
religion, color, age, gender identity, sexual orientation, disability, marital status, national origin, or veteran's status.