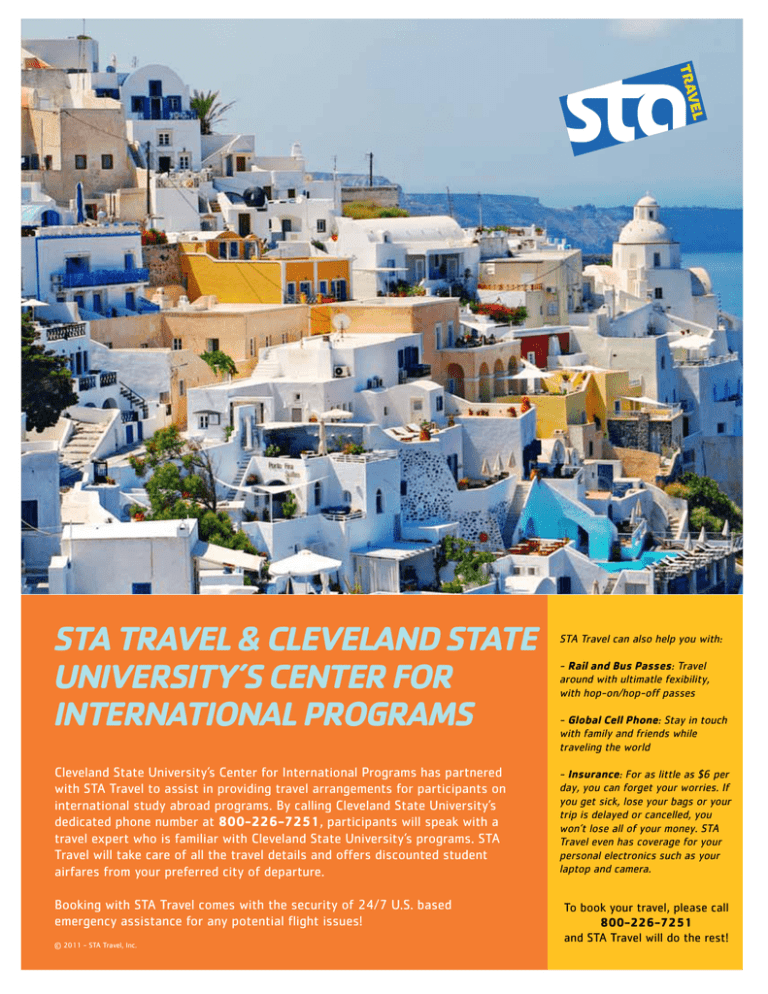 STA TRAVEL & CLEVELAND STATE
UNIVERSITY'S CENTER FOR
INTERNATIONAL PROGRAMS
Cleveland State University's Center for International Programs has partnered
with STA Travel to assist in providing travel arrangements for participants on
international study abroad programs. By calling Cleveland State University's
dedicated phone number at 800-226-7251, participants will speak with a
travel expert who is familiar with Cleveland State University's programs. STA
Travel will take care of all the travel details and offers discounted student
airfares from your preferred city of departure.
Booking with STA Travel comes with the security of 24/7 U.S. based
emergency assistance for any potential flight issues!
© 2011 - STA Travel, Inc.
STA Travel can also help you with:
- Rail and Bus Passes: Travel
around with ultimatle fexibility,
with hop-on/hop-off passes
- Global Cell Phone: Stay in touch
with family and friends while
traveling the world
- Insurance: For as little as $6 per
day, you can forget your worries. If
you get sick, lose your bags or your
trip is delayed or cancelled, you
won't lose all of your money. STA
Travel even has coverage for your
personal electronics such as your
laptop and camera.
To book your travel, please call
800-226-7251
and STA Travel will do the rest!