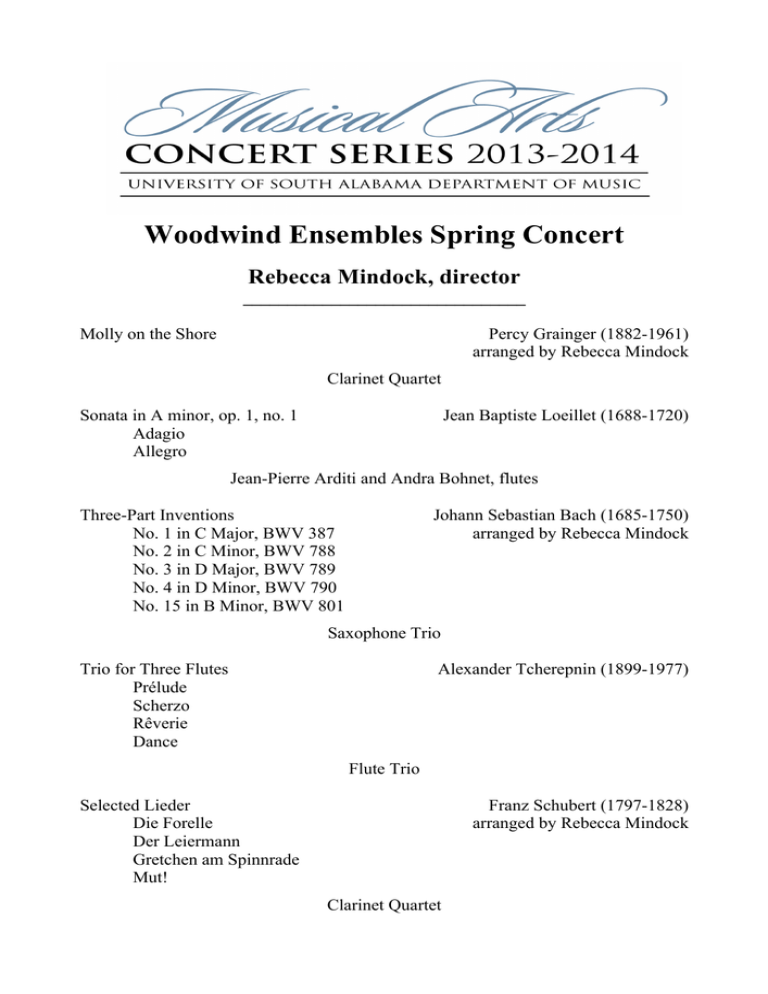 Woodwind Ensembles Spring Concert
Rebecca Mindock, director
________________________________
Molly on the Shore
Percy Grainger (1882-1961)
arranged by Rebecca Mindock
Clarinet Quartet
Sonata in A minor, op. 1, no. 1
Adagio
Allegro
Jean Baptiste Loeillet (1688-1720)
Jean-Pierre Arditi and Andra Bohnet, flutes
Three-Part Inventions
No. 1 in C Major, BWV 387
No. 2 in C Minor, BWV 788
No. 3 in D Major, BWV 789
No. 4 in D Minor, BWV 790
No. 15 in B Minor, BWV 801
Johann Sebastian Bach (1685-1750)
arranged by Rebecca Mindock
Saxophone Trio
Trio for Three Flutes
Prélude
Scherzo
Rêverie
Dance
Alexander Tcherepnin (1899-1977)
Flute Trio
Selected Lieder
Die Forelle
Der Leiermann
Gretchen am Spinnrade
Mut!
Franz Schubert (1797-1828)
arranged by Rebecca Mindock
Clarinet Quartet
Four Pieces for Three Flutes and Piano
I. Bells
II. Games
III. Music Box
IV. Dances
Louis Moyse
(1912-2007)
Flute Trio
Tracy Mank, piano
French Suite
Prélude
Sarabande
Bourrée
Gigue
Yvonne Desportes
(1907-1993)
Clarinet Quartet
Two Flutes (on the loose) in Fujian
I. Hand-in-hand
II. My Father's Lullaby
III. Favorable Wind
Gary Schocker
(b. 1959)
Nicole Carrion and Beth Holmes, flutes
Tracy Mank, piano
Jazz Sketches
Sketch #4, Medium Swing
Sketch #3, Rock Ballad
Sketch #7, Moderate Blues
Sketch #10, Jazz Samba
Lennie Niehaus
(b. 1929)
Saxophone Trio
Ryan Boehme, drum set
PERSONNEL
Saxophone Trio
David Collins, alto saxophone
Andrew Cox, alto saxophone
Brittney Franklin, alto saxophone
Flute Trio
Nicole Carrion, flute
Bayleigh Cook, flute
Beth Holmes, flute
Clarinet Quartet
Jacob Diercks, clarinet
Sierra Huggins, clarinet
Derek McDougal, clarinet
Stephanie Diaz, bass clarinet
_______________________________________________________________
LAIDLAW PERFORMING ARTS CENTER
RECITAL HALL
Wednesday, April 30, 2014 – 7:30 p.m.