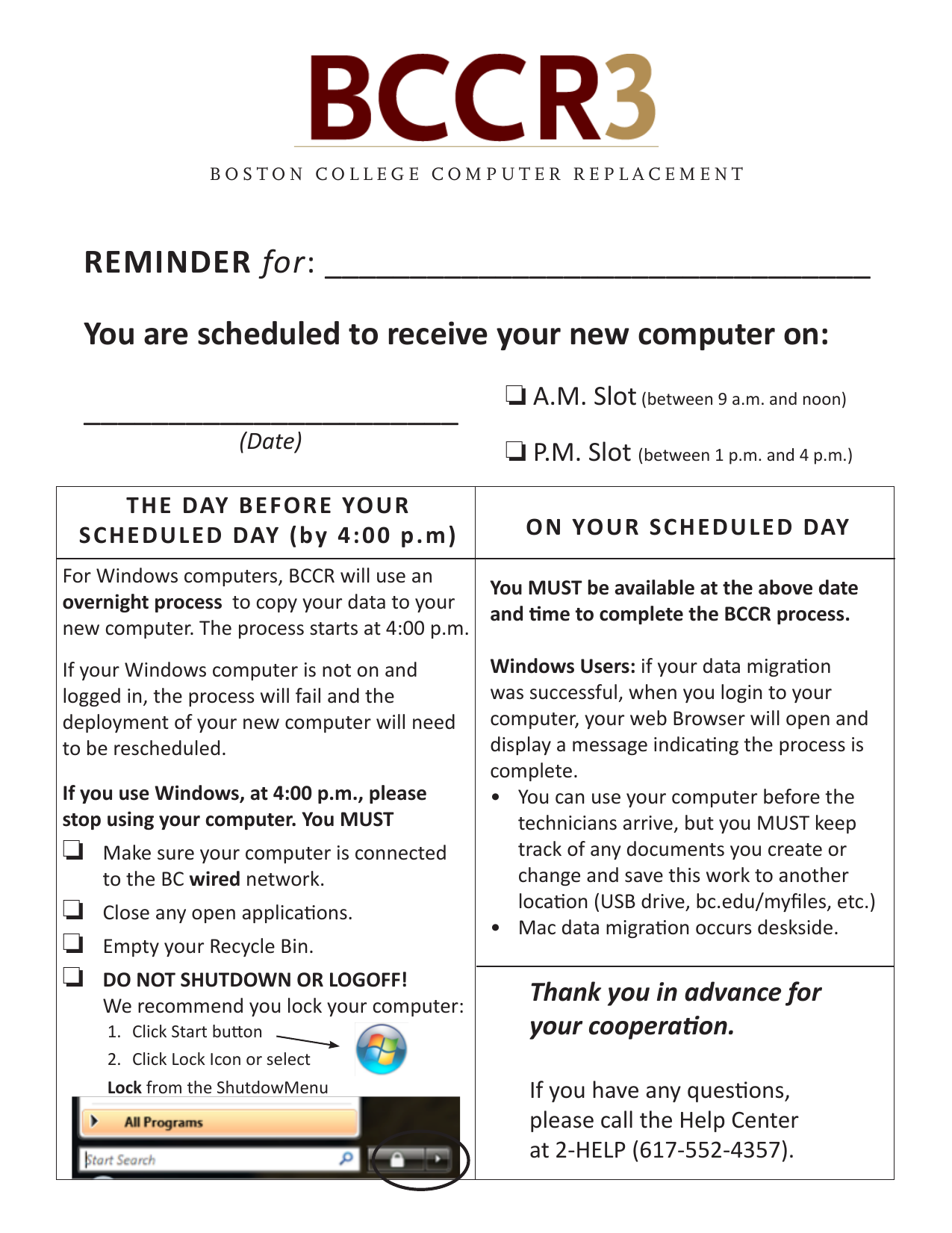 BOSTON COLLEGE COMPUTER REPLACEMENT
REMINDER for: ________________________________
You are scheduled to receive your new computer on:
______________________
(Date)
THE DAY BEFORE YOUR
S CHEDULED DAY (by 4:00 p . m )
o A.M. Slot (between 9 a.m. and noon)
o P.M. Slot (between 1 p.m. and 4 p.m.)
O N YO U R S C H E D U L E D DAY
For Windows computers, BCCR will use an
You MUST be available at the above date
overnight process to copy your data to your
and time to complete the BCCR process.
new computer. The process starts at 4:00 p.m.
If your Windows computer is not on and
logged in, the process will fail and the
deployment of your new computer will need
to be rescheduled.
If you use Windows, at 4:00 p.m., please
stop using your computer. You MUST
o
Make sure your computer is connected
to the BC wired network.
o
o
o
Close any open applications.
Empty your Recycle Bin.
DO NOT SHUTDOWN OR LOGOFF!
We recommend you lock your computer:
1. Click Start button
2. Click Lock Icon or select
Lock from the ShutdowMenu
Windows Users: if your data migration
was successful, when you login to your
computer, your web Browser will open and
display a message indicating the process is
complete.
• You can use your computer before the
technicians arrive, but you MUST keep
track of any documents you create or
change and save this work to another
location (USB drive, bc.edu/myfiles, etc.)
• Mac data migration occurs deskside.
Thank you in advance for
your cooperation.
If you have any questions,
please call the Help Center
at 2-HELP (617-552-4357).