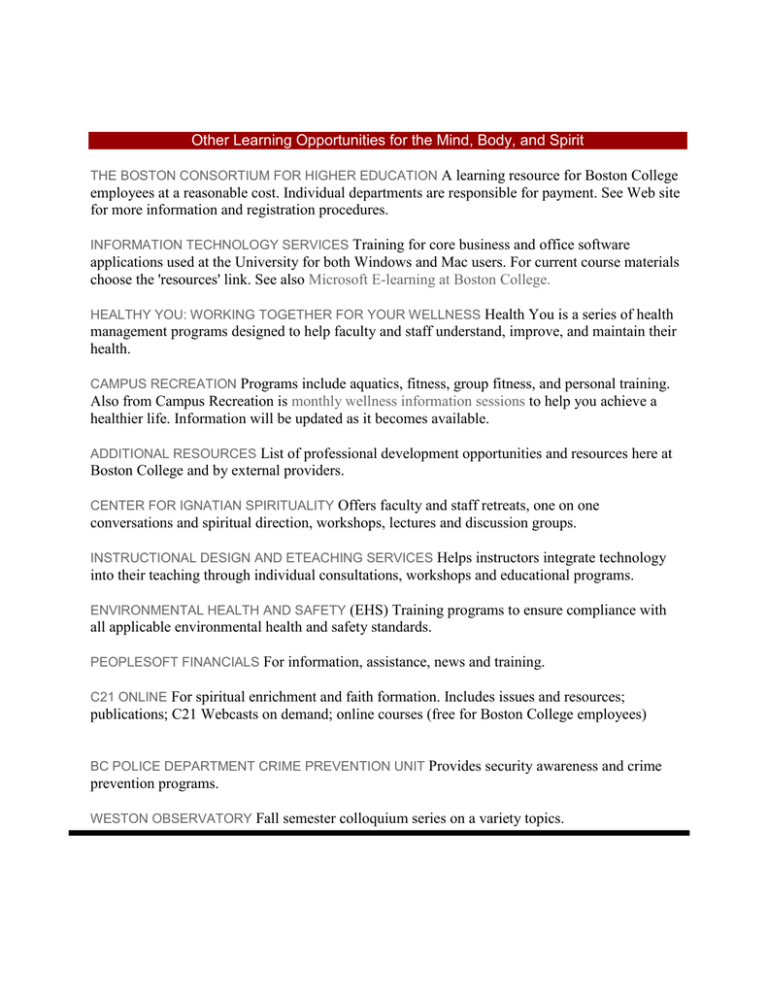 Other Learning Opportunities for the Mind, Body, and Spirit
THE BOSTON CONSORTIUM FOR HIGHER EDUCATION A learning resource for Boston College
employees at a reasonable cost. Individual departments are responsible for payment. See Web site
for more information and registration procedures.
INFORMATION TECHNOLOGY SERVICES Training for core business and office software
applications used at the University for both Windows and Mac users. For current course materials
choose the 'resources' link. See also Microsoft E-learning at Boston College.
HEALTHY YOU: WORKING TOGETHER FOR YOUR WELLNESS Health You is a series of health
management programs designed to help faculty and staff understand, improve, and maintain their
health.
CAMPUS RECREATION Programs include aquatics, fitness, group fitness, and personal training.
Also from Campus Recreation is monthly wellness information sessions to help you achieve a
healthier life. Information will be updated as it becomes available.
ADDITIONAL RESOURCES List of professional development opportunities and resources here at
Boston College and by external providers.
CENTER FOR IGNATIAN SPIRITUALITY Offers faculty and staff retreats, one on one
conversations and spiritual direction, workshops, lectures and discussion groups.
INSTRUCTIONAL DESIGN AND ETEACHING SERVICES Helps instructors integrate technology
into their teaching through individual consultations, workshops and educational programs.
ENVIRONMENTAL HEALTH AND SAFETY (EHS) Training programs to ensure compliance with
all applicable environmental health and safety standards.
PEOPLESOFT FINANCIALS For information, assistance, news and training.
C21 ONLINE For spiritual enrichment and faith formation. Includes issues and resources;
publications; C21 Webcasts on demand; online courses (free for Boston College employees)
BC POLICE DEPARTMENT CRIME PREVENTION UNIT Provides security awareness and crime
prevention programs.
WESTON OBSERVATORY Fall semester colloquium series on a variety topics.