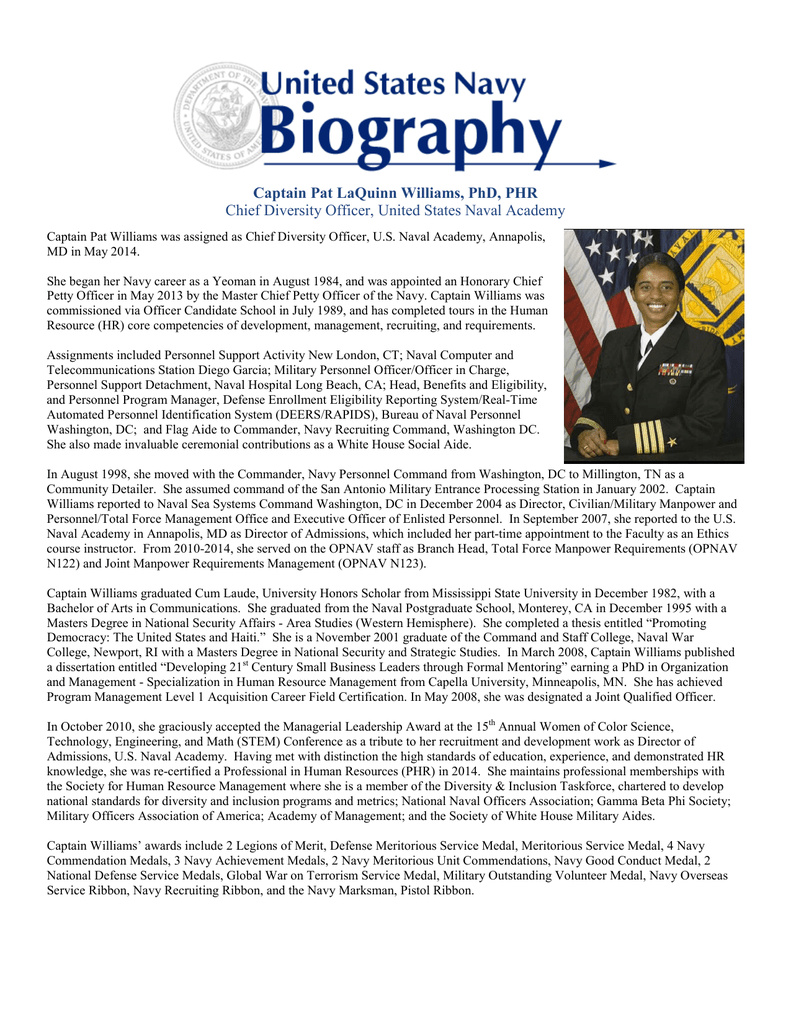 Captain Pat LaQuinn Williams, PhD, PHR
Chief Diversity Officer, United States Naval Academy
Captain Pat Williams was assigned as Chief Diversity Officer, U.S. Naval Academy, Annapolis,
MD in May 2014.
She began her Navy career as a Yeoman in August 1984, and was appointed an Honorary Chief
Petty Officer in May 2013 by the Master Chief Petty Officer of the Navy. Captain Williams was
commissioned via Officer Candidate School in July 1989, and has completed tours in the Human
Resource (HR) core competencies of development, management, recruiting, and requirements.
Assignments included Personnel Support Activity New London, CT; Naval Computer and
Telecommunications Station Diego Garcia; Military Personnel Officer/Officer in Charge,
Personnel Support Detachment, Naval Hospital Long Beach, CA; Head, Benefits and Eligibility,
and Personnel Program Manager, Defense Enrollment Eligibility Reporting System/Real-Time
Automated Personnel Identification System (DEERS/RAPIDS), Bureau of Naval Personnel
Washington, DC; and Flag Aide to Commander, Navy Recruiting Command, Washington DC.
She also made invaluable ceremonial contributions as a White House Social Aide.
In August 1998, she moved with the Commander, Navy Personnel Command from Washington, DC to Millington, TN as a
Community Detailer. She assumed command of the San Antonio Military Entrance Processing Station in January 2002. Captain
Williams reported to Naval Sea Systems Command Washington, DC in December 2004 as Director, Civilian/Military Manpower and
Personnel/Total Force Management Office and Executive Officer of Enlisted Personnel. In September 2007, she reported to the U.S.
Naval Academy in Annapolis, MD as Director of Admissions, which included her part-time appointment to the Faculty as an Ethics
course instructor. From 2010-2014, she served on the OPNAV staff as Branch Head, Total Force Manpower Requirements (OPNAV
N122) and Joint Manpower Requirements Management (OPNAV N123).
Captain Williams graduated Cum Laude, University Honors Scholar from Mississippi State University in December 1982, with a
Bachelor of Arts in Communications. She graduated from the Naval Postgraduate School, Monterey, CA in December 1995 with a
Masters Degree in National Security Affairs - Area Studies (Western Hemisphere). She completed a thesis entitled "Promoting
Democracy: The United States and Haiti." She is a November 2001 graduate of the Command and Staff College, Naval War
College, Newport, RI with a Masters Degree in National Security and Strategic Studies. In March 2008, Captain Williams published
a dissertation entitled "Developing 21st Century Small Business Leaders through Formal Mentoring" earning a PhD in Organization
and Management - Specialization in Human Resource Management from Capella University, Minneapolis, MN. She has achieved
Program Management Level 1 Acquisition Career Field Certification. In May 2008, she was designated a Joint Qualified Officer.
In October 2010, she graciously accepted the Managerial Leadership Award at the 15th Annual Women of Color Science,
Technology, Engineering, and Math (STEM) Conference as a tribute to her recruitment and development work as Director of
Admissions, U.S. Naval Academy. Having met with distinction the high standards of education, experience, and demonstrated HR
knowledge, she was re-certified a Professional in Human Resources (PHR) in 2014. She maintains professional memberships with
the Society for Human Resource Management where she is a member of the Diversity & Inclusion Taskforce, chartered to develop
national standards for diversity and inclusion programs and metrics; National Naval Officers Association; Gamma Beta Phi Society;
Military Officers Association of America; Academy of Management; and the Society of White House Military Aides.
Captain Williams' awards include 2 Legions of Merit, Defense Meritorious Service Medal, Meritorious Service Medal, 4 Navy
Commendation Medals, 3 Navy Achievement Medals, 2 Navy Meritorious Unit Commendations, Navy Good Conduct Medal, 2
National Defense Service Medals, Global War on Terrorism Service Medal, Military Outstanding Volunteer Medal, Navy Overseas
Service Ribbon, Navy Recruiting Ribbon, and the Navy Marksman, Pistol Ribbon.