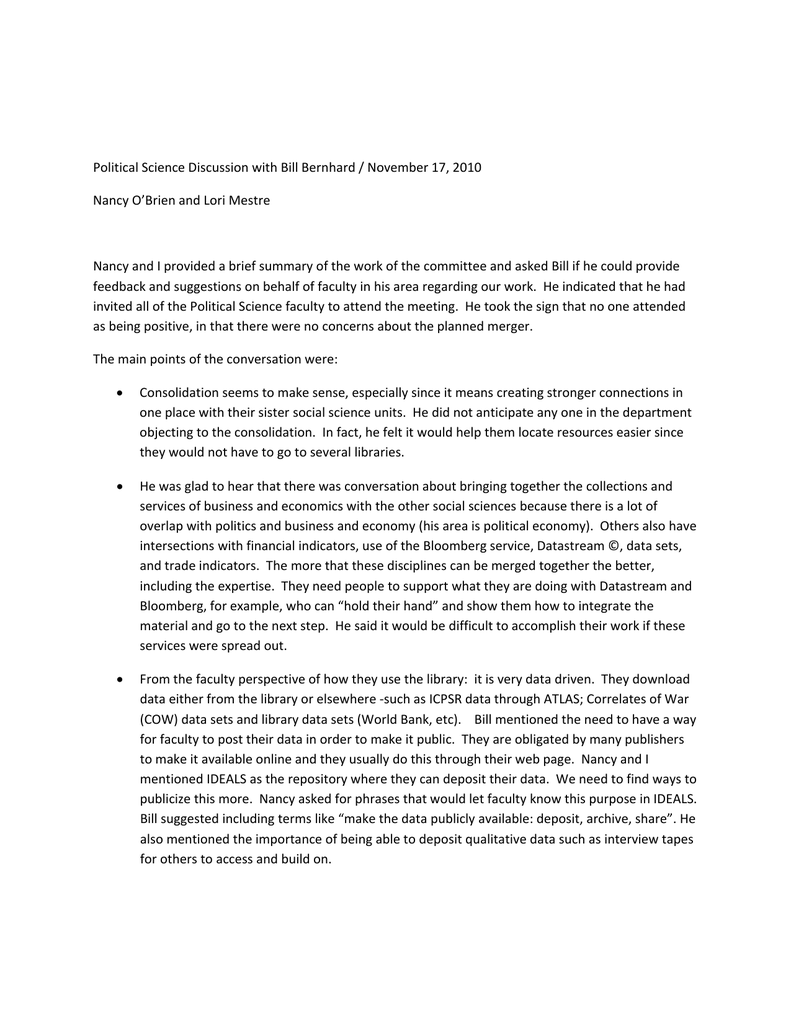 Political Science Discussion with Bill Bernhard / November 17, 2010 Nancy O'Brien and Lori Mestre Nancy and I provided a brief summary of the work of the committee and asked Bill if he could provide feedback and suggestions on behalf of faculty in his area regarding our work. He indicated that he had invited all of the Political Science faculty to attend the meeting. He took the sign that no one attended as being positive, in that there were no concerns about the planned merger. The main points of the conversation were: •
Consolidation seems to make sense, especially since it means creating stronger connections in one place with their sister social science units. He did not anticipate any one in the department objecting to the consolidation. In fact, he felt it would help them locate resources easier since they would not have to go to several libraries. •
He was glad to hear that there was conversation about bringing together the collections and services of business and economics with the other social sciences because there is a lot of overlap with politics and business and economy (his area is political economy). Others also have intersections with financial indicators, use of the Bloomberg service, Datastream ©, data sets, and trade indicators. The more that these disciplines can be merged together the better, including the expertise. They need people to support what they are doing with Datastream and Bloomberg, for example, who can "hold their hand" and show them how to integrate the material and go to the next step. He said it would be difficult to accomplish their work if these services were spread out. •
From the faculty perspective of how they use the library: it is very data driven. They download data either from the library or elsewhere ‐such as ICPSR data through ATLAS; Correlates of War (COW) data sets and library data sets (World Bank, etc). Bill mentioned the need to have a way for faculty to post their data in order to make it public. They are obligated by many publishers to make it available online and they usually do this through their web page. Nancy and I mentioned IDEALS as the repository where they can deposit their data. We need to find ways to publicize this more. Nancy asked for phrases that would let faculty know this purpose in IDEALS. Bill suggested including terms like "make the data publicly available: deposit, archive, share". He also mentioned the importance of being able to deposit qualitative data such as interview tapes for others to access and build on. •
The way they use the library has changed in that they rely heavily on the online environment. However, there are still main, top tier print journals they need to access and still need these available in the library. They rely heavily on JSTOR and some other online resources for material (even if the current issues are not available). •
Graduate students may use JSTOR to get started in their lit reviews, but need to come in person to the library to work on these and gather information for their case studies, and to collect data and assemble a data set. •
Bill remarked on the importance of having a contact librarian (such as Lynne Rudasill) who not only provides orientation sessions, but who is informed and can help students in consultations regarding their work. He mentioned that much of what the students do may not be so specific to only need her help, but that she is able to refer them to other subject specialists who may be better able to assist them. In the case of ESSL and also adding other librarians to the new area, this would be a benefit since there would be other experts on topics able to provide assistance and other perspectives. He said that the librarians help foster interdisciplinary communication and that is tremendously beneficial. •
He didn't feel there were any emerging areas that would need any different library support. He was happy to hear that geography was also considered for this space which would help with their work in regional voting, voting in districts and in spatial issues. •
Bill asked where Government Documents fit into this model? Nancy mentioned its current location with RRGIS which is useful because it crosses over into so many areas. Lori suggested that Government Documents could have an important role in consulting with the librarians on providing content and links to their web pages to assist faculty. •
Bill felt the intersection of these other areas would be beneficial to students and faculty and that the more the library can consolidate services and collection—the better.