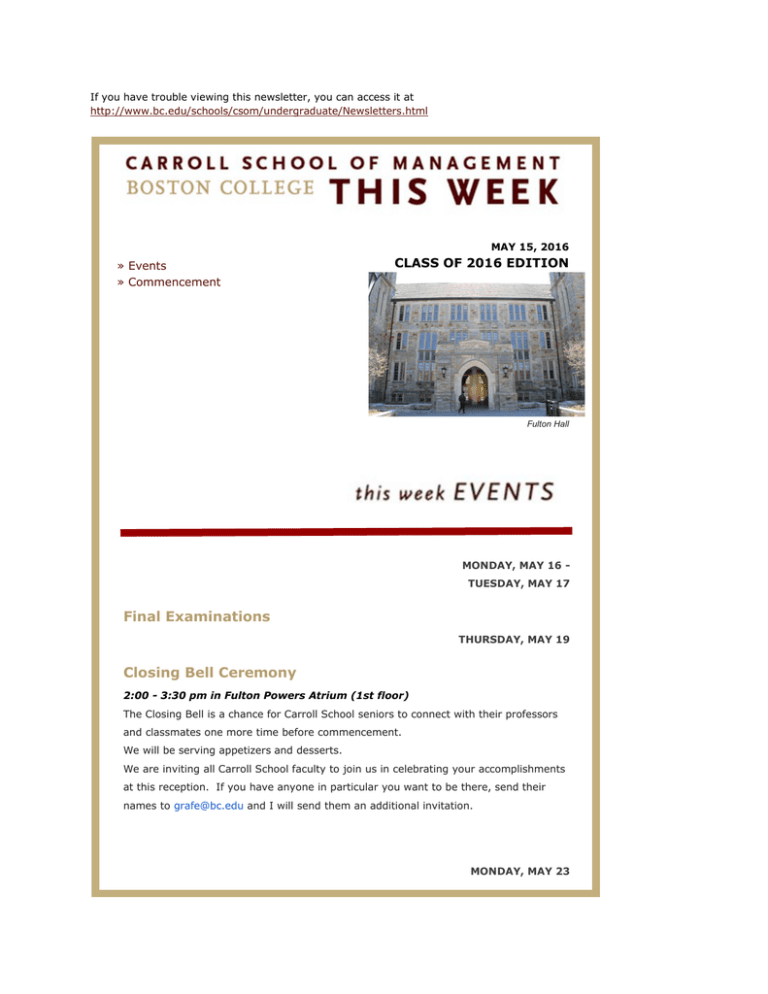 If you have trouble viewing this newsletter, you can access it at
http://www.bc.edu/schools/csom/undergraduate/Newsletters.html
MAY 15, 2016
» Events
» Commencement
CLASS OF 2016 EDITION
Fulton Hall
MONDAY, MAY 16 TUESDAY, MAY 17
Final Examinations
THURSDAY, MAY 19
Closing Bell Ceremony
2:00 - 3:30 pm in Fulton Powers Atrium (1st floor)
The Closing Bell is a chance for Carroll School seniors to connect with their professors
and classmates one more time before commencement.
We will be serving appetizers and desserts.
We are inviting all Carroll School faculty to join us in celebrating your accomplishments
at this reception. If you have anyone in particular you want to be there, send their
names to [email protected] and I will send them an additional invitation.
MONDAY, MAY 23
Commencement
Cap & Gown
The deadline to order online has passed. Please visit the bookstore in McElroy Commons
on the days and times listed below to order in person. You will be able to place your
order, make payment, and pick up your regalia and rain location tickets. If you choose
to pay for your cap and gown using your Eagle Bucks, that will have to be done in
person at the bookstore in McElroy Commons.
Picking Up Your Cap and Gown
Cap and Gown Headquarters will be in the lobby/bookstore in McElroy Commons. The
Cap and Gown Headquarters will be open on the following days:
Wednesday, May 18, 2016, from 9:00 a.m until 6:30 p.m.
Thursday, May 19, 2016, from 9:00 a.m until 6:30 p.m.
Friday, May 20, 2016, from 9:00 a.m until 5:00 p.m.
Commencement Morning
Undergraduates must be lined up on Linden Lane by 8:15am on Commencement
morning for the procession down to Alumni Stadium.
Ceremony Information
**NO bags, backpacks or luggage will be allowed into the main ceremony during the
commencement ceremony.**
●
More information can be found here: Undergraduate Student
Commencement Guide
●
Access the Commencement mobile site at bc.edu/2016 for a complete
guide to commencement.
All members of the Class of 2016 are permitted to participate in the University
Commencement Ceremony in Alumni Stadium. However, any senior who is not receiving
a degree due to lack of courses or failures, including those incurred this semester, will
not be permitted to participate in the individual awarding of the diplomas without prior
permission.
NOTE: It is important that those not graduating fully understand that they are not
permitted to sit with the diploma recipients in Conte Forum without prior permission
from Associate Dean Richard Keeley.
IF YOU HAVE NEWS OR UPCOMING EVENTS PLEASE
CONTACT [email protected] BY FRIDAY AT NOON.