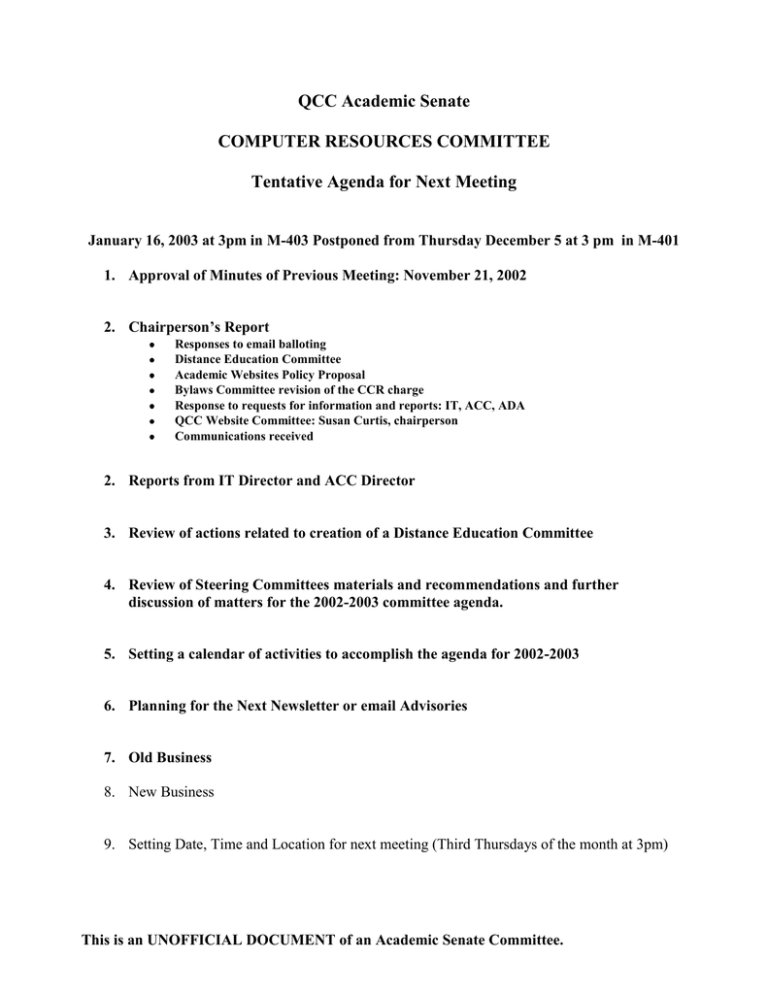 QCC Academic Senate
COMPUTER RESOURCES COMMITTEE
Tentative Agenda for Next Meeting
January 16, 2003 at 3pm in M-403 Postponed from Thursday December 5 at 3 pm in M-401
1. Approval of Minutes of Previous Meeting: November 21, 2002
2. Chairperson's Report
Responses to email balloting
Distance Education Committee
Academic Websites Policy Proposal
Bylaws Committee revision of the CCR charge
Response to requests for information and reports: IT, ACC, ADA
QCC Website Committee: Susan Curtis, chairperson
Communications received
2. Reports from IT Director and ACC Director
3. Review of actions related to creation of a Distance Education Committee
4. Review of Steering Committees materials and recommendations and further
discussion of matters for the 2002-2003 committee agenda.
5. Setting a calendar of activities to accomplish the agenda for 2002-2003
6. Planning for the Next Newsletter or email Advisories
7. Old Business
8. New Business
9. Setting Date, Time and Location for next meeting (Third Thursdays of the month at 3pm)
This is an UNOFFICIAL DOCUMENT of an Academic Senate Committee.