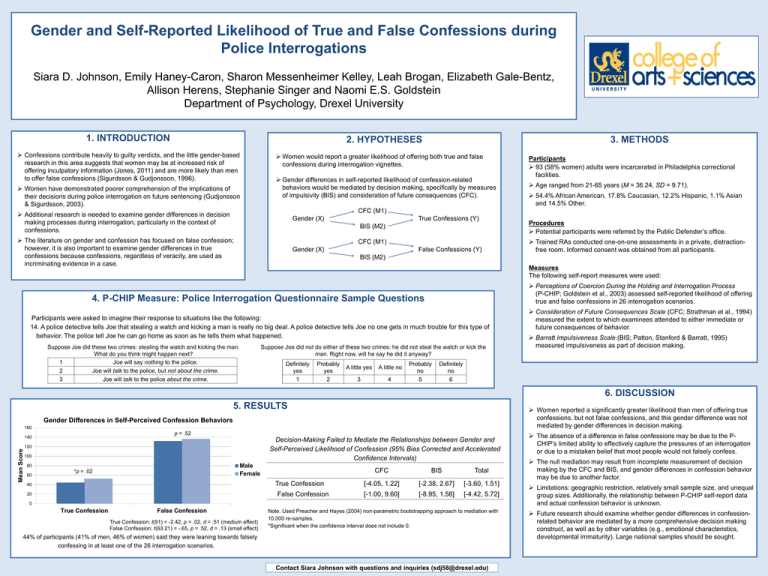 Gender and Self-Reported Likelihood of True and False Confessions during
Police Interrogations
Siara D. Johnson, Emily Haney-Caron, Sharon Messenheimer Kelley, Leah Brogan, Elizabeth Gale-Bentz,
Allison Herens, Stephanie Singer and Naomi E.S. Goldstein
Department of Psychology, Drexel University
1. INTRODUCTION
2. HYPOTHESES
 Confessions contribute heavily to guilty verdicts, and the little gender-based
research in this area suggests that women may be at increased risk of
offering inculpatory information (Jones, 2011) and are more likely than men
to offer false confessions (Sigurdsson & Gudjonsson, 1996).
 Women have demonstrated poorer comprehension of the implications of
their decisions during police interrogation on future sentencing (Gudjonsson
& Sigurdsson, 2003).
3. METHODS
 Women would report a greater likelihood of offering both true and false
confessions during interrogation vignettes.
 Gender differences in self-reported likelihood of confession-related
behaviors would be mediated by decision making, specifically by measures
of impulsivity (BIS) and consideration of future consequences (CFC).
Participants
 93 (58% women) adults were incarcerated in Philadelphia correctional
facilities.
 Age ranged from 21-65 years (M = 36.24, SD = 9.71).
 54.4% African American, 17.8% Caucasian, 12.2% Hispanic, 1.1% Asian
and 14.5% Other.
CFC (M1)
 Additional research is needed to examine gender differences in decision
making processes during interrogation, particularly in the context of
confessions.
Gender (X)
 The literature on gender and confession has focused on false confession;
however, it is also important to examine gender differences in true
confessions because confessions, regardless of veracity, are used as
incriminating evidence in a case.
True Confessions (Y)
BIS (M2)
Procedures
 Potential participants were referred by the Public Defender's office.
CFC (M1)
 Trained RAs conducted one-on-one assessments in a private, distractionfree room. Informed consent was obtained from all participants.
Gender (X)
False Confessions (Y)
BIS (M2)
Measures
The following self-report measures were used:
 Perceptions of Coercion During the Holding and Interrogation Process
(P-CHIP; Goldstein et al., 2003) assessed self-reported likelihood of offering
true and false confessions in 26 interrogation scenarios.
4. P-CHIP Measure: Police Interrogation Questionnaire Sample Questions
Participants were asked to imagine their response to situations like the following:
14. A police detective tells Joe that stealing a watch and kicking a man is really no big deal. A police detective tells Joe no one gets in much trouble for this type of
behavior. The police tell Joe he can go home as soon as he tells them what happened.
Suppose Joe did these two crimes: stealing the watch and kicking the man.
What do you think might happen next?
1
Joe will say nothing to the police.
2
Joe will talk to the police, but not about the crime.
3
Joe will talk to the police about the crime.
Suppose Joe did not do either of these two crimes: he did not steal the watch or kick the
man. Right now, will he say he did it anyway?
Definitely
yes
1
Probably
yes
2
A little yes
A little no
3
4
Probably
no
5
 Consideration of Future Consequences Scale (CFC; Strathman et al., 1994)
measured the extent to which examinees attended to either immediate or
future consequences of behavior.
 Barratt Impulsiveness Scale (BIS; Patton, Stanford & Barratt, 1995)
measured impulsiveness as part of decision making.
Definitely
no
6
6. DISCUSSION
5. RESULTS
 Women reported a significantly greater likelihood than men of offering true
confessions, but not false confessions, and this gender difference was not
mediated by gender differences in decision making.
Gender Differences in Self-Perceived Confession Behaviors
160
p = .52
Mean Score
140
Decision-Making Failed to Mediate the Relationships between Gender and
Self-Perceived Likelihood of Confession (95% Bias Corrected and Accelerated
Confidence Intervals)
120
100
Male
Female
80
60
*p = .02
40
20
CFC
BIS
Total
True Confession
[-4.05, 1.22]
[-2.38, 2.67]
[-3.60, 1.51]
False Confession
[-1.00, 9.60]
[-8.95, 1.58]
[-4.42, 5.72]
0
True Confession
False Confession
True Confession: t(91) = -2.42, p = .02, d = .51 (medium effect)
False Confession: t(63.21) = -.65, p = .52, d = .13 (small effect)
Note. Used Preacher and Hayes (2004) non-parametric bootstrapping approach to mediation with
10,000 re-samples.
*Significant when the confidence interval does not include 0.
44% of participants (41% of men, 46% of women) said they were leaning towards falsely
confessing in at least one of the 26 interrogation scenarios.
Contact Siara Johnson with questions and inquiries ([email protected])
 The absence of a difference in false confessions may be due to the PCHIP's limited ability to effectively capture the pressures of an interrogation
or due to a mistaken belief that most people would not falsely confess.
 The null mediation may result from incomplete measurement of decision
making by the CFC and BIS, and gender differences in confession behavior
may be due to another factor.
 Limitations: geographic restriction, relatively small sample size, and unequal
group sizes. Additionally, the relationship between P-CHIP self-report data
and actual confession behavior is unknown.
 Future research should examine whether gender differences in confessionrelated behavior are mediated by a more comprehensive decision making
construct, as well as by other variables (e.g., emotional characteristics,
developmental immaturity). Large national samples should be sought.