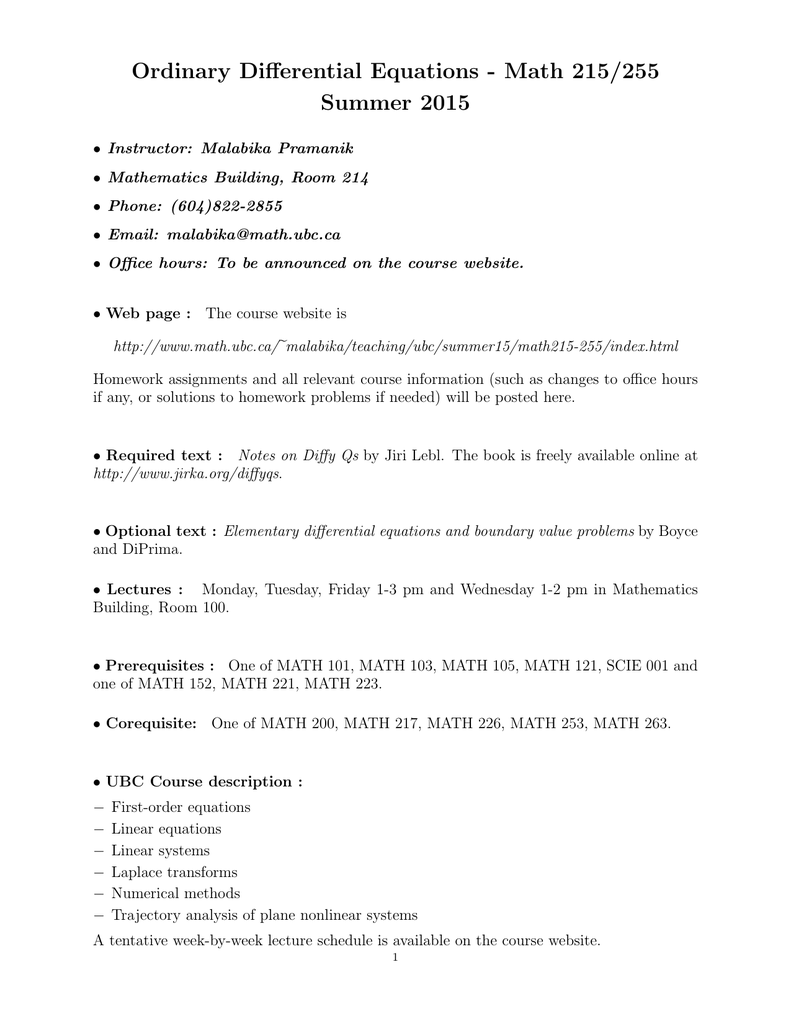 Ordinary Differential Equations - Math 215/255
Summer 2015
• Instructor: Malabika Pramanik
• Mathematics Building, Room 214
• Phone: (604)822-2855
• Email: [email protected]
• Office hours: To be announced on the course website.
• Web page : The course website is
http://www.math.ubc.ca/emalabika/teaching/ubc/summer15/math215-255/index.html
Homework assignments and all relevant course information (such as changes to office hours
if any, or solutions to homework problems if needed) will be posted here.
• Required text : Notes on Diffy Qs by Jiri Lebl. The book is freely available online at
http://www.jirka.org/diffyqs.
• Optional text : Elementary differential equations and boundary value problems by Boyce
and DiPrima.
• Lectures : Monday, Tuesday, Friday 1-3 pm and Wednesday 1-2 pm in Mathematics
Building, Room 100.
• Prerequisites : One of MATH 101, MATH 103, MATH 105, MATH 121, SCIE 001 and
one of MATH 152, MATH 221, MATH 223.
• Corequisite: One of MATH 200, MATH 217, MATH 226, MATH 253, MATH 263.
• UBC Course description :
−
−
−
−
−
−
First-order equations
Linear equations
Linear systems
Laplace transforms
Numerical methods
Trajectory analysis of plane nonlinear systems
A tentative week-by-week lecture schedule is available on the course website.
1
2
• Course Policies :
− Homework problems will be posted weekly on WebWork. Go to
https://webwork.elearning.ubc.ca/webwork2/
and click on the course identifier "MATH215-255-921− 2015S1". Solutions will be made
available after the due date has passed. We are unable to accomodate homework extension
requests.
− You are strongly encouraged to work through the exercises provided at the end of each
relevant section of the textbook. Weekly practice problems, which are not worth any
mark and have no assigned deadline, will also be provided on WebWork.
− We will be using Piazza as the class discussion platform. You can use it to get clarifications
from to your classmates or respond to their questions, with some input from the instructor
and the TA-s. Follow the Piazza link on the course webpage to sign up.
− We will be using clickers in most classes (starting from Wednesday May 13) to facilitate
discussion and problem-solving. Points will be assigned for participation as well as for
correctness, with equal emphasis on both. Please refrain from lending or borrowing clickers
that are not registered under your name and student ID. Responses from clickers that do
not belong to students on the class roster will be discarded.
− In addition to WebWork and clicker questions, there will be 3 in-class quizzes and a final
exam. The quizzes will be 30 minutes long and held during the last half hour of class time
on Friday May 22, Friday June 5 and Wednesday June 17. Your total score will
be a weighted average of your WebWork, clicker, quizzes and final exam scores, with the
breakdown as follows.
Homework
10%
Clicker grade
5%
In-class quizzes 15 + 15 + 15= 45%
Final exam
40%
− The quizzes and the final exam will be strictly closed book; no formula sheets or calculators
will be allowed.
− Missing a homework or midterm normally results in a score of 0. Exceptions may be
granted in two cases: prior consent of the instructor or a medical emergency. In the latter
case, the instructor must be notified within 48 hours of the missed test and be provided
with a doctor's note immediately upon return to UBC.
− There will be no make-up quizzes and/or homework. If you miss a quiz for a valid reason
as described above, the weight of the missed work will be transferred to the final exam.
You will not be allowed to take the final exam if you miss two or more quizzes.
− The final exam date for this course is currently unavailable, but will be released during
the term. Do not make travel plans until the final exam schedule has been announced.