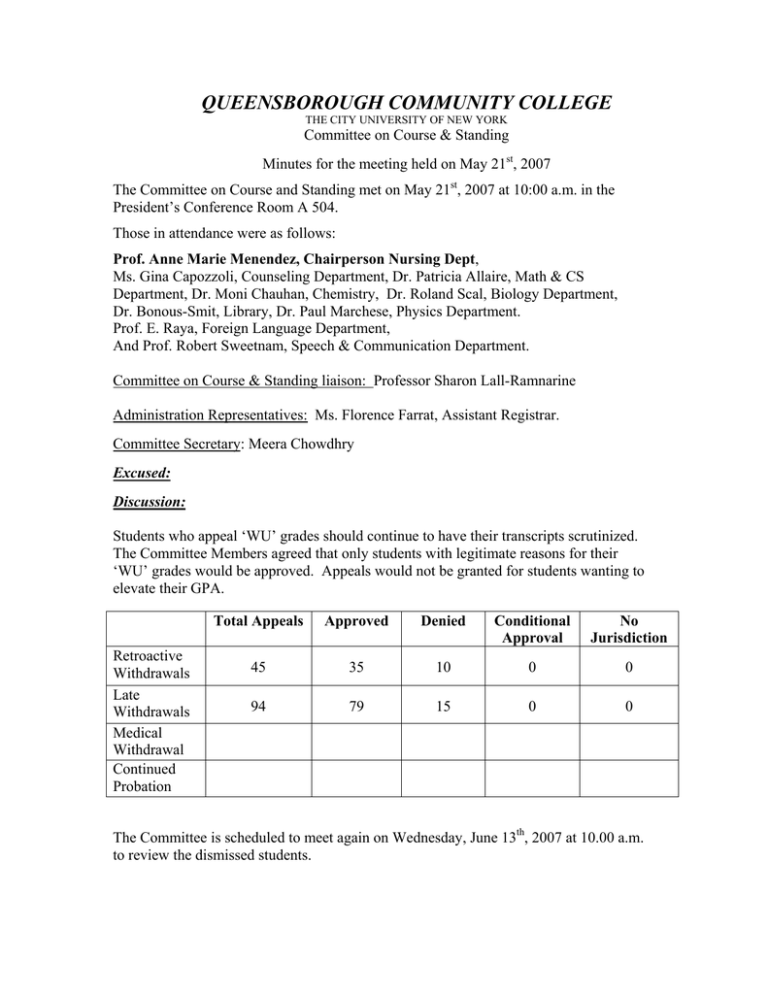 QUEENSBOROUGH COMMUNITY COLLEGE
THE CITY UNIVERSITY OF NEW YORK
Committee on Course & Standing
Minutes for the meeting held on May 21st, 2007
The Committee on Course and Standing met on May 21st, 2007 at 10:00 a.m. in the
President's Conference Room A 504.
Those in attendance were as follows:
Prof. Anne Marie Menendez, Chairperson Nursing Dept,
Ms. Gina Capozzoli, Counseling Department, Dr. Patricia Allaire, Math & CS
Department, Dr. Moni Chauhan, Chemistry, Dr. Roland Scal, Biology Department,
Dr. Bonous-Smit, Library, Dr. Paul Marchese, Physics Department.
Prof. E. Raya, Foreign Language Department,
And Prof. Robert Sweetnam, Speech & Communication Department.
Committee on Course & Standing liaison: Professor Sharon Lall-Ramnarine
Administration Representatives: Ms. Florence Farrat, Assistant Registrar.
Committee Secretary: Meera Chowdhry
Excused:
Discussion:
Students who appeal 'WU' grades should continue to have their transcripts scrutinized.
The Committee Members agreed that only students with legitimate reasons for their
'WU' grades would be approved. Appeals would not be granted for students wanting to
elevate their GPA.
Retroactive
Withdrawals
Late
Withdrawals
Medical
Withdrawal
Continued
Probation
Total Appeals
Approved
Denied
Conditional
Approval
No
Jurisdiction
45
35
10
0
0
94
79
15
0
0
The Committee is scheduled to meet again on Wednesday, June 13th, 2007 at 10.00 a.m.
to review the dismissed students.