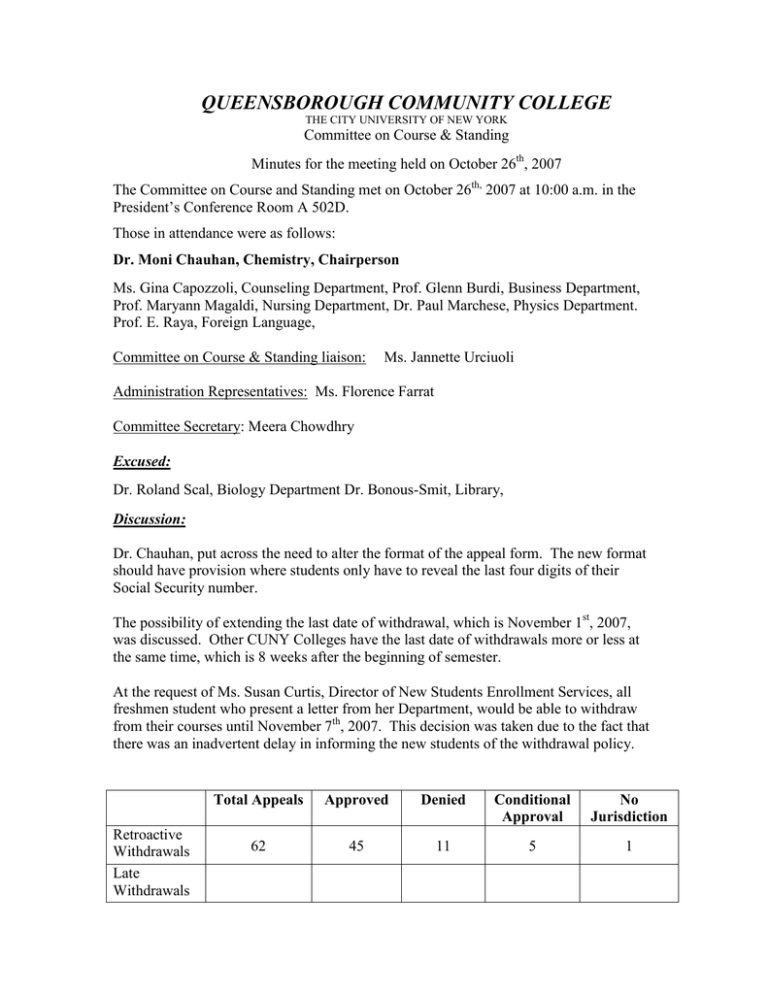 QUEENSBOROUGH COMMUNITY COLLEGE
THE CITY UNIVERSITY OF NEW YORK
Committee on Course & Standing
Minutes for the meeting held on October 26th, 2007
The Committee on Course and Standing met on October 26th, 2007 at 10:00 a.m. in the
President's Conference Room A 502D.
Those in attendance were as follows:
Dr. Moni Chauhan, Chemistry, Chairperson
Ms. Gina Capozzoli, Counseling Department, Prof. Glenn Burdi, Business Department,
Prof. Maryann Magaldi, Nursing Department, Dr. Paul Marchese, Physics Department.
Prof. E. Raya, Foreign Language,
Committee on Course & Standing liaison:
Ms. Jannette Urciuoli
Administration Representatives: Ms. Florence Farrat
Committee Secretary: Meera Chowdhry
Excused:
Dr. Roland Scal, Biology Department Dr. Bonous-Smit, Library,
Discussion:
Dr. Chauhan, put across the need to alter the format of the appeal form. The new format
should have provision where students only have to reveal the last four digits of their
Social Security number.
The possibility of extending the last date of withdrawal, which is November 1st, 2007,
was discussed. Other CUNY Colleges have the last date of withdrawals more or less at
the same time, which is 8 weeks after the beginning of semester.
At the request of Ms. Susan Curtis, Director of New Students Enrollment Services, all
freshmen student who present a letter from her Department, would be able to withdraw
from their courses until November 7th, 2007. This decision was taken due to the fact that
there was an inadvertent delay in informing the new students of the withdrawal policy.
Retroactive
Withdrawals
Late
Withdrawals
Total Appeals
Approved
Denied
Conditional
Approval
No
Jurisdiction
62
45
11
5
1
The Committee is scheduled to meet again on Friday, November 30, 2007 at 10.00 a.m.
to review the late/retroactive withdrawals.