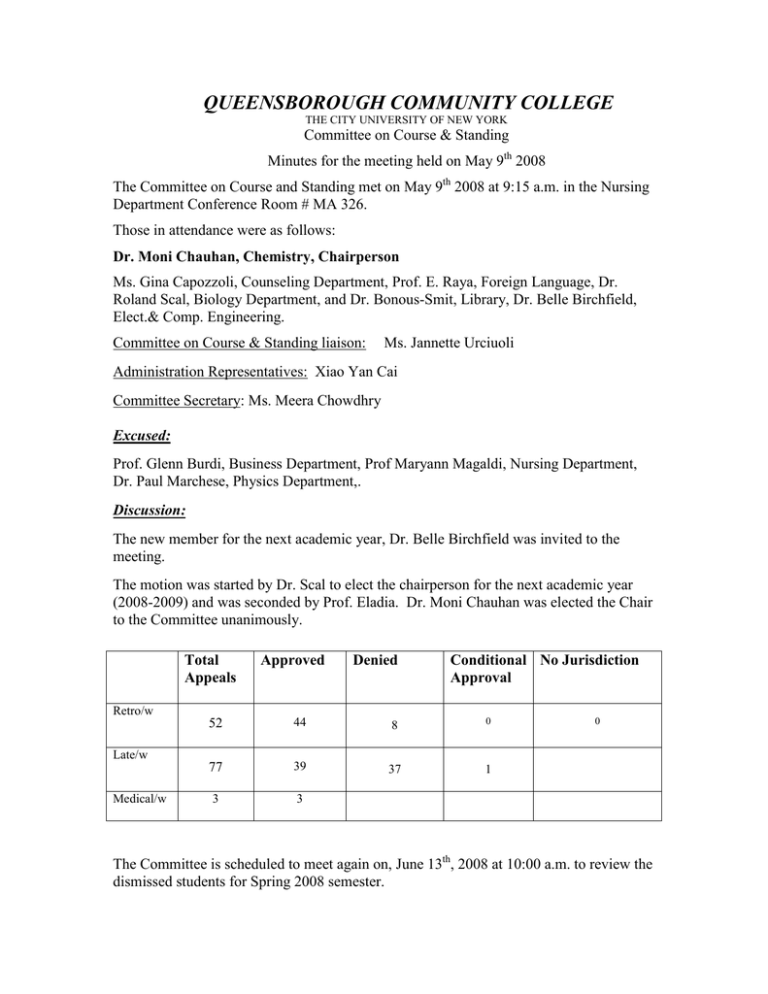 QUEENSBOROUGH COMMUNITY COLLEGE
THE CITY UNIVERSITY OF NEW YORK
Committee on Course & Standing
Minutes for the meeting held on May 9th 2008
The Committee on Course and Standing met on May 9th 2008 at 9:15 a.m. in the Nursing
Department Conference Room # MA 326.
Those in attendance were as follows:
Dr. Moni Chauhan, Chemistry, Chairperson
Ms. Gina Capozzoli, Counseling Department, Prof. E. Raya, Foreign Language, Dr.
Roland Scal, Biology Department, and Dr. Bonous-Smit, Library, Dr. Belle Birchfield,
Elect.& Comp. Engineering.
Committee on Course & Standing liaison:
Ms. Jannette Urciuoli
Administration Representatives: Xiao Yan Cai
Committee Secretary: Ms. Meera Chowdhry
Excused:
Prof. Glenn Burdi, Business Department, Prof Maryann Magaldi, Nursing Department,
Dr. Paul Marchese, Physics Department,.
Discussion:
The new member for the next academic year, Dr. Belle Birchfield was invited to the
meeting.
The motion was started by Dr. Scal to elect the chairperson for the next academic year
(2008-2009) and was seconded by Prof. Eladia. Dr. Moni Chauhan was elected the Chair
to the Committee unanimously.
Total
Appeals
Approved
Denied
Retro/w
Conditional No Jurisdiction
Approval
52
44
8
0
77
39
37
1
3
3
0
Late/w
Medical/w
The Committee is scheduled to meet again on, June 13th, 2008 at 10:00 a.m. to review the
dismissed students for Spring 2008 semester.