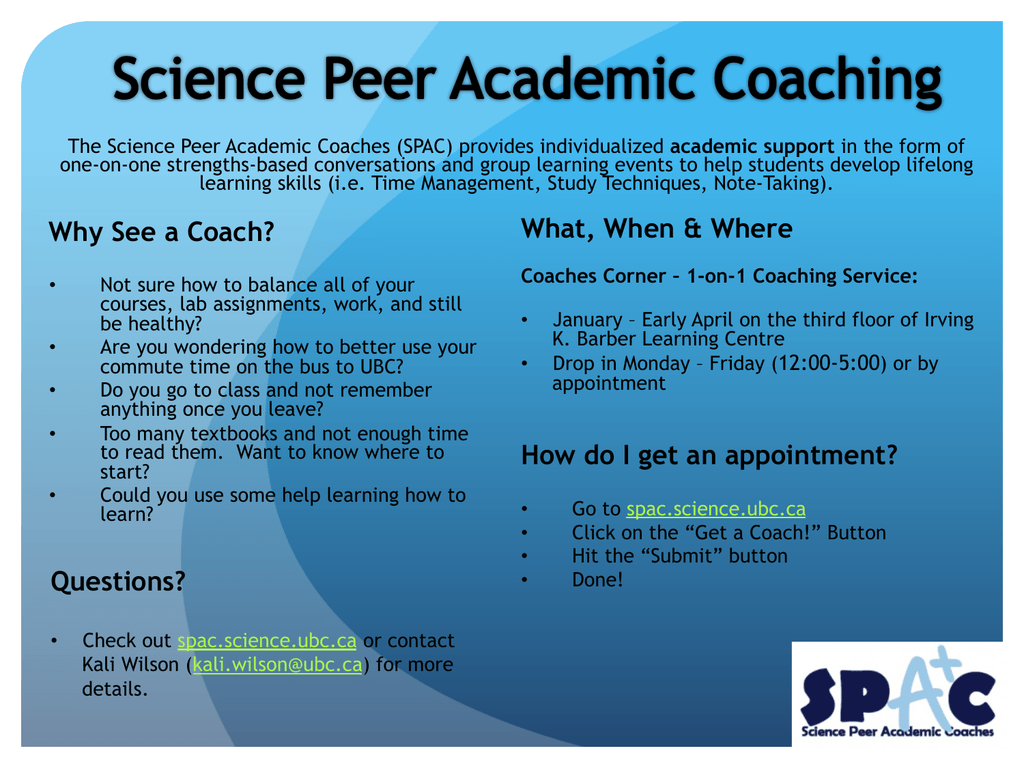 The Science Peer Academic Coaches (SPAC) provides individualized academic support in the form of
one-on-one strengths-based conversations and group learning events to help students develop lifelong
learning skills (i.e. Time Management, Study Techniques, Note-Taking).
Why See a Coach?
• 
• 
• 
• 
• 
Not sure how to balance all of your
courses, lab assignments, work, and still
be healthy?
Are you wondering how to better use your
commute time on the bus to UBC?
Do you go to class and not remember
anything once you leave?
Too many textbooks and not enough time
to read them. Want to know where to
start?
Could you use some help learning how to
learn?
Questions?
• 
Check out spac.science.ubc.ca or contact
Kali Wilson ([email protected]) for more
details.
What, When & Where
Coaches Corner – 1-on-1 Coaching Service:
• 
• 
January – Early April on the third floor of Irving
K. Barber Learning Centre
Drop in Monday – Friday (12:00-5:00) or by
appointment
How do I get an appointment?
• 
• 
• 
• 
Go to spac.science.ubc.ca
Click on the "Get a Coach!" Button
Hit the "Submit" button
Done!