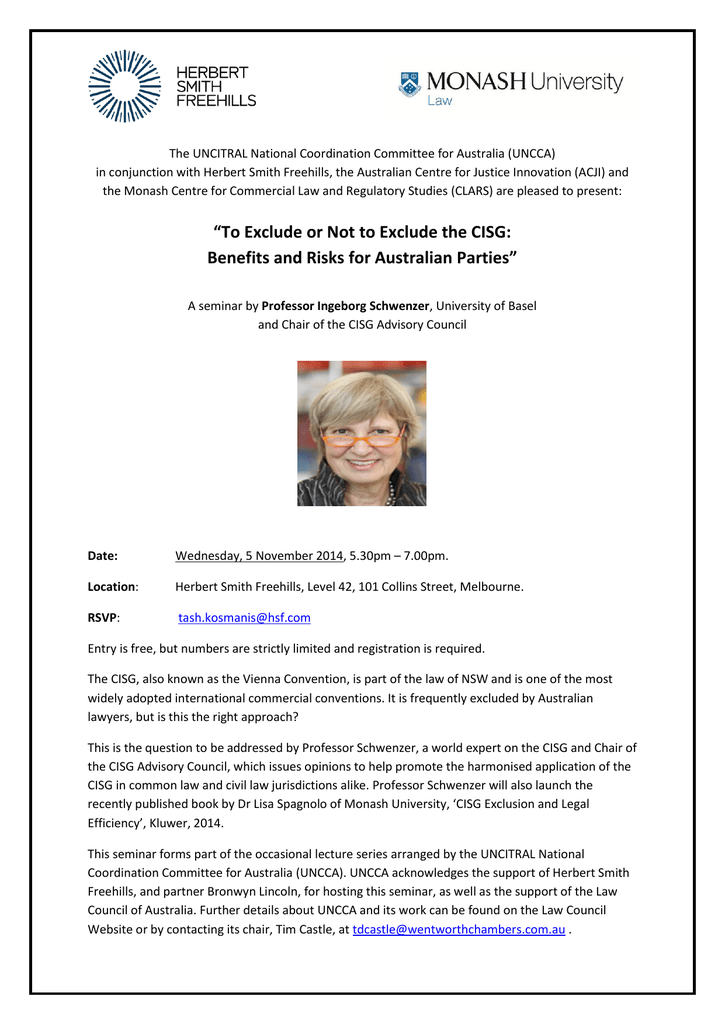 The UNCITRAL National Coordination Committee for Australia (UNCCA)
in conjunction with Herbert Smith Freehills, the Australian Centre for Justice Innovation (ACJI) and
the Monash Centre for Commercial Law and Regulatory Studies (CLARS) are pleased to present:
"To Exclude or Not to Exclude the CISG:
Benefits and Risks for Australian Parties"
A seminar by Professor Ingeborg Schwenzer, University of Basel
and Chair of the CISG Advisory Council
Date:
Wednesday, 5 November 2014, 5.30pm – 7.00pm.
Location:
Herbert Smith Freehills, Level 42, 101 Collins Street, Melbourne.
RSVP:
[email protected]
Entry is free, but numbers are strictly limited and registration is required.
The CISG, also known as the Vienna Convention, is part of the law of NSW and is one of the most
widely adopted international commercial conventions. It is frequently excluded by Australian
lawyers, but is this the right approach?
This is the question to be addressed by Professor Schwenzer, a world expert on the CISG and Chair of
the CISG Advisory Council, which issues opinions to help promote the harmonised application of the
CISG in common law and civil law jurisdictions alike. Professor Schwenzer will also launch the
recently published book by Dr Lisa Spagnolo of Monash University, 'CISG Exclusion and Legal
Efficiency', Kluwer, 2014.
This seminar forms part of the occasional lecture series arranged by the UNCITRAL National
Coordination Committee for Australia (UNCCA). UNCCA acknowledges the support of Herbert Smith
Freehills, and partner Bronwyn Lincoln, for hosting this seminar, as well as the support of the Law
Council of Australia. Further details about UNCCA and its work can be found on the Law Council
Website or by contacting its chair, Tim Castle, at [email protected] .