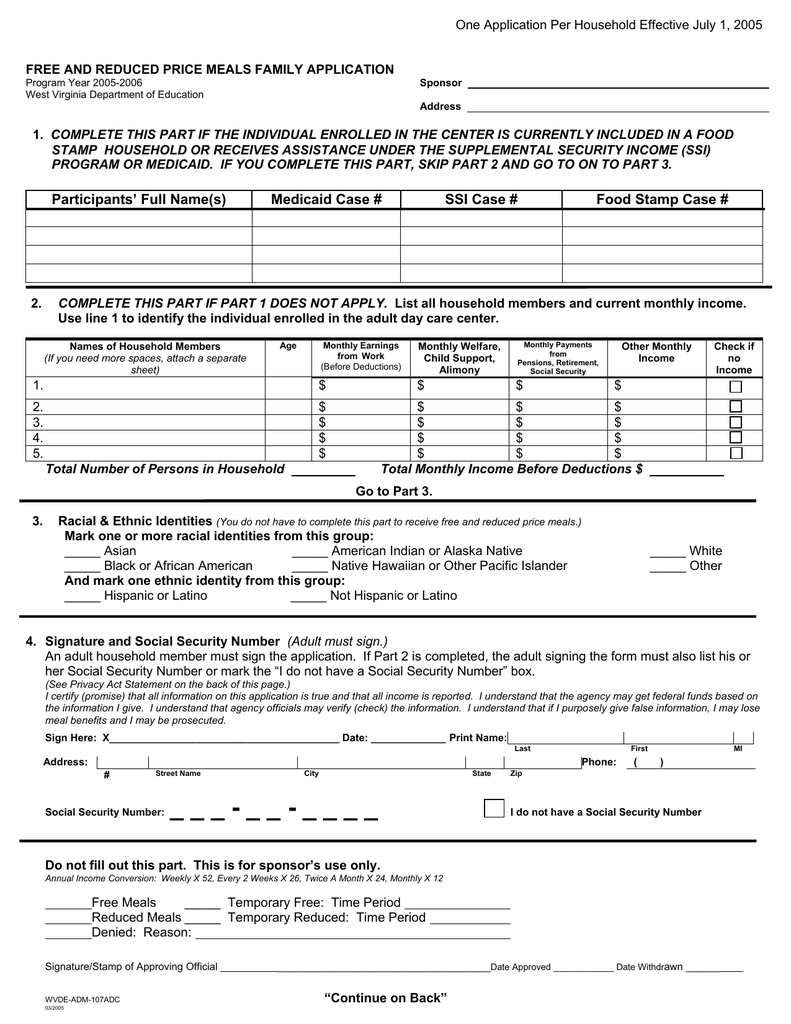 One Application Per Household Effective July 1, 2005
FREE AND REDUCED PRICE MEALS FAMILY APPLICATION
Program Year 2005-2006
West Virginia Department of Education
Sponsor
Address
1. COMPLETE THIS PART IF THE INDIVIDUAL ENROLLED IN THE CENTER IS CURRENTLY INCLUDED IN A FOOD
STAMP HOUSEHOLD OR RECEIVES ASSISTANCE UNDER THE SUPPLEMENTAL SECURITY INCOME (SSI)
PROGRAM OR MEDICAID. IF YOU COMPLETE THIS PART, SKIP PART 2 AND GO TO ON TO PART 3.
Participants' Full Name(s)
2.
Medicaid Case #
SSI Case #
Food Stamp Case #
COMPLETE THIS PART IF PART 1 DOES NOT APPLY. List all household members and current monthly income.
Use line 1 to identify the individual enrolled in the adult day care center.
Monthly Earnings
from Work
(Before Deductions)
Monthly Welfare,
Child Support,
Alimony
Monthly Payments
from
Pensions, Retirement,
Social Security
1.
$
$
$
2.
3.
4.
5.
$
$
$
$
Names of Household Members
(If you need more spaces, attach a separate
sheet)
Age
Other Monthly
Income
Check if
no
Income
$
$
$
$
$
$
$
$
$
$
$
$
$
Total Monthly Income Before Deductions $
Total Number of Persons in Household
Go to Part 3.
3.
Racial & Ethnic Identities (You do not have to complete this part to receive free and reduced price meals.)
Mark one or more racial identities from this group:
_____ Asian
_____ American Indian or Alaska Native
_____ Black or African American
_____ Native Hawaiian or Other Pacific Islander
And mark one ethnic identity from this group:
_____ Hispanic or Latino
_____ Not Hispanic or Latino
_____ White
_____ Other
4. Signature and Social Security Number (Adult must sign.)
An adult household member must sign the application. If Part 2 is completed, the adult signing the form must also list his or
her Social Security Number or mark the "I do not have a Social Security Number" box.
(See Privacy Act Statement on the back of this page.)
I certify (promise) that all information on this application is true and that all income is reported. I understand that the agency may get federal funds based on
the information I give. I understand that agency officials may verify (check) the information. I understand that if I purposely give false information, I may lose
meal benefits and I may be prosecuted.
Sign Here: X________________________________________ Date: _____________ Print Name:
Last
Address:
First
Phone:
#
Street Name
Social Security Number:
City
State
___-__-____
(
MI
)
Zip
I do not have a Social Security Number
Do not fill out this part. This is for sponsor's use only.
Annual Income Conversion: Weekly X 52, Every 2 Weeks X 26, Twice A Month X 24, Monthly X 12
Free Meals
_____ Temporary Free: Time Period
Reduced Meals _____ Temporary Reduced: Time Period
Denied: Reason:
Signature/Stamp of Approving Official
WVDE-ADM-107ADC
03/2005
_____________________________________Date Approved ____________ Date Withdrawn ______
"Continue on Back"
One Application Per Household Effective July 1, 2005
Program Year 2005-2006
FREE AND REDUCED PRICE MEAL APPLICATION
You may qualify for free or reduced price
meals if your household income does not
exceed the limits on this chart.
FEDERAL INCOME CHART
For Program Year July 1, 2005 – June 30, 2006
Household size
Yearly Monthly Weekly
1
$17,705
$1,476
$ 341
2
23,736
1,978
457
3
29,767
2,481
573
4
35,798
2,984
689
5
41,829
3,486
805
6
47,860
3,989
921
7
53,891
4,491
1,037
8
59,922
4,994
1,153
Each additional person:
6,031
503
116
Privacy Act Statement: This explains how we will use the information you give us.
The National School Lunch Act requires the information on this application. You do not have to give the information, but if you do not, we
cannot approve your children for free or reduced price meals. The Social Security Number of the adult household member who signs the
application is required unless you list Food Stamp case numbers for all persons you are applying for, OR if you are applying for a foster
child. You must check the "I do not have a Social Security Number" box if the adult household member signing the application does not
have a Social Security Number.
The information that you send will be used to determine or prove eligibility for free or reduced price meals. It may also be shared for the
same purpose with other agencies sponsoring USDA child nutrition programs or with federal and state educational programs as permitted
in federal nutrition program regulations. The information you give may be used, with your permission, for determining additional education
benefits, free textbooks, workbooks, and other school supplies.
Non-discrimination Statement: This explains what to do if you believe you have been treated unfairly. In accordance with Federal
law and U.S. Department of Agriculture policy, this institution is prohibited from discriminating on the basis of race, color, national origin,
sex, age, or disability. To file a complaint of discrimination, write to:
USDA, Director, Office of Civil Rights
Room 326-W, Whitten Building
1400 Independence Avenue, SW
Washington DC 20250-9410
Or call 202-720-5964 (voice and TDD)
WVDE-ADM-107 ADC
7/2005
USDA is an equal opportunity provider and employer.