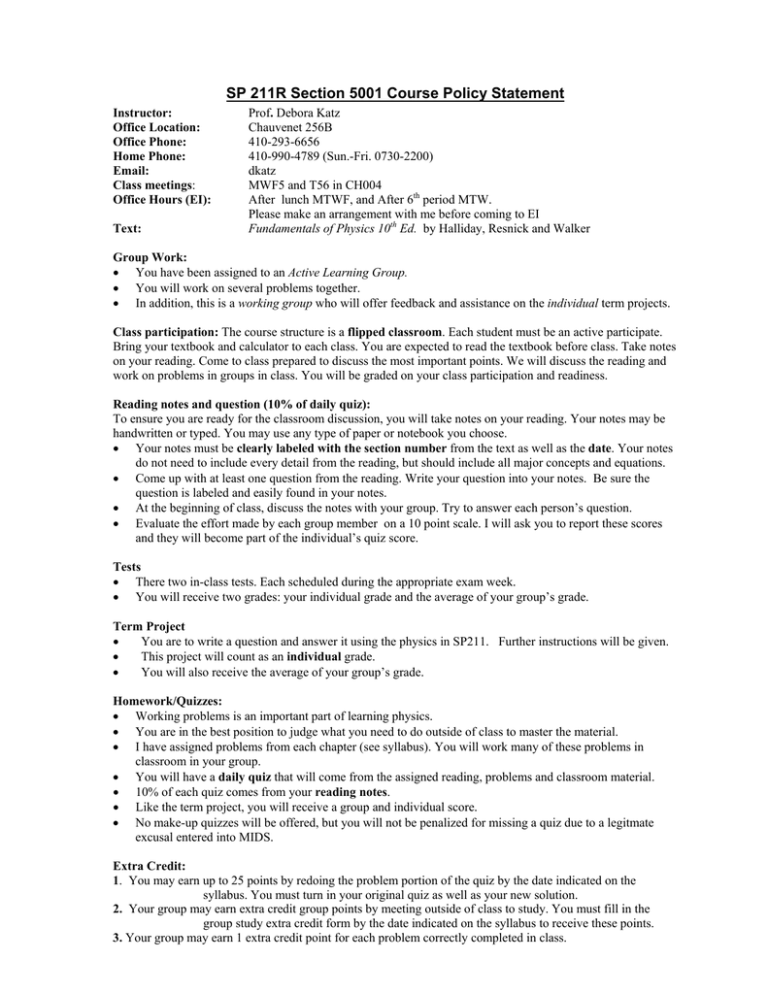 SP 211R Section 5001 Course Policy Statement
Instructor:
Office Location:
Office Phone:
Home Phone:
Email:
Class meetings:
Office Hours (EI):
Text:
Prof. Debora Katz
Chauvenet 256B
410-293-6656
410-990-4789 (Sun.-Fri. 0730-2200)
dkatz
MWF5 and T56 in CH004
After lunch MTWF, and After 6th period MTW.
Please make an arrangement with me before coming to EI
Fundamentals of Physics 10th Ed. by Halliday, Resnick and Walker
Group Work:
• You have been assigned to an Active Learning Group.
• You will work on several problems together.
• In addition, this is a working group who will offer feedback and assistance on the individual term projects.
Class participation: The course structure is a flipped classroom. Each student must be an active participate.
Bring your textbook and calculator to each class. You are expected to read the textbook before class. Take notes
on your reading. Come to class prepared to discuss the most important points. We will discuss the reading and
work on problems in groups in class. You will be graded on your class participation and readiness.
Reading notes and question (10% of daily quiz):
To ensure you are ready for the classroom discussion, you will take notes on your reading. Your notes may be
handwritten or typed. You may use any type of paper or notebook you choose.
• Your notes must be clearly labeled with the section number from the text as well as the date. Your notes
do not need to include every detail from the reading, but should include all major concepts and equations.
• Come up with at least one question from the reading. Write your question into your notes. Be sure the
question is labeled and easily found in your notes.
• At the beginning of class, discuss the notes with your group. Try to answer each person's question.
• Evaluate the effort made by each group member on a 10 point scale. I will ask you to report these scores
and they will become part of the individual's quiz score.
Tests
• There two in-class tests. Each scheduled during the appropriate exam week.
• You will receive two grades: your individual grade and the average of your group's grade.
Term Project
•
You are to write a question and answer it using the physics in SP211. Further instructions will be given.
•
This project will count as an individual grade.
•
You will also receive the average of your group's grade.
Homework/Quizzes:
• Working problems is an important part of learning physics.
• You are in the best position to judge what you need to do outside of class to master the material.
• I have assigned problems from each chapter (see syllabus). You will work many of these problems in
classroom in your group.
• You will have a daily quiz that will come from the assigned reading, problems and classroom material.
• 10% of each quiz comes from your reading notes.
• Like the term project, you will receive a group and individual score.
• No make-up quizzes will be offered, but you will not be penalized for missing a quiz due to a legitmate
excusal entered into MIDS.
Extra Credit:
1. You may earn up to 25 points by redoing the problem portion of the quiz by the date indicated on the
syllabus. You must turn in your original quiz as well as your new solution.
2. Your group may earn extra credit group points by meeting outside of class to study. You must fill in the
group study extra credit form by the date indicated on the syllabus to receive these points.
3. Your group may earn 1 extra credit point for each problem correctly completed in class.
Curving:
You are not in competition with your classmates. In the event that the
average on a marking period is below 70%, I will curve the scores such that
the average is at least 70%. I am not permitted to curve the final exam grades.
Suggestions for earning a good grade:
• Study physics 8 hours each week.
• Keep up with the assigned reading. Read the material before class
• Keep up with the problems. Check the solutions.
• Meet with your group outside of class weekly.
• Go to MGSP.
• Bring a positive attitude to class.
• Get EI as soon as you need it; do not wait until the day before a test. Come prepared for EI.
• Learn the concepts. It won't help to just memorize formulas.
Grading (6 and 12 Weekers):
Group Work
(Group scores)
Individual Quiz Scores
Individual Test Scores
30%
35%
35%
Grading (16 Weeker):
Group Work
Individual Quiz Scores
Individual Term Project and Tests
Final Grade:
20%
40%
40%
70% * (16 weeker) + 30% * (Final Exam) + / − (Up to 2% Subjective Points)
There is one exceptions to this formula:
If you score an A on the final exam you will receive an A for the course no matter what grade you have when
you go into the final.
Letter Grades: The thresholds below will be used to determine your letter grades:
A: 90 - 100%
B: 80 - 89%
C: 70 - 79%
D: 60 - 69%
F: < 60%
Grievances/Regrades:
•
I am happy to regrade any of your work.
•
Please submit your work along with a written grievance within 24 hours after I have returned the
material to you.
•
I will not accept verbal communications regarding grades.
•
You may email your grievance.
•
If the grievance involves group work, all the members of the group must submit the grievance.
Disruptions:
Class time is valuable. If you disrupt class or sleep in class, you will be asked to leave and reported absent.
Absences:
You are responsible for all the work you miss. See me ASAP.
The following applies to ALL sections of SP211/212: Students are forbidden to use or possess any instructor's
solutions manual, in any form, for any textbook for which Halliday, Resnick or Walker is an author.
Learning Outcomes: The foundation of our physics core program is designed around twelve
learning outcomes, six for each core physics course. These outcomes dovetail with the Naval
Academy's vision of graduates as leaders who are proficient, innovative and articulate and the
department's goal of graduates who can competently apply the fundamental principles of physics
to the challenges of the Fleet. The learning outcomes are:
General Physics I -- SP211
(1) Recognize basic physical quantities in language, connect them with their mathematical
definition, and demonstrate a direct algebraically-driven calculation from the definition.
(2) Conceptualize fundamental key quantities and refine / modify their intuitions about their
physical world with the help of dynamic visualizations. (This is specifically NOT driven by
calculations.)
(3) In problems driven by a single key concept or idea, construct basic connections between
quantities to breakdown / illustrate the main idea.
(4) Reliably employ advanced mathematics as a means to explore and produce calculations in
the context of a rich, multi-faceted problem. (The main target here is typically problems that
require vector fluency.)
(5) Develop and implement techniques for tracking work and keeping calculations
reliable. (This refers to simple problems where techniques [such as sketches, dimensional
analysis] ensure confident analysis and calculation.)
(6) Apply skills from previous core courses to physics problems that are largely single main
concept problems utilizing differential or integral calculus.