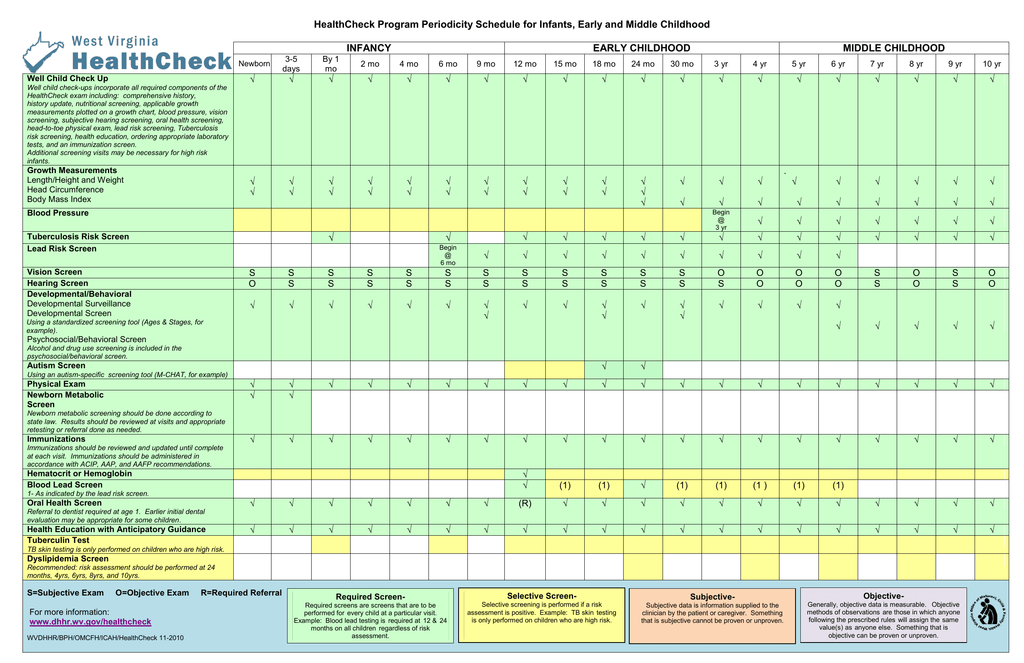 HealthCheck Program Periodicity Schedule for Infants, Early and Middle Childhood
INFANCY
Well Child Check Up
EARLY CHILDHOOD
MIDDLE CHILDHOOD
Newborn
3-5
days
By 1
mo
2 mo
4 mo
6 mo
9 mo
12 mo
15 mo
18 mo
24 mo
30 mo
3 yr
4 yr
5 yr
6 yr
7 yr
8 yr
9 yr
10 yr
√
√
√
√
√
√
√
√
√
√
√
√
√
√
√
√
√
√
√
√
√
√
√
√
√
√
√
√
√
√
√
√
√
√
√
√
√
√
√
√
√
√
√
√
√
√
√
√
√
√
√
Well child check-ups incorporate all required components of the
HealthCheck exam including: comprehensive history,
history update, nutritional screening, applicable growth
measurements plotted on a growth chart, blood pressure, vision
screening, subjective hearing screening, oral health screening,
head-to-toe physical exam, lead risk screening, Tuberculosis
risk screening, health education, ordering appropriate laboratory
tests, and an immunization screen.
Additional screening visits may be necessary for high risk
infants.
Growth Measurements
Length/Height and Weight
Head Circumference
Body Mass Index
.
√
Blood Pressure
√
Tuberculosis Risk Screen
Lead Risk Screen
Vision Screen
Hearing Screen
Developmental/Behavioral
Developmental Surveillance
Developmental Screen
√
Begin
@
6 mo
√
√
√
√
√
√
√
√
√
Begin
@
3 yr
√
√
√
√
√
√
√
√
√
√
√
S
S
O
O
S
S
O
O
√
√
√
√
√
√
√
√
√
√
√
√
√
√
√
√
√
√
√
√
√
√
√
√
S
O
S
S
S
S
S
S
S
S
S
S
S
S
S
S
S
S
S
S
S
S
S
S
O
S
O
O
O
O
O
O
√
√
√
√
√
√
√
√
√
√
√
√
√
√
√
√
√
√
√
Using a standardized screening tool (Ages & Stages, for
example).
Psychosocial/Behavioral Screen
Alcohol and drug use screening is included in the
psychosocial/behavioral screen.
Autism Screen
√
√
Using an autism-specific screening tool (M-CHAT, for example)
Physical Exam
Newborn Metabolic
Screen
√
√
√
√
√
√
√
√
√
√
√
√
√
√
√
√
√
√
√
√
√
√
√
√
√
√
√
√
√
√
√
√
√
√
√
√
√
√
√
√
√
√
√
√
(1)
(1)
√
(1)
(1)
(1 )
(1)
(1)
Newborn metabolic screening should be done according to
state law. Results should be reviewed at visits and appropriate
retesting or referral done as needed.
Immunizations
Immunizations should be reviewed and updated until complete
at each visit. Immunizations should be administered in
accordance with ACIP, AAP, and AAFP recommendations.
Hematocrit or Hemoglobin
Blood Lead Screen
1- As indicated by the lead risk screen.
Oral Health Screen
√
√
√
√
√
√
√
(R)
√
√
√
√
√
√
√
√
√
√
√
√
√
√
√
√
√
√
√
√
√
√
√
√
√
√
√
√
√
√
√
√
Referral to dentist required at age 1. Earlier initial dental
evaluation may be appropriate for some children.
Health Education with Anticipatory Guidance
Tuberculin Test
TB skin testing is only performed on children who are high risk.
Dyslipidemia Screen
Recommended: risk assessment should be performed at 24
months, 4yrs, 6yrs, 8yrs, and 10yrs.
S=Subjective Exam
O=Objective Exam
For more information:
www.dhhr.wv.gov/healthcheck
WVDHHR/BPH/OMCFH/ICAH/HealthCheck 11-2010
R=Required Referral
Required Screen-
Selective Screen-
Subjective-
Objective-
Required screens are screens that are to be
performed for every child at a particular visit.
Example: Blood lead testing is required at 12 & 24
months on all children regardless of risk
assessment.
Selective screening is performed if a risk
assessment is positive. Example: TB skin testing
is only performed on children who are high risk.
Subjective data is information supplied to the
clinician by the patient or caregiver. Something
that is subjective cannot be proven or unproven.
Generally, objective data is measurable. Objective
methods of observations are those in which anyone
following the prescribed rules will assign the same
value(s) as anyone else. Something that is
objective can be proven or unproven.
Explanation of Terms
Kids First Screening Components on the HealthCheck Form
Bright Futures (Guidelines for Health Supervision of Infants, Children, and Adolescents):
A set of principles, strategies, and tools that are theory based, evidence driven, and systems oriented that
can be used to improve the health and well-being of all children through culturally appropriate interventions
that address their current and emerging health promotion needs at the family, clinical practice, community,
health system, and policy levels.

Bright Futures is the American Academy of Pediatrics' standard reference on children's health
information for pediatricians.
Periodicity:
Periodicity refers to the established schedule for periodic medical screening, vision, hearing, and dental
services. The periodicity schedule gives general screening guidelines for preventive pediatric healthcare by
age group. Federal regulations require periodicity schedules to meet reasonable standards of medical and
dental practice after consultation with recognized medical and dental organizations involved in child health
care. The HealthCheck periodicity schedule corresponds to the latest edition of Bright Futures.
Medical Home:
An approach to providing comprehensive primary care for children, youth and adults in a health care setting
that facilitates partnerships between individual patients, and their personal physicians, and when appropriate,
the patient's family.

Vision Acuity Screen:
Primary care providers are required to conduct vision screens of children aged
birth up to 21 years at each initial and periodic visit. Dependent upon age,
subjective or objective vision screens are completed.
An oral health screen is to be completed at each initial and
periodic screen to determine:

Objective screens are required at ages 3 through 6 years, 8 years, 10 years, 12
years, 15 years and 18 years of age.
Hearing Screening:
Primary care providers are required to conduct hearing screens of children birth
up to age 21 years of age at each initial and periodic visit. Dependent upon age,
subjective or objective hearing screens are completed.
Objective screens are required at birth, 4 through 8 years and 10 years.


the presence of any current dental
problems including - dental caries, stained
or discolored teeth, red, bleeding gums,
abnormal swelling, sores and redness in
other areas of the mouth, crooked teeth,
missing teeth or teeth growing in unusual
places, swelling of the face and lips
date of last visit to the dentist
the availability of fluoride in the water and
need for supplemental fluoride for infants
and young children
Developmental surveillance is a continuous and
cumulative process through which potential risk factors
for developmental disorders can be identified.
Developmental surveillance is required at every initial
and periodic visit when a standard screening tool is not
completed.
Referrals: When a Healthcheck screening indicates the
need for further evaluation of an individual's health, the
primary care provider shall, without delay, make a
referral for evaluation, diagnosis, and/or treatment.
Evaluation, diagnosis, and/or treatment may be provided
at the time of the Healthcheck screening visit if the
health care professional is qualified to provide the
services.
Risk Screens
Iron-Deficiency Anemia Screening
Tuberculosis (TB) Risk Screen:
Risk Factors:
Radiographic findings suggesting TB
Low birth weight or preterm birth
Non-iron-fortified formula
Cow's milk before age 12 months
Diet low in iron, inadequate nutrition
Meal skipping, frequent dieting
Heavy/lengthy menstrual periods or recent blood loss
Intensive physical training or participation in endurance
sports
Pregnancy or recent pregnancy
Contacts with persons with confirmed or suspected TB
For CDC screening recommendations for iron-deficiency
anemia by age see Appendix F of the HealthCheck Provider
Manual
Only children with increased risk of exposure to persons with
tuberculosis should be considered for tuberculin skin testing.
Immigrant from high prevalence areas
(e.g., Asia, Middle East, Africa, Latin America)
Travel to high prevalence areas
For other risk factors see Appendix D in the HealthCheck
Provider Manual
Exception: W.Va. Code §16-3D-3 requires a TB test for all
out-of-state student transfers for school entry.
Dyslipidemia Risk Screen
Positive family history is defined as a history of
premature ( 55 years of age) cardiovascular disease in
a parent or grandparent
Positive family history, elevated blood cholesterol
greater than 240 mg/dl
Unknown family history, adopted
Cigarette smoking
Elevated blood pressure
Overweight/Obesity (BMI > 85%)*
Diabetes mellitus
Physical inactivity
Poor dietary habits
When one or more risk factors indicate that the child is
high risk an initial fasting lipid profile should be obtained.
HealthCheck supports the core values of a medical home, including:
i.
Having a personal physician or primary care provider (PCP) who provides first contact care or a
point of entry for new problems.
ii.
Ongoing care over time.
iii.
Comprehensiveness of care.
iv.
Coordination of care across a person's conditions, providers and settings.
Surveillance:
A flexible, continuous process whereby knowledgeable professionals perform skilled observations of children
during the provision of health care.

Surveillance includes:
i.
Elicitation and attending to parental concerns.
ii.
Obtaining a relevant developmental history (including the child's medical history, family history,
physical examination, and evaluation of psychosocial risks).
iii.
Making accurate and informative observations of children.
iv.
Identifying risk and protective factors.
v.
Sharing opinions and concerns with other relevant professionals (e.g. parents, health care
professionals, teachers, providers of early intervention or early childhood education services).
vi.
Maintaining an accurate record of documentation of the surveillance process and findings.
Screening:
In medicine, screening is a strategy used in a population to detect a disease in individuals without signs or
symptoms of that disease. Unlike what generally happens in medicine, screening is performed before
symptoms start. Screening is a brief assessment procedure designed to identify children who should receive
more intensive diagnosis or assessment.
Assessment:

Assessment, in clinical medicine, is the evaluation of a patient for the purposes of forming a diagnosis
and plan of treatment.

An examiner's evaluation of the disease or condition is based on the patient's subjective report of the
symptoms and course of the illness or condition and the examiner's objective findings, including data
obtained through laboratory tests, physical examination, medical history, and information reported by
family members and other health care team members.