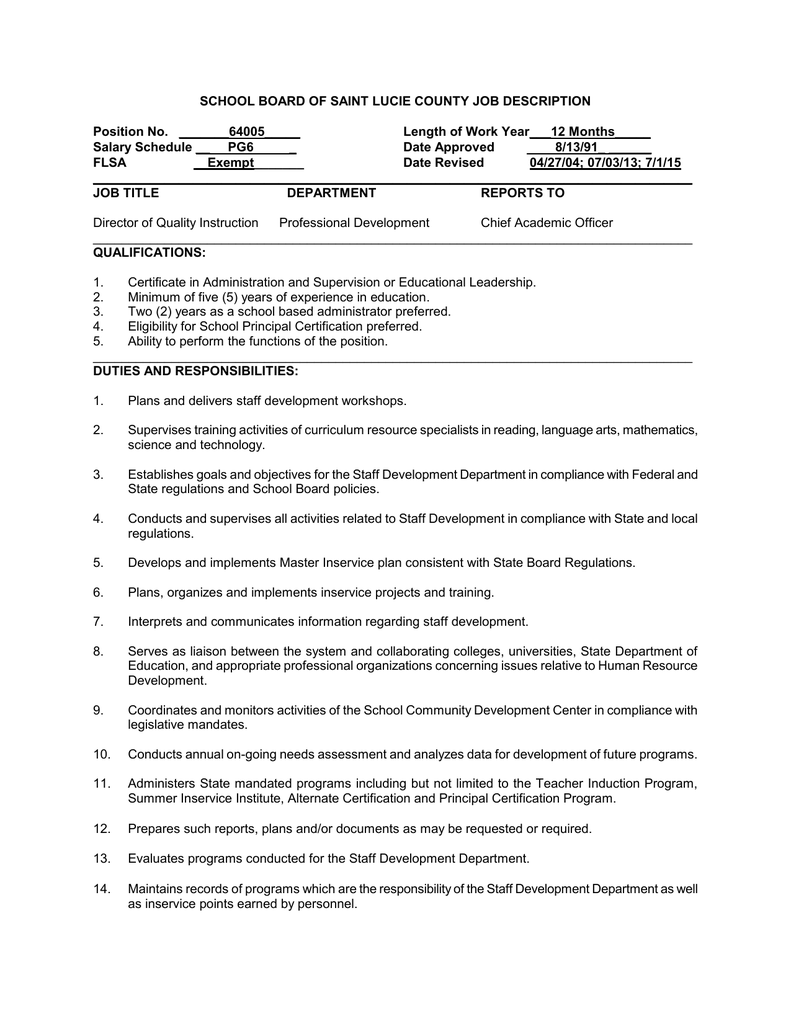 SCHOOL BOARD OF SAINT LUCIE COUNTY JOB DESCRIPTION
Position No. _______64005_____
Length of Work Year___12 Months_____
Salary Schedule __ PG6
_
Date Approved
8/13/91_ ______
FLSA
Exempt_______
Date Revised
04/27/04; 07/03/13; 7/1/15
____________________________________________________________________________________
JOB TITLE
DEPARTMENT
REPORTS TO
Director of Quality Instruction
Professional Development
Chief Academic Officer
____________________________________________________________________________________
QUALIFICATIONS:
1.
Certificate in Administration and Supervision or Educational Leadership.
2.
Minimum of five (5) years of experience in education.
3.
Two (2) years as a school based administrator preferred.
4.
Eligibility for School Principal Certification preferred.
5.
Ability to perform the functions of the position.
____________________________________________________________________________________
DUTIES AND RESPONSIBILITIES:
1.
Plans and delivers staff development workshops.
2.
Supervises training activities of curriculum resource specialists in reading, language arts, mathematics,
science and technology.
3.
Establishes goals and objectives for the Staff Development Department in compliance with Federal and
State regulations and School Board policies.
4.
Conducts and supervises all activities related to Staff Development in compliance with State and local
regulations.
5.
Develops and implements Master Inservice plan consistent with State Board Regulations.
6.
Plans, organizes and implements inservice projects and training.
7.
Interprets and communicates information regarding staff development.
8.
Serves as liaison between the system and collaborating colleges, universities, State Department of
Education, and appropriate professional organizations concerning issues relative to Human Resource
Development.
9.
Coordinates and monitors activities of the School Community Development Center in compliance with
legislative mandates.
10.
Conducts annual on-going needs assessment and analyzes data for development of future programs.
11.
Administers State mandated programs including but not limited to the Teacher Induction Program,
Summer Inservice Institute, Alternate Certification and Principal Certification Program.
12.
Prepares such reports, plans and/or documents as may be requested or required.
13.
Evaluates programs conducted for the Staff Development Department.
14.
Maintains records of programs which are the responsibility of the Staff Development Department as well
as inservice points earned by personnel.
Page 2
DIRECTOR OF QUALITY INSTRUCTION
15.
Interviews, screens, and recommends the employment of personnel assigned to the Staff Development
Department; supervises and evaluates personnel assigned.
16.
Prepares and administers program budget.
17.
Represents the district for all matters concerning Staff Development.
18.
Articulates with administrators and departments to determine needs.
19.
Performs such other duties and responsibilities as may be assigned by the Assistant Superintendent for
Human Resources.
Physical Demand Class: Sedentary Light (SL) - Occasional lifting and carrying of objects weighing 0 pounds or
less. Infrequent lifting and carrying of objects weighing 11-20 pounds. Occasional walking and/or standing may
be required.