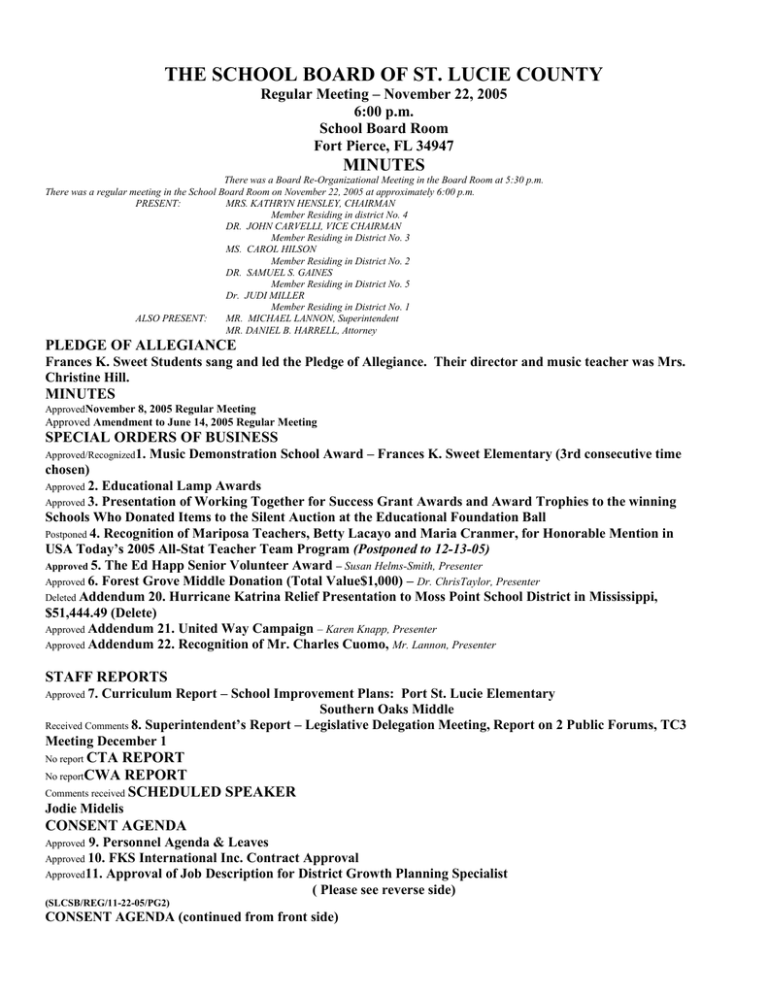 THE SCHOOL BOARD OF ST. LUCIE COUNTY
Regular Meeting – November 22, 2005
6:00 p.m.
School Board Room
Fort Pierce, FL 34947
MINUTES
There was a Board Re-Organizational Meeting in the Board Room at 5:30 p.m.
There was a regular meeting in the School Board Room on November 22, 2005 at approximately 6:00 p.m.
PRESENT:
MRS. KATHRYN HENSLEY, CHAIRMAN
Member Residing in district No. 4
DR. JOHN CARVELLI, VICE CHAIRMAN
Member Residing in District No. 3
MS. CAROL HILSON
Member Residing in District No. 2
DR. SAMUEL S. GAINES
Member Residing in District No. 5
Dr. JUDI MILLER
Member Residing in District No. 1
ALSO PRESENT:
MR. MICHAEL LANNON, Superintendent
MR. DANIEL B. HARRELL, Attorney
PLEDGE OF ALLEGIANCE
Frances K. Sweet Students sang and led the Pledge of Allegiance. Their director and music teacher was Mrs.
Christine Hill.
MINUTES
ApprovedNovember 8, 2005 Regular Meeting
Approved Amendment to June 14, 2005 Regular Meeting
SPECIAL ORDERS OF BUSINESS
Music Demonstration School Award – Frances K. Sweet Elementary (3rd consecutive time
chosen)
Approved 2. Educational Lamp Awards
Approved 3. Presentation of Working Together for Success Grant Awards and Award Trophies to the winning
Schools Who Donated Items to the Silent Auction at the Educational Foundation Ball
Postponed 4. Recognition of Mariposa Teachers, Betty Lacayo and Maria Cranmer, for Honorable Mention in
USA Today's 2005 All-Stat Teacher Team Program (Postponed to 12-13-05)
Approved 5. The Ed Happ Senior Volunteer Award – Susan Helms-Smith, Presenter
Approved 6. Forest Grove Middle Donation (Total Value$1,000) – Dr. ChrisTaylor, Presenter
Deleted Addendum 20. Hurricane Katrina Relief Presentation to Moss Point School District in Mississippi,
$51,444.49 (Delete)
Approved Addendum 21. United Way Campaign – Karen Knapp, Presenter
Approved Addendum 22. Recognition of Mr. Charles Cuomo, Mr. Lannon, Presenter
Approved/Recognized1.
STAFF REPORTS
Curriculum Report – School Improvement Plans: Port St. Lucie Elementary
Southern Oaks Middle
Received Comments 8. Superintendent's Report – Legislative Delegation Meeting, Report on 2 Public Forums, TC3
Meeting December 1
Approved 7.
No report CTA
REPORT
No reportCWA REPORT
Comments received SCHEDULED SPEAKER
Jodie Midelis
CONSENT AGENDA
9. Personnel Agenda & Leaves
FKS International Inc. Contract Approval
Approved11. Approval of Job Description for District Growth Planning Specialist
( Please see reverse side)
Approved
Approved 10.
(SLCSB/REG/11-22-05/PG2)
CONSENT AGENDA (continued from front side)
Budget Amendment #1 – General Fund #1
Approved 13. Budget Amendment #2 – Debt Service 1
Approved 14. Budget Amendment #3 – Food Service #1
Approved 15. Monthly Financial Report
Approved 16. Payment of Bills
Approved 17. Semiannual Status Report on Unitary School System (237 page report – in Assistant's Office)
Approved18. Authorization to Advertise for Public Hearing on December 13, 2005 regarding Policies
#6.541 Annual Leave
#8.54 Naming Facilities
#4.11 Student Progression Plan
#7.52 Travel Expense Reimbursement
Approved19. Authorization to Advertise for Public Hearing on January 12, 2005 regarding Policies
#5.23 Background and Purpose for Controlled Choice Plan
#5.231 Choice Zones
#5.232 Student Assignment Procedures
#5.233 Administration of Controlled Choice Plan
Approved Addendum 23. Work Authorization for Florida Architects for Architectural Services at the District
Offices for Public Schools
Approved Addendum 24. Work Authorization for Florida Architects for Architectural Services at the South County
Complex for FTE Space Needs
GROWTH MANAGEMENT, LAND ACQUISITIONS AND INTERGOVERNMENTAL RELATIONS REPORT
Approved 12.
Received Report
BUDGET/FINANCE REPORT
FAU Lab School Update – Received Report
Utilities and Fuel Projections Update Received Report
FACILITIES REPORT
Walkthrough at New High School AAA-A –Discussed walkthrough
ATTORNEY'S REPORT
SCHOOL BOARD MEMBERS' REPORTS
UNSCHEDULED SPEAKERS
There were more speakers who asked the Board to
ADJOURNMENT
Adjourned at 7:40 p.m.
Note: If a person decides to appeal any decision made by the School Board regarding any matter considered at this meeting or hearing, he/she will need a
record of the proceedings. For this purpose, an individual should ensure that a verbatim record of the proceedings is made, at his/her own expense, which
record includes the testimony and evidence upon which the appeal is to be based (SEC. 286.0105 F. S.) If due to a disability, you need special accommodations
to receive School Board information or to participate in School Board Functions, call (772) 429-3914 and ask for the School Board Executive Assistant.
Telecommunications Device for the Deaf (TDD) Phone Number is (772) 429-3919.