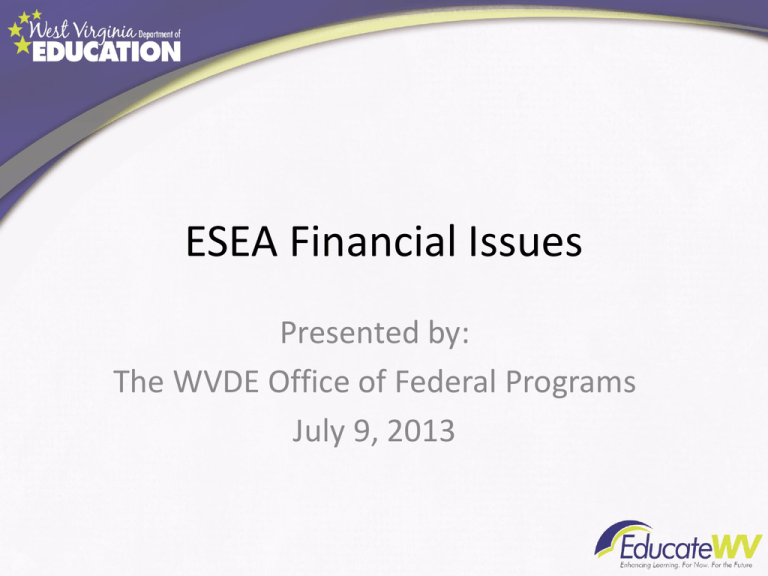 ESEA Financial Issues
Presented by:
The WVDE Office of Federal Programs
July 9, 2013
ESEA Flexibility
• WV ESEA Flexibility Request approved by
USDE on May 20, 2013
• Three main Flexibility Principles:
– College and Career Ready Standards and
Assessments
– Differentiated Accountability and Support Systems
for School Improvement
– Teacher Quality
ESEA Flexibility
• Basic Title Program purposes and allowable
expense rules remain the same
• Changes in School Improvement requirements
will impact Title I budgets
– No more school choice (transportation costs)
– No more Supplemental Educational Services
New ESEA Consolidated Application
• Separated from the Five-Year Strategic Plan
• Excel format submitted to Office of Federal
Programs via email
(eamccoy@access.k12.wv.us)
• Budgets must be entered into WVEIS by the
county as a separate action
FY14 Title I Grant Awards
• The USDE increased the Title I allocation for the
2012-13 school year
• The increased funding has been applied to the
LEA allocation formula
• Increases/decreases will be applied to the 201314 allocation represented in the ESEA
Consolidated Application
• Counties with an increase will receive 2 grant
awards
– One small one with an obligation of 9/30/14
– One large one with an obligation of 9/30/15
Statewide Carryover Waiver for
FY13 (2012-13) Funding
• USED has offered statewide carryover waivers for
2012-13 Title I funding – WV has submitted, currently
awaiting approval
• Title II and Title VI (RLIS) has always followed the Title I
carryover rules for consistently (not connected to
federal regulation); these 2 programs will be treated
the same as Title I with the statewide waiver
• Federal Program Directors and Finance Directors will be
notified as soon as USED approval is received and will
be provided new Carryover Waiver Request forms
Title I Inventory
• Title I Inventory will be consistent with all
other programs (state and federal) with regard
to inventory of equipment
• Note the new Inventory Guidance posted at
http://wvde.state.wv.us/titlei/fi_inventory.html
Consolidated ESEA Monitoring
New guidance will be issued on or before September 1 to
align the new monitoring protocol for ESEA Flexibility states
• Federal monitoring of WVDE for Flexibility will occur in the
fall
• Implementation of a statewide "risk assessment" system to
determine monitoring schedule
• Expect desk audit for compliance monitoring (document
upload system)
• Webinar in August
Title I School Ranking Rules for
Community Eligibility Option
Schools
Rules for Title I school ranking when schools
operate the USDA Community Eligibility Option
• Title I rankings maintain use of the previous
school year's "5-17 Percent Needy" report
• The "5-17 Percent Needy" report issued after the
2nd Month Report each fall should be used for
Title I ranking and personnel planning for the
following year
Title III Issues
• Formula‐based Federal Title III grants are awarded
based on the number of LEP students enrolled.
(WVEIS data)
• 3114 (b) LIMITATION‐ A State educational agency
shall not award a subgrant from an allocation made
under subsection (a) if the amount of such subgrant
would be less than $10,000.
• (b) ADMINISTRATIVE EXPENSES‐ Each eligible entity
receiving funds under section 3114(a) for a fiscal year
may use not more than 2 percent of such funds for the
cost of administering this subpart.
Breakout Presentation
ESEA Monitoring and Fiscal Issues
• Fiscal Issues – 43% of the LEA monitoring findings
– Reasonable and necessary costs
– Supplement v. Supplant
– Indirect Cost
– Record of Program Review
– Inventory
– Time and Effort
– Contracts and Invoices
7.1 Expending funds for administrative costs that
are reasonable and necessary
 Ensure expenditures are reasonable and necessary for
proper and efficient performance and administration of
the federal program
 Ensure expenditures are allowable expenditures
according to OMB Circular A-87
7.2 Supplement v. Supplant
• Be conscious of supplement v. supplant issues
– Purchase of materials and equipment
– Teacher salaries
– Title I funded staff members substituting for teachers
– Title I teachers are used daily to cover teacher
planning periods
– Child nutrition program
– Title I funds to support attendance at non-Title I
conferences and trainings for principals
– Title II & Title III use of funds outside of program
purpose
7.3 Indirect Cost
• Use restricted indirect cost amount
• Use appropriate fiscal year's rate –
year in which funds are expended
• Ensure the amount withdrawn does
not exceed the rate allowable for the
amount of funding which has been
expended
7.4 Audit Records
• Follow written procurement procedures – WVBE
Policy 8200
– Samples of records for purchases
• Requisition, purchase order, invoice, record
of payment
• Approval process – Director/Coordinator
Signature
• Avoid Blanket purchase orders
• Audit reports
• Audit Responses
7.5, 7.6, & 7.7 Equipment Inventory
 Maintain an updated inventory list, including the
following information:







description of the item;
serial number;
acquisition date;
funding source and the % of funding from each source;
purchase price;
location; and
Condition
 Sign out procedures for using equipment off-site &
Private Schools
 Conduct and document the date of a physical inventory
at least once every two years – Signed and dated
7.8 Budget Transfers
• Maintain documentation of
properly signed budget transfers
– the new automated approval
system within WVEIS does this for
you
7.9, & 7.10 Time and Effort
• Maintain time and effort
documentation
–Monthly personnel activity reportsreconciled quarterly
–Semi annual certification
7.11 Written contracts
• Contracts are required for any supplemental
work paid with Title I,II,III funds (e.g.,
consulting services, after school programs)
– Description of services
– Number of days of contracted service
– Total cost of all services described in the
agreement
– Project code
– Appropriate signatures from both entities
7.11 Continued - Invoices
• Must be written and describe services performed
or goods delivered
• Include dates services were performed or goods
were delivered
• Must state the location services were performed
or goods were delivered
• Include a description or students/teachers, etc.
served (if applicable)
• Must be reviewed and approved prior to payment
Private Schools
• 6.2 Documentation of expenditures for services for
private school students
• 6.3 Professional Development
• 6.4 Parent Involvement
• 6.5 Use LEA employees or a contract by the LEA
• 6.7 & 6.8 Equipment Inventory & Tracking
• Third-party Contracts
• The quandary – offer services within the constraints of
conflicting regulations
– Can't give funds directly to the private school (federal)
– Can't reimburse travel to a non-employee (private school
teachers)
Homeless Set-aside
• 9.2a Administration of the
homeless set aside
2.6 Highly Qualified Set-Aside
• 5% set-aside to assist teachers in becoming
highly qualified
– Tuition Reimbursement Policy/Procedures
– Tuition reimbursement documentation
Is This an Allowable Cost?
Is this an allowable cost?
Using the 'Allowable Costs Flow Chart' and the
information you have heard today about Federal
Programs funding, work with your tablemates to respond
to the scenario(s) you have been given.
Choose a reporter for your table who will be prepared to
report on your responses to "Is this an allowable cost?"
– If you have determined 'yes' – how can you support your
answer?
– If you have determined 'no' – what would be your
response?
Can it be resolved?
Is this an allowable cost? 1
Two of the schools in your LEA have been
identified as Priority schools. You want to hire a
school improvement specialist to serve these
two schools. Only one of the schools is Title I.
Can you support the full salary with Title I
funds?
If no, how might you be able to fund this staff
position?
Is this an allowable cost? 2
The County Superintendent approaches the Title I
Director with an idea concerning the funding for
counselors at the elementary school level. The
county has eight (8) elementary schools – which are
all Title I schools. The county has always had one (1)
counselor per every four (4) elementary schools.
The Superintendent wants Title I to fund two (2)
additional counselors - so the ratio would become
one (1) counselor per every two (2) elementary
schools.
Is this an allowable cost? 3
The County Superintendent approaches the Title I
Director with an idea concerning funding for school
nurses. The county currently employs four (4)
school nurses. WV School Laws §18-5-22(b)
requires one full time nurse for every 1500 grade K7 students. The county enrollment for grades K-7 is
now 4352 students. Rather than have a Reduction
in Force (RIF) of one of the school nurses, the
county Superintendent cites the supplemental
requirement of Federal Programs funding in his
rationale for having Title I fund the 4th school nurse
instead of having only 3.
Is this an allowable cost? 4
The Central Office Staff has completed its research on
supplemental instructional materials that have been
proven to work with struggling readers at the middle
school level. The county has 2 middle schools that are
grades 6-8 and 2 schools that are Pk-8. The Pk-8
schools are Title I schools – the 6-8 schools are not. The
county has enough Step 7 funding to cover the costs of
the supplemental instructional materials for 2 schools
but not all 4 schools. Can Title I fund the materials for
the Title I schools since they are supplemental
materials?
Is this an allowable cost? 5
A Title I Elementary School has $40,000 left in
the Title I budget in March due to having a
position in the budget that the county was
unable to fill. The school is implementing the
ABC Math Curriculum as its instructional
materials adoption for mathematics. There is an
ABC Math Curriculum Conference in Las Vegas,
Nevada during the summer. The $40,000 could
be used to fund approximately 15 teachers'
participation in the conference.
Is this an allowable cost? 6
A county is attempting to expend Title III
funding. After consulting with the local ESL
teachers it has been determined that the
equipment used to administer the annual
English Language Proficiency (ELP) Assessment
has become faulty. As a result, a request has
been made to purchase new recorders for the
purpose of administering the assessment. Could
Title I or Title III funds be used to make this
purchase?
Is this an allowable cost? 7
A Title I school formerly on Improvement
provided SES at the school utilizing the
RESA SES providers who were teachers
from that school. They found that this
tutoring did improve the participating
students' academic performance. Can they
use Title I funds to continue this service
under Flexibility?
Is this an allowable cost? 8
The superintendent wants Title II to pay
for himself and two assistant
superintendents to attend the National
Superintendent's Conference. He
indicates that there will be sessions
related to Teacher Quality and College
and Career Ready Standards and
Assessment. Can Title II pay for the travel
and conference fees?
Is this an allowable cost? 9
A school with a significant English language
learner population has experienced a significant
outbreak of lice. The school principal wants to
make sure that all parents are equally informed
about the issue. Hence, the principal has
requested that the letter be translated into
Spanish to bridge any communication barriers
with Spanish-speaking families. The school has
made a request to the county office to pay for
translation services in regards to producing the
letter. Can Title III pay for the translation services?
Is this an allowable cost? 10
The Title I school's needs assessment indicates
that students are deficient in writing skills. One
of the Title I teachers is known to be a very good
writing teacher. The principal schedules the Title
I teacher to provide writing instruction to all
students in grades 3-5 twice each week. This
also fills in the schedule since the music teacher
comes three times each week. Teachers are
scheduled for two planning periods daily.
Is this an allowable cost? 11
All county central office staff have been required
to substitute in schools a minimum of three days
annually. How could this be accomplished
without violating supplement vs. supplant
considerations?
Is this an allowable cost? 12
A county private school participating in federal
programs has requested the county to pay for
the attendance of private school teachers to
attend a state religious conference. This would
include registration fees and travel expenses.
Are these allowable expenses?
Federal Program Monitoring Goals
• Provide an academic focus for program
improvement;
• Promote student achievement; and
• Provide technical assistance to schools and
districts in utilizing federal funding to impact
instructional practice and increase student
performance.