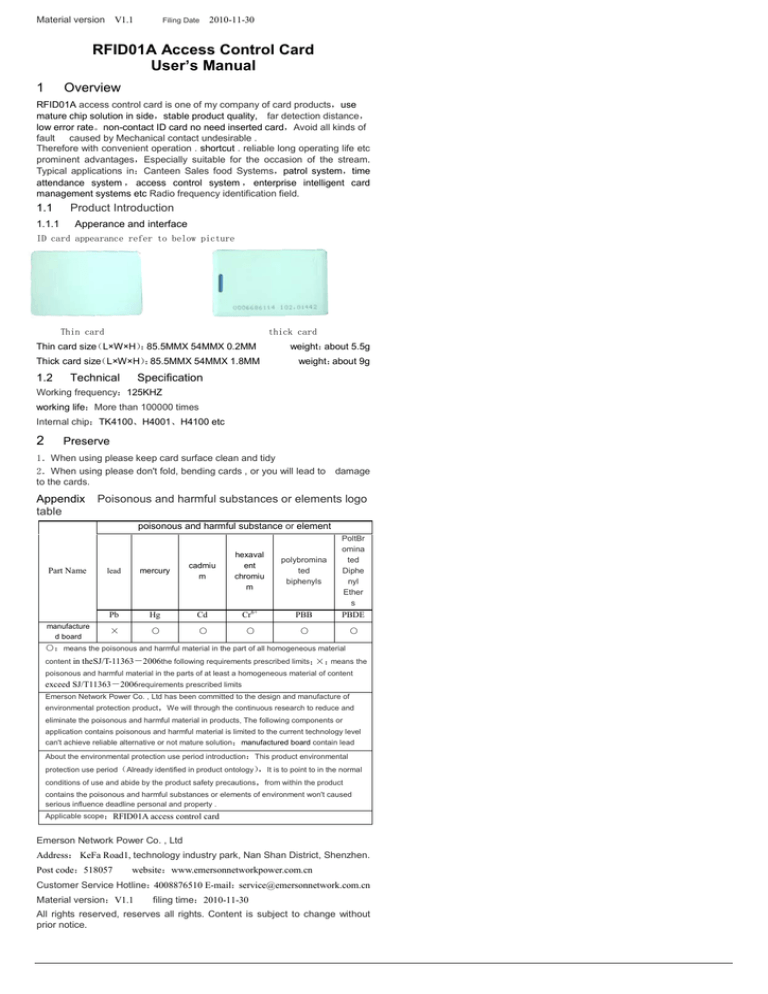 Material version V1.1
Filing Date
2010-11-30
RFID01A Access Control Card
User's Manual
1
Overview
RFID01A access control card is one of my company of card products,use
mature chip solution in side,stable product quality, far detection distance,
low error rate。non-contact ID card no need inserted card,Avoid all kinds of
fault caused by Mechanical contact undesirable .
Therefore with convenient operation . shortcut . reliable long operating life etc
prominent advantages,Especially suitable for the occasion of the stream.
Typical applications in:Canteen Sales food Systems,patrol system,time
attendance system , access control system , enterprise intelligent card
management systems etc Radio frequency identification field.
1.1
1.1.1
Product Introduction
Apperance and interface
ID card appearance refer to below picture
Thin card
thick card
Thin card size(L×W×H)
:85.5MMX 54MMX 0.2MM
Thick card size(L×W×H):85.5MMX 54MMX 1.8MM
1.2
Technical
weight:about 5.5g
weight:about 9g
Specification
Working frequency:125KHZ
working life:More than 100000 times
Internal chip:TK4100、H4001、H4100 etc
2
Preserve
1.When using please keep card surface clean and tidy
2.When using please don't fold, bending cards , or you will lead to damage
to the cards.
Appendix
table
Poisonous and harmful substances or elements logo
poisonous and harmful substance or element
Part Name
manufacture
d board
lead
mercury
cadmiu
m
hexaval
ent
chromiu
m
polybromina
ted
biphenyls
PoltBr
omina
ted
Diphe
nyl
Ether
s
Pb
Hg
Cd
Cr6+
PBB
PBDE
×
○
○
○
○
○
○:means the poisonous and harmful material in the part of all homogeneous material
content in theSJ/T-11363-2006the following requirements prescribed limits;×:means the
poisonous and harmful material in the parts of at least a homogeneous material of content
exceed SJ/T11363-2006requirements prescribed limits
Emerson Network Power Co. , Ltd has been committed to the design and manufacture of
environmental protection product,We will through the continuous research to reduce and
eliminate the poisonous and harmful material in products. The following components or
application contains poisonous and harmful material is limited to the current technology level
can't achieve reliable alternative or not mature solution:manufactured board contain lead
About the environmental protection use period introduction:This product environmental
protection use period(Already identified in product ontology)
,It is to point to in the normal
conditions of use and abide by the product safety precautions,from within the product
contains the poisonous and harmful substances or elements of environment won't caused
serious influence deadline personal and property .
Applicable scope:RFID01A access control card
Emerson Network Power Co. , Ltd
Address: KeFa Road1, technology industry park, Nan Shan District, Shenzhen.
Post code:518057
website:www.emersonnetworkpower.com.cn
Customer Service Hotline:4008876510 E-mail:[email protected]
Material version:V1.1
filing time:2010-11-30
All rights reserved, reserves all rights. Content is subject to change without
prior notice.