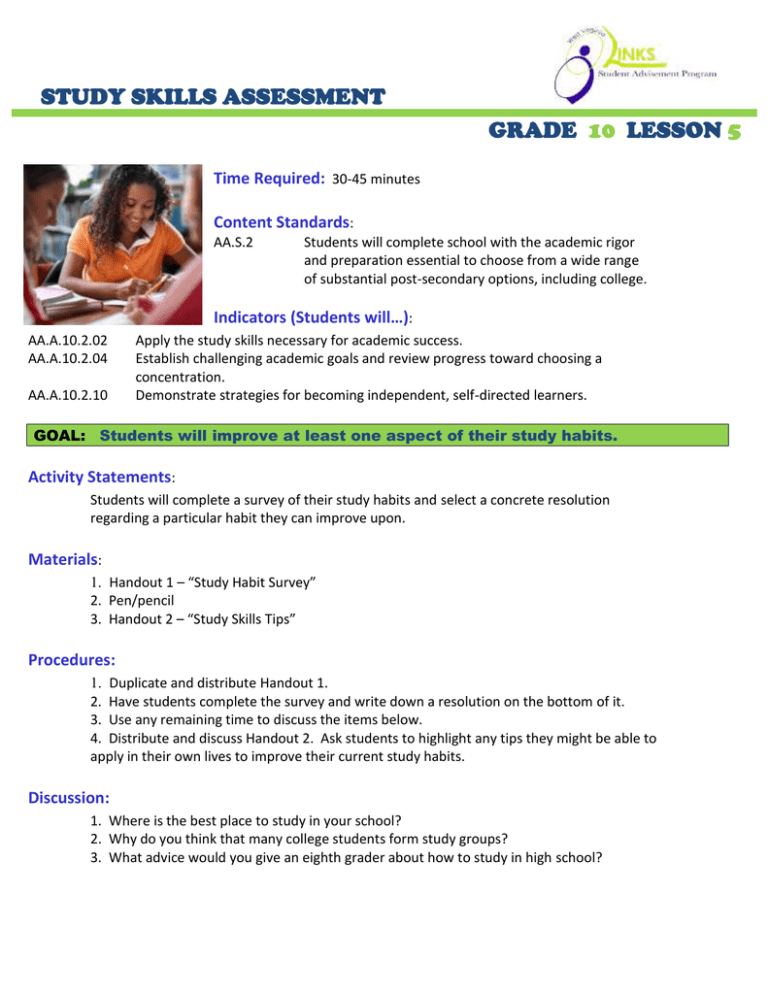 STUDY SKILLS ASSESSMENT
GRADE 10 LESSON 5
Time Required: 30-45 minutes
Content Standards:
AA.S.2
Students will complete school with the academic rigor
and preparation essential to choose from a wide range
of substantial post-secondary options, including college.
Indicators (Students will…):
AA.A.10.2.02
AA.A.10.2.04
AA.A.10.2.10
Apply the study skills necessary for academic success.
Establish challenging academic goals and review progress toward choosing a
concentration.
Demonstrate strategies for becoming independent, self-directed learners.
GOAL: Students will improve at least one aspect of their study habits.
Activity Statements:
Students will complete a survey of their study habits and select a concrete resolution
regarding a particular habit they can improve upon.
Materials:
1. Handout 1 – "Study Habit Survey"
2. Pen/pencil
3. Handout 2 – "Study Skills Tips"
Procedures:
1. Duplicate and distribute Handout 1.
2. Have students complete the survey and write down a resolution on the bottom of it.
3. Use any remaining time to discuss the items below.
4. Distribute and discuss Handout 2. Ask students to highlight any tips they might be able to
apply in their own lives to improve their current study habits.
Discussion:
1. Where is the best place to study in your school?
2. Why do you think that many college students form study groups?
3. What advice would you give an eighth grader about how to study in high school?
4. Which do you think is more important at your age, acquiring knowledge or acquiring good
study habits?
Integrative Closing Statement:
Every profession requires its practitioners to keep up with recent research. From police work to
medical science, certain skills are required. Don't be discouraged if you need to improve in a
number of areas. If you use the survey given to you in this activity as it was intended, you will
identify one area of struggle and replace it with a more positive habit.
Additional Resources:
Effective Habits for Effective Studies
Concentrating When Studying
http://www.studygs.net/attmot4.htm
http://www.studygs.net/concen.htm
Extension Activities:
Ask students to practice the study skills they have learned today in order to make them study
habits.
Activity:
Have students review articles and links in Succeeding in High School section
Resource:
Lesson Plan – Successful Study Techniques
Students: Enter or review Career & Life goals in the Portfolio. Academic goals for the school year can be
recorded in the Short-Term Goals section.