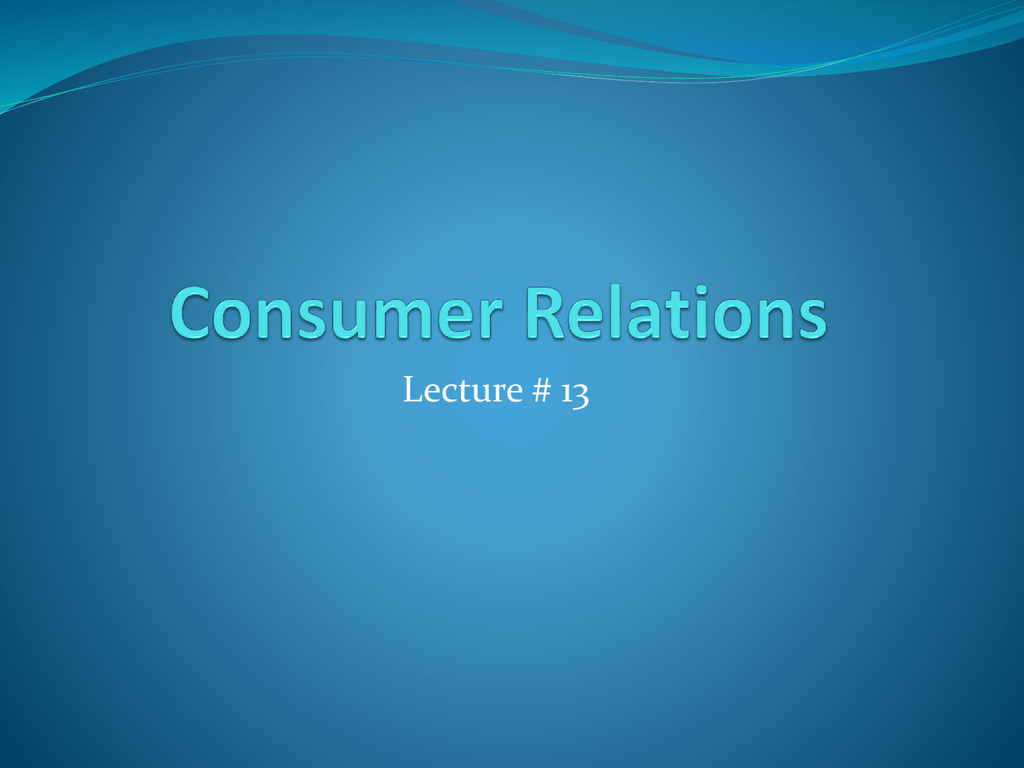 Lecture # 13
How Can We Focus on the
Consumer?
Consumer Relations
 Globalization and internet have made it increasingly
challenging to behave responsibly and promote their
products.
 Organizations must differentiate their products from
other competitors.
 Usually it is the PR techniques and social sensitivities
that help distinguish an organization and its products
from its competitors.
Consumer Relations Objectives
 Building sales is the primary consumer relations
objectives– very important to fashion (multibillion
dollar industry).
 Keeping old customers: most sales are made to establish
customers, PR efforts should be used to retain
customers. Professionals should consider consumers'
concerns.
 Attracting new customers: every organization must
work constantly to develop new customers.
Consumer Relations Objectives
 Marketing new items or services: Customer relations
techniques can influence the sale of new products.
Thousands of new products are offered to consumers each
year, confusing customers is done frequently.
 Expediting Complaint Handling: there are very few
organizations that do not receive complaints. Many large
organizations outsource call centers.
 Reducing Costs: uninformed buyers cost the organization
time and money when items are returned.
Consumer Generated Media
 The internet has given consumers a voice
 A place for consumer opinions to be shared, heard and
researched
 Consumer generated media includes the millions of
comments, opinions, and personal experiences that
are posted publicly on a range of topics covering
products, services, topics, and brands.
 Consumer Generated Media (CGM) is also referred to
as online consumer word or mouth.
Consumer Generated Media
 This can include:
 Blogs
 Message Boards and Forums
 Public Discussions
 Discussions and Forums on Large Email Portals
 Online Opinion/ Review Sites and Services
 Online Feedback/Complaint Sites
 An ethical concern is how aggressive an organization is
to accessing CGM
Handling Consumer Complaints
 Research shows that out of a handful of unsatisfied
customers, 4 % will complain.
 That means that there are many others with the same
complaint, and many of those customers will not
repurchase.
The Consumer Movement
 Over the years, congress has reacted to protect
consumers from corporate abuses.
 The Right to Safety- be protected from marketing the
goods that are hazardous to life– Stains, bleaches, and
paints, drugs and alcohol
 The Right to Be Informed- to be protected from
fraudulent or deceitful information
The Consumer Movement
 The Right to Choose- to be assured access to a variety of
products and services at competitive prices.
 The Right to Be Heard: consumer interests will receive
full consideration in the formulation of government
policy.
Federal Consumer Agencies
 Key agencies include:
 The Justice Department
 Federal Trade Commission
 Food and Drug Administration
 Consumer Product Safety Commission
Justice Department
 Such consumer protection measures has the truth in
Lending Act and Product Safety Act, the Justice
Department is concerned with anti-trust and
monopolistic activities.
Federal Trade Commission
 National advertising divisions cover TV and radio
advertising on food, drugs and cosmetics. It also
includes magazine subscription agencies, door to door
sales, and income tax services.
Securities and Exchange
Commission
 Supervises disclosure among public companies.
Food and Drug Administration
 Protects consumers from hazardous items including
foods, drugs, cosmetics, therapeutic, and radiological
devises, food additives, serums, and vaccines.
Consumer Product Safety
Commission
 This bureau is responsible for overseeing product
safety and standards and has been aggressive in recent
years in areas of seat belt restraints, strollers, blankets,
and other products for small children.
Consumer Activism Goes Online
 Internet activism uses internet communications
technologies to enable faster communications and
coordination by citizen movements.
 Internet activism has been criticized that it gives
disproportionate access to affluent activists because
poor people, minorities and elderly citizens lack access
to technology, and lack experience in new technology.
 Word of mouth criticism aided by the internet must be
dealt with quickly.
Business Gets the Message
 Companies have broadened the consumer relations
function to include such activities as:
 Developing guidelines to evaluate products and services
 Developing consumer programs to help meet consumer needs
and increase sales
 Develop filed training programs evaluating customer service
approaches
 Evaluating company effectiveness
 Demonstrating customer concerns
 Most customer criticism can be satisfied by a prompt,
personalized reply.
Acknowledging Customer Concerns
 Consumers are impressed when organizations contact
or notify them for whatever reason.
 On the other hand, failing to answer a question,
satisfying a complaint, or solving a problem can result
in bad word of mouth advertising.
Acknowledging Customer Concerns
 Consumer relations needs to not take a defensive
position.
 Consumer relations professionals must themselves be
activists to make sure consumers understand the
benefits of using their products.
Final Thoughts
 Globalization and the internet have made it difficult
for organizations to promote products and be
responsible.
 Organizations should develop products that
consumers will want to use, as well as, beat out
competition.
 Consumers are satisfied when organizations contact
them directly about their concerns.
 One unhappy customer has the power to turn others
away from purchasing your products or services.
References
 Seitel, F.P. (2011). The Practice of Public Relations.
Prentice Hall: Boston.