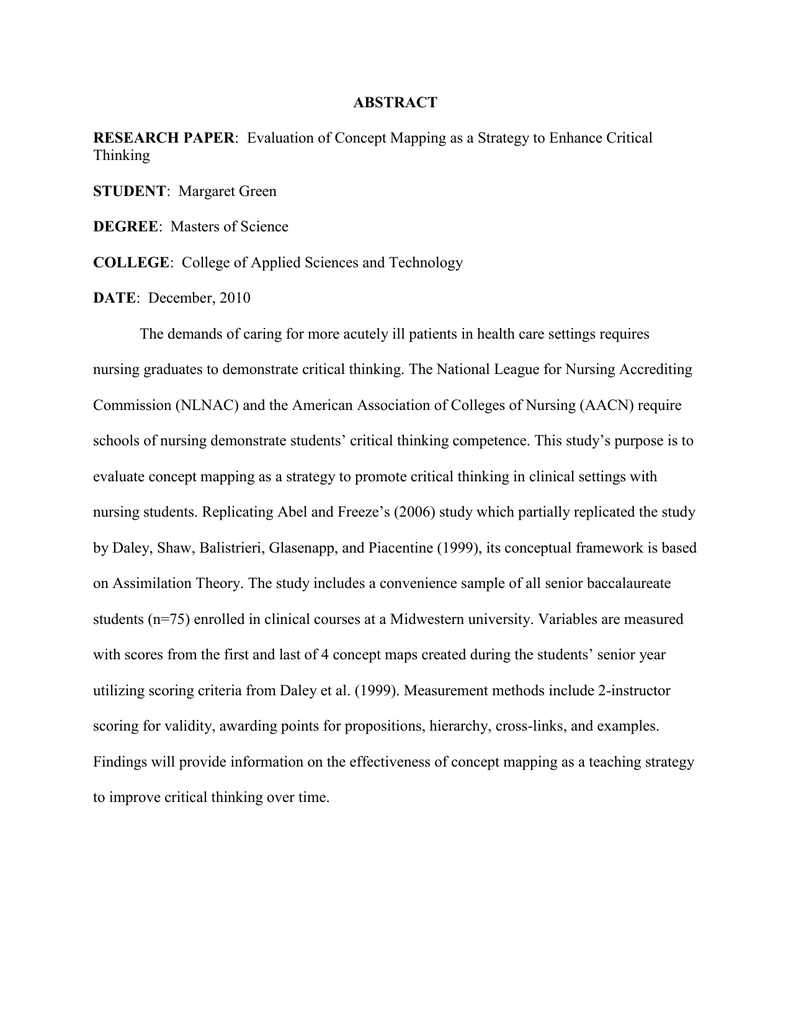 ABSTRACT
RESEARCH PAPER: Evaluation of Concept Mapping as a Strategy to Enhance Critical
Thinking
STUDENT: Margaret Green
DEGREE: Masters of Science
COLLEGE: College of Applied Sciences and Technology
DATE: December, 2010
The demands of caring for more acutely ill patients in health care settings requires
nursing graduates to demonstrate critical thinking. The National League for Nursing Accrediting
Commission (NLNAC) and the American Association of Colleges of Nursing (AACN) require
schools of nursing demonstrate students' critical thinking competence. This study's purpose is to
evaluate concept mapping as a strategy to promote critical thinking in clinical settings with
nursing students. Replicating Abel and Freeze's (2006) study which partially replicated the study
by Daley, Shaw, Balistrieri, Glasenapp, and Piacentine (1999), its conceptual framework is based
on Assimilation Theory. The study includes a convenience sample of all senior baccalaureate
students (n=75) enrolled in clinical courses at a Midwestern university. Variables are measured
with scores from the first and last of 4 concept maps created during the students' senior year
utilizing scoring criteria from Daley et al. (1999). Measurement methods include 2-instructor
scoring for validity, awarding points for propositions, hierarchy, cross-links, and examples.
Findings will provide information on the effectiveness of concept mapping as a teaching strategy
to improve critical thinking over time.